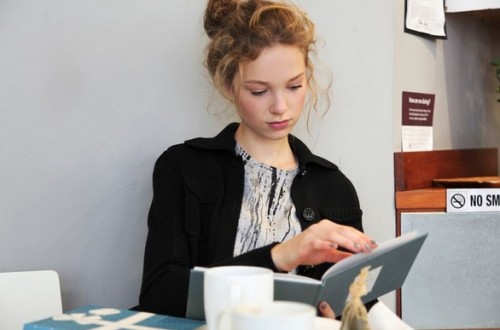 Photo courtesy of Elle.com
Unless you have a job in retail or somewhere equally casual, chances are you have to dress professionally for work – whether that means a job on campus or an internship in your field. And while it's great to invest in career wardrobe staples, sometimes you want to play with trends while still looking work-appropriate. And this post aims to help you do just that.
Below, I have compiled four sample outfits to show you how to stay cute, trendy, and professional while on the job. Each outfit is under $100 total.
Note: As always, these outfits are suggestions and may not be appropriate for every industry or workplace. And as always, consult your office's dress code requirements and take your fashion cues from coworkers – when in doubt, err on the side of more conservative.
Outfit 1: $87.90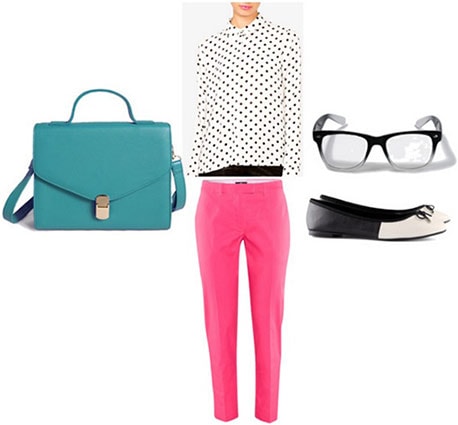 Top – Forever 21, Pants – H&M, Shoes – H&M, Bag – Forever 21, Glasses – Forever 21
Polka dots, colorblocking, and bright pops of color are trendy touches that can still be work-appropriate at all but the most conservative of offices. We love this basic polka dot oxford blouse because it can be paired with everything. Colored denim is all the rage, but it's easy to translate to a work environment if you rock colorful trousers instead.
Outfit 2: $84.48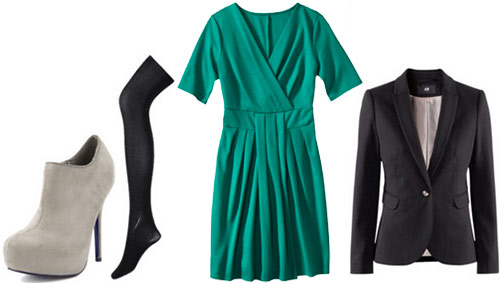 Dress – Target, Jacket – H&M, Tights – Forever 21, Shoes – Charlotte Russe
Emerald green is a hot color trend for Spring 2013, and an emerald dress provides a great way to try the trend at work. Pair it with a blazer and tights for extra polish. Simple suede ankle booties add another trendy touch without going overboard.
Outfit 3: $98.93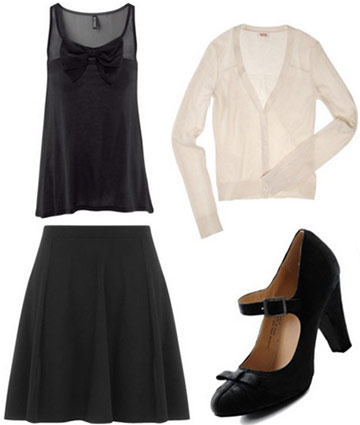 Shirt – H&M, Skirt – Dorothy Perkins, Cardigan – Target, Shoes – Modcloth
Black & white is a major trend for Spring 2013 and happens to be perfect for wearing to work. Since the colors are neutral, make sure your outfit includes fun little details, like a bow on your blouse and Mary Jane-style shoes.
Outfit 4: $96.78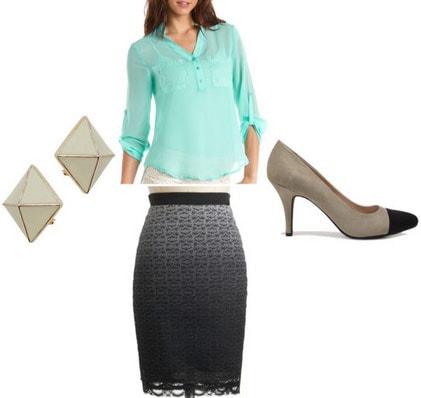 Top – Charlotte Russe, Skirt – Modcloth, Shoes – Forever 21, Earrings – Dorothy Perkins
We still can't get enough ombre. If you also have a love for this trend, feel free to rock it at work! Pair a subtle ombre skirt with a modest blouse and proper cap-toe pumps to keep it professional.
We want to know your thoughts!
How do you stay professional on a budget? Where are your favorite stores for work clothes? Which style above is your favorite? Leave a comment below and let's discuss!