This post may contain affiliate links, which means we may receive a commission if you purchase through our links. Please
read our full disclosure here
.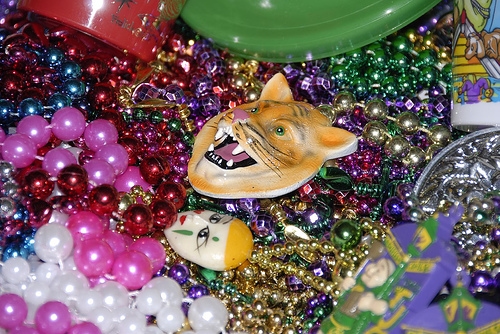 Grab your beads and your BFFs and get ready for some fun, because Mardi Gras season is here! Even if you're not heading down to New Orleans' Bourbon St. (or St. Louis' Soulard for my fellow Missouri folk) to dabble in the debauchery of the beads-and-booze holiday, you can still show a little spirit by dressing for the occasion. From a subtle nod to Mardi Gras to a full-blown masked look, have fun with this colorful and bead-dazzled holiday that's all about fun, fun, fun.
Need a Cliff's Notes on Mardi Gras dressing? Think purple, gold, green, beads, feathers and masks! If you've got some of those bases covered, you're set to celebrate.
Here are three budget-friendly outfits (each under $100 total) to inspire you for Mardi Gras parties and celebrations:
Outfit #1: Sprinkle of Spirit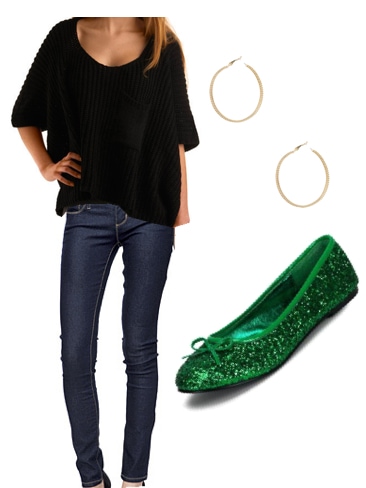 Product Info:Sweater, Jeans, Hoops, Flats
Not everyone likes going all out and dressing head-to-toe in holiday garb, but that's no reason to swear off being festive entirely – your simple outfit can still contain a subtle nod to the spirit of Mardi Gras. This comfy jeans-and-sweater combo is a casual look for class that could be worn any day — but the added touches of sparkling green and gold make it perfect for Mardi Gras season.
Outfit #2: Out on the Town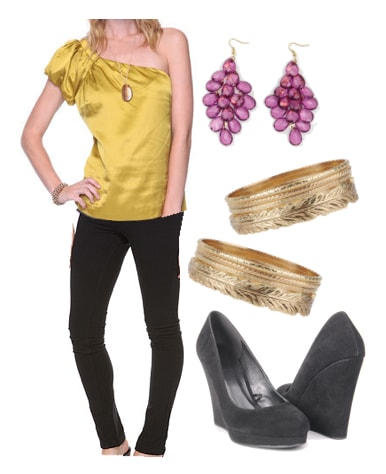 Product Info:Top, Pants, Earrings, Bangles, Wedges
Hitting the bars for Mardi Gras, but don't want to look too costume-y? Like the first casual outfit, this going-out ensemble is a look that could be worn for several occasions — but the distinctive combo of purple and gold makes it fitting for the spirited holiday.
Outfit #3: Party Time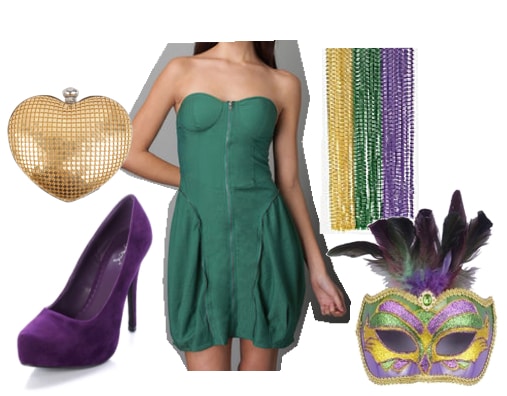 Product Info:Dress, Clutch, Heels, Beads, Mask
This final outfit is for the fashion maven heading to a themed party — or anyone brave enough to dress up in full on purple, gold and green glory. Beads and a festive mask are musts for Mardi Gras celebrations, while the purple pumps, gold clutch, and green dress will help you look chic while partying the night away.
What do you think?
Are you planning to attend any Mardi Gras celebrations? Do you like these outfits? Which Mardi Gras color — purple, green or gold — is your favorite? Do you plan to go all out for Fat Tuesday? Please leave a comment!