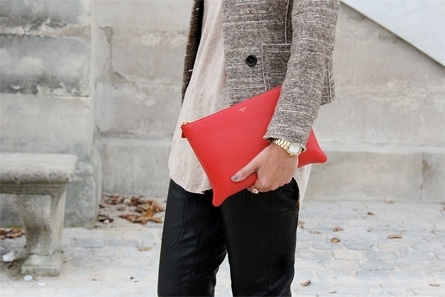 Photo: ELLE
While some (lucky) people can afford to have entire wardrobes filled with designer pieces, the reality is that most of us can't – especially us college girls. Although it's easy to get down when you see gorgeous clothes that are way out of your price range, there is a way to stop feeling bad. Instead of being upset, do like we do at CF and recreate looks inspired by your favorite designers.
Below are some outfits inspired by some of our favorite Spring/Summer 2013 looks. All of the designer styles cost significantly more than our rent, but our outfits ring in at under $100 each. The best part? You likely already have items in your closet that would work, so most of them total far under triple-digits.
Inspired by Derek Lam: $98.64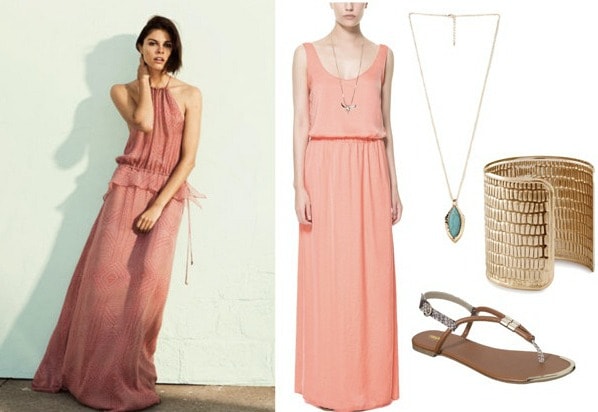 Photo Credit: Derek Lam | Product Information: Dress – Zara, Sandals – Target, Necklace – Forever 21, Bracelet – H&M
Derek Lam's aesthetic for his S/S '13 collection was a taste of the 1960s. This collection has a very retro feeling, as if each model walked straight out of a party in Palm Springs circa 1969. Staying true to himself, each of Lam's designs was very focused on shapes. Geometric patterns, bold industrial materials, and unique silhouettes are always in his repertoire, and this dress is no exception. Although there are no bold patterns, its unfussy silhouette is unusual and beautiful.
To re-create a look inspired by this luxe dress, choose a light-colored maxi gown in a soft material. These sandals from Target look incredibly expensive, especially when paired with a long necklace and cuff bracelet.
Inspired by Pierre Balmain: $79.89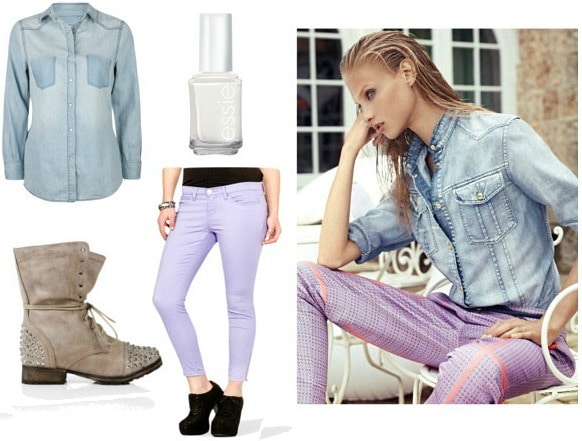 Photo Credit: Pierre Balmain | Product Information: Top – Tilly's, Jeans – Forever 21, Boots – Windsor, Nail Polish – Kohl's
Pierre Balmain is always edgy. This style from the line's Spring/Summer 2013 collection is very laid-back, yet stylish. On one hand, lavender slacks look formal and dressed-up, but the outfit is made casual thanks to a distressed denim top and slicked-back hair.
To make this ensemble more college-girl-friendly, switch out the slacks for jeans. They are much more versatile and easier to wear with other things in your closet. Chambray tops are a dime a dozen, so pick one up if you don't already have one. Pair the look with studded boots and white fingernail polish to keep it cutting-edge.
Inspired by Kate Spade: $99.55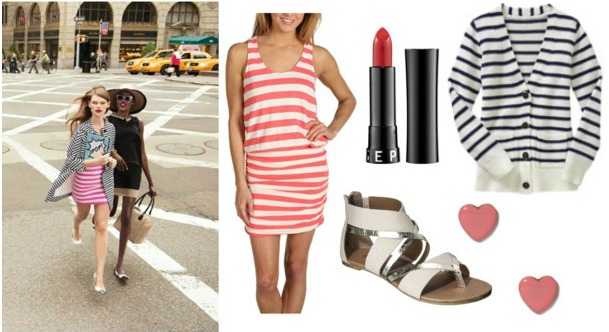 Photo Credit: Kate Spade | Product Information: Dress – 6PM, Cardigan – Gap, Shoes – Target, Earrings – Forever 21, Lipstick – Sephora
Kate Spade's creative department is the absolute opposite of Pierre Balmain's. Kate Spade screams uptown NYC with their classic silhouettes, bright patterns and colors, and dainty jewelry. This look is quintessential Kate Spade; a bold and daring mix of stripes and colors that somehow works flawlessly.
To re-create this outfit, choose two striped patterns that look good together. We don't mind mixing big stripes with little stripes, but be sure they are both horizontal (or both vertical) to avoid looking over-the-top. Little details, like heart earrings and lipstick are important in making the perfect Kate Spade look.
Inspired by Isabel Marant: $99.65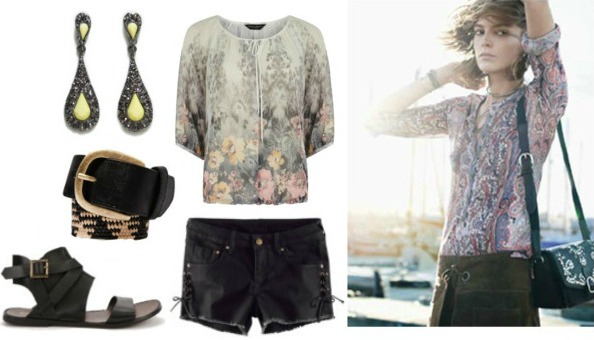 Photo Credit: Isabel Marant | Product Information: Top – Dorothy Perkins, Shorts – H&M, Shoes – Urban Outfitters, Belt – Forever 21, Earrings – Zara
Isabel Marant's creations always have a very laid-back vibe. Although they are always very chic, the styling is never over-thought. Fabrics are always an integral part of Isabel Marant's design aesthetic; her collections always have lots of flowing dresses, fringed masculine jackets, and suede. Her spring/summer 2013 line was no exception.
If you're feeling inspired by Isabel Marant's spring/summer '13 collection, we suggest pairing a breezy patterned top with suede or distressed black shorts. Accessories are also important, like this belt, which has a western-chic feel. Pair it with killer sandals and vintage-inspired earrings, and no one will know you aren't wearing the real deal.
Inspired by Alice and Olivia: $98.24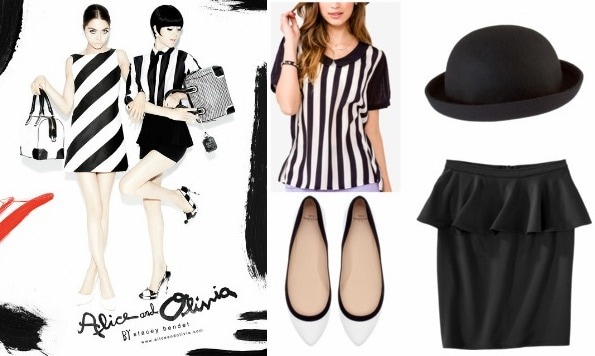 Photo Credit: Alice and Olivia | Product Information: Top – Forever 21, Skirt – Target, Shoes – Zara, Hat – ASOS
Alice and Olivia is one line that's always darling. Stacey Bendet has created a brand for the stylish downtown girl who loves to dress up with a hint of uptown flair. Alice and Olivia is all about having fun with your wardrobe, and the spring/summer 2013 collection exemplifies this idea. This collection is all about head-turning looks. Even in black-and-white, this season's assortment looks incredibly fresh.
A striped top and peplum skirt create a chic silhouette, but this ensemble is really all about the funky accessories. We could not be more in love with these black and white flats, which would be perfect for work. A cool and unexpected bowler hat tops it all off.
Now we want to know what you think!
What designers are you inspired by? Which styles above do you like? How do you re-create designer-like outfits on a budget? Leave a comment below and let us know what you think!