In an effort to spice up outfits in an affordable way, let's talk about one of the most overlooked accessories — socks! Socks are a great way to add some color or excitement to an outfit. Compared to other accessories, socks have more personality and fun socks can even be conversation starters! I find that my mood is better just by wearing fun socks, even when they're hidden by shoes.
To start including socks as centerpieces of your outfits, below are three sock-themed outfits under $100. If you're looking for more cute socks, I had luck finding affordable ones at H&M, Forever 21, and ASOS!
Bold Colors – $95.97
Products: Belt, Socks, Sweater, Shoes, Jeans
Using socks for a pop of color is a great way to make an outfit more exciting. For this outfit, I took inspiration from menswear and stuck to an otherwise-neutral color scheme to let the socks really pop. If you recreate this outfit, cuffing your jeans a tad higher will make sure your socks show through.
Interesting Effects – $97.77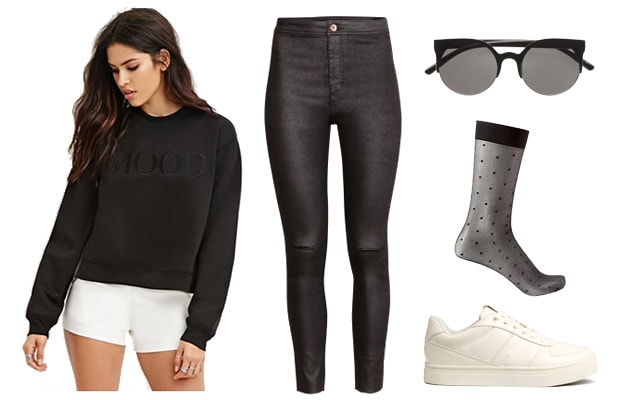 Products: Sweatshirt, Jeans, Sunglasses, Socks, Sneakers
This street style-inspired outfit is minimal but still interesting. This would be great for those of you who aren't thrilled about wearing loud prints or colors to accessorize.
These mesh polka-dot socks are sheer, which makes them a little more interesting. They can be incorporated into a variety of outfits because they're basic and neutral.
Fun Patterns – $51.46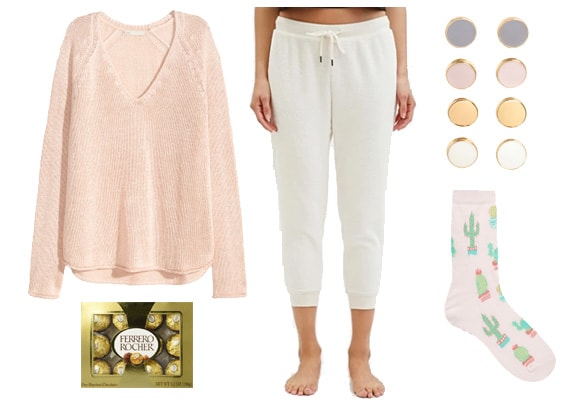 Products: Sweater, PJ Pants, Earrings, Socks, Chocolates
Silly socks are one of my favorite ways to brighten up my day a little! Putting on something fun for a weekend day of lounging around helps me feel more put-together than I actually am. Plus, I always feel like light colors give me a boost of energy.
Because this outfit alone is $44, you can save your money to treat yourself to some chocolates and a movie on your day of relaxing!
Your Thoughts?
Have you used socks as a key piece to an outfit before? Which is your favorite of the outfits above? Do you collect fun socks? This is my first time writing for the Outfits Under $100 series so I'd love to hear your feedback and replies in the comments below!