This post may contain affiliate links, which means we may receive a commission if you purchase through our links. Please
read our full disclosure here
.
History class may be a snooze, but your outfit doesn't have to be. Here at CF, we're firm believers in dressing well for all occasions.. and that includes classes. In fact, we definitely feel more focused and awake all day when we put some effort into getting ready in the morning.
In light of our feelings on dressing for class, I have put together five looks perfect for fall on campus, all on the frugal side. Each of these outfits costs less than $100 total, and comes complete with quick tips for looking put-together on rushed mornings.
Spiced-Up Preppy Uniform – $90.53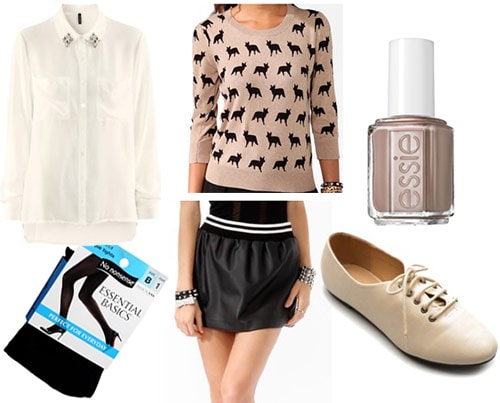 Product Information: Top – H&M, Sweater – Forever 21, Skirt – Forever 21, Shoes – Amazon, Nail Polish – Nordstrom, Tights – Walgreens
The idea of an button-up shirt under a sweater with oxford shoes may bring back daunting memories of required school uniforms past, but fear not: This look can be sensational when modernized.
Styling Tips:
To freshen up a sweater, wear a blouse underneath with a bold collar. Try a super-trendy look of a Peter Pan collar, a pussy bow blouse, or a studded collar.
Trade the classic wool skirt for a trendy faux leather one. Add tights and flats to keep it looking daytime-appropriate.
Layer On the Layers – $98.89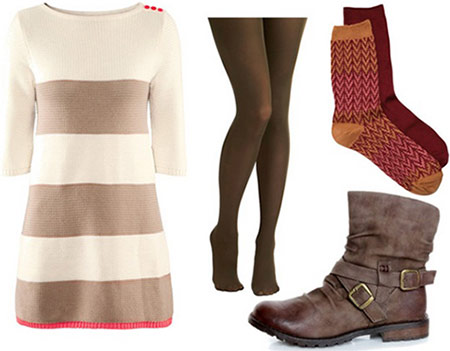 Product Information: Dress – H&M, Tights – Modcloth, Shoes – Lulu's, Socks – DSW
Stripes, sweaters, tights, and boots – we rock these items every fall, so it's always a challenge to make them feel fresh and new again. But you don't have to figure it out alone! I will help you navigate the waters of old staples looking trendy, College Fashion-istas.
Styling Tips:
Find an oversized sweater and wear it as a dress, or invest in a big, slouchy sweater dress.
We always rock layers in the fall. If you're looking to freshen up your layering look, why not try it on your legs? Wear tights with socks (maybe even two pairs if you're feeling adventurous!) and boots for perfect layered legwear.
This season is usually about reverting to neutrals, but this year, colors are in for fall. Make sure there's at least one little pop of color in your outfit, whether it's a swipe of bold lip color or a pop of red trim on your dress.
Mixing Prints & Treated Pants- $84.24
Product Information: Top – Old Navy, Jeans – Wet Seal, Hat – Forever 21, Shoes – Lulu's, Bracelet – Wet Seal
This fall, it's all about mixing trends, patterns, and styles with reckless abandon. If you're nervous about rocking more than one trend in a single look, however, stick with simple trends, like coated denim and a smoking slipper.
Styling tips:
Waxed denim will give you that leather legging look without the price tag, and makes a great substitute for your regular old pair of skinny jeans.
Smoking slippers are also popular this season – why not rock them in a bold color like red?
If you're still uncomfortable mixing prints, try it on a small scale by mixing a leopard top and a striped accessory, like a beanie hat. (Or reverse them with a striped top and leopard accessory.)
Cool as a Cucumber Colors – $90.59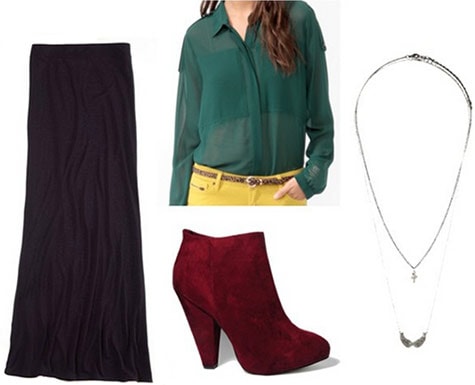 Product Information: Top – Forever 21, Skirt – Aerie, Shoes – Forever 21, Necklace – Dorothy Perkins
Traditionally, wearing complementary colors (colors directly across from one another on the color wheel), is an easy way to look put-together. Update this look by trying it with this season's hottest shades – we're loving oxblood and green mixed together.
Styling Tips:
Dark, almost jewel-tone shades are always in for fall. Mix them with neutrals like black to keep your look grounded, or go all out with jewel tones from head to toe.
Add ankle booties in bold colors for a needed outfit pop.
To stretch your Summer wardrobe into the cooler months, wear a maxi skirt with a button-down blouse.
Statements & Stripes – $96.59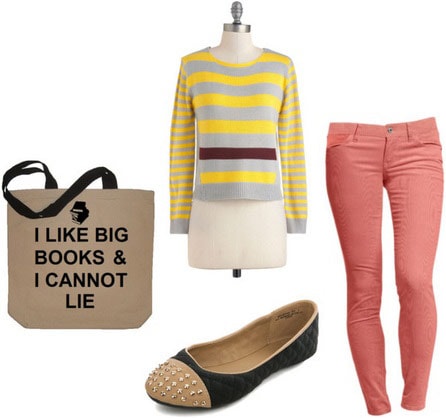 Product Information: Top – Modcloth, Jeans – Old Navy, Shoes – Make Me Chic, Bag – Etsy
Mindy Kaling struck a major cord with me when she said that women cannot pass up a good tote bag. It's so true! If you're also way more into collecting tote bags than you should be, you'd better get some use out of them! Tote bags are ideal for lugging your books to class while expressing your personality.
Styling Tips:
Cords in fun colors? Who can resist? Try a pair with a striped sweater for an easy look to wear to class.
Studs are in, guys! Embrace the edgy trend with studded flats in a neutral shade. These black and tan ones go with evvvverything…
The tote bag is a catch all. It can carry school supplies and personal items, but doubles for work and grocery shopping. One with a fun statement or pattern is a no-brainer.
How do you dress for class while staying on budget?
We want to know your tips and tricks! Leave a comment below and let us know what you think about these looks. How do you keep your outfits under $100? What are you favorite Fall trends and pieces? Which outfit above is your fave?