This post may contain affiliate links, which means we may receive a commission if you purchase through our links. Please
read our full disclosure here
.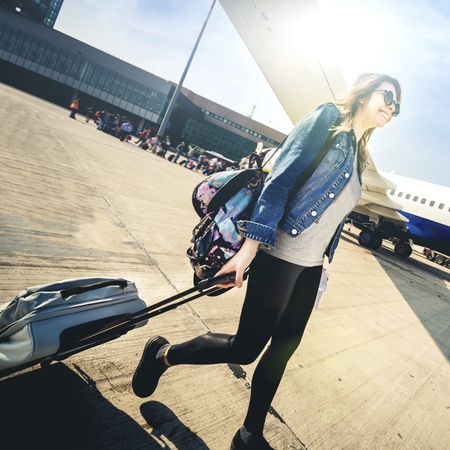 Photo: ELLE
Thanksgiving is just around the corner, and for most college students, this means traveling. Whether you're driving, flying, or hopping in a plane or on a bus, traveling always requires meticulously chosen outfits. There are so many variables that can go terribly awry: poorly picked footwear, a wrinkled top, or a lack of layers.
In an effort to assist this tricky wardrobe woe, we have created 5 travel-friendly outfits for you. The best part? Each of the looks shown below rings in at under $100 total. Keep reading to see them all:

Outfit 1: $93.73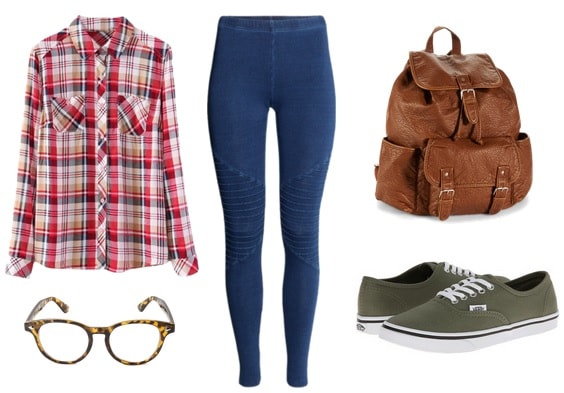 Product Information: Top – Black Five, Leggings – H&M, Shoes – 6PM, Bag – Aeropostale, Glasses – Forever 21
What's more travel-friendly than a flouncy shirt? This silky plaid top is the grown-up version of flannel. When paired with "denim" leggings that have a trendy knee detail, this look is as comfortable and fashionable as it gets. Comfy shoes are a must-have for travel days. Toss your belongings in a cute carry-on backpack, throw on chic fashion glasses, and put your hair in a ponytail. Ready, set, fly!
Outfit 2: $98.79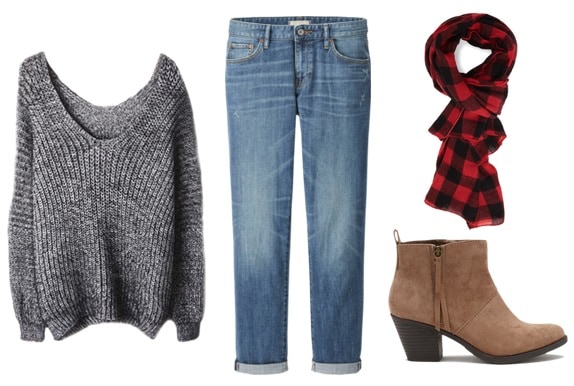 Product Information: Sweater – Black Five, Jeans – UNIQLO, Shoes – Forever 21, Scarf – Forever 21
If you're flying, we highly suggest wearing as few accessories as possible. This slouchy sweater and boyfriend jean combo has one sole accessory: a scarf for warmth (sometimes those planes get chilly!). If you choose to wear a slight heel for extra height, make sure it's a chunky and stacked one that's comfortable to walk in.
Outfit 3: $93.64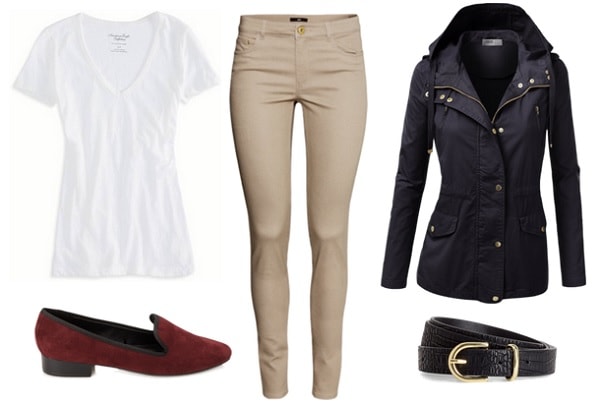 Product Information: Top – American Eagle, Pants – H&M, Jacket – Amazon, Shoes – Forever 21, Belt – H&M
Just because you're traveling doesn't mean you have to wear baggy sweaters and leggings. A simple tee can be dressed up with beige jeans and a nice belt. Layers are key, so toss this jacket on when you get cold. These smoking slippers look super-polished, but are easy to slip on and off.
Outfit 4: $94.77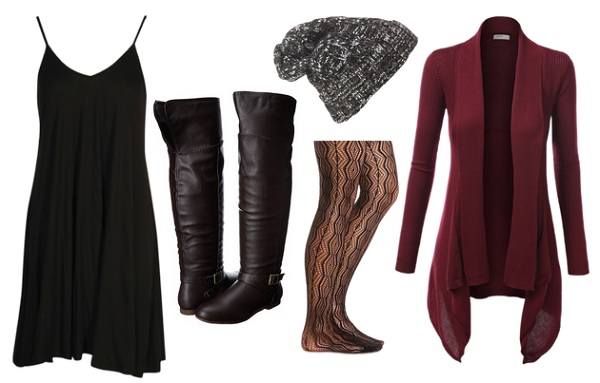 Product Information: Dress – Boohoo, Sweater – Amazon, Shoes – 6PM, Tights – Charlotte Russe, Hat – Forever 21
Dare to wear a dress! This soft dress would work perfectly for a road trip when paired with a long burgundy cardigan. Tights and flat boots are easygoing yet chic. Getting a case of serious flyaways? Hide them with a knit beanie.
Outfit 5: $90.55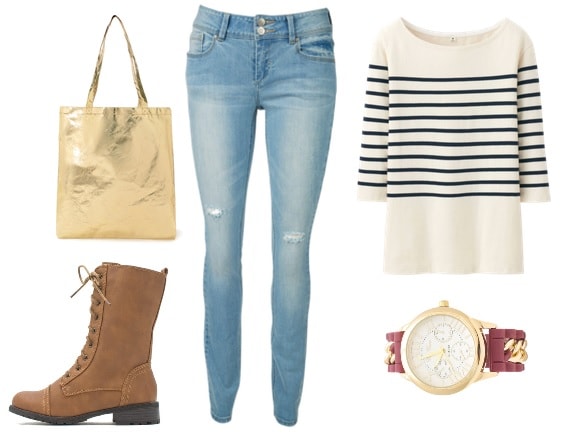 Product Information: Top – UNIQLO, Jeans – Delia's, Shoes – Go Jane, Bag – Forever 21, Watch – Go Jane
A roomy tote is a must-have for any traveler, especially when you need to carry your fashion mags, laptop, and wallet. This metallic bag is our favorite pick in this post. For $3.80, how can you not buy this cute carryall?
We love pairing a striped top with light wash jeans for a casual yet stylish travel outfit. Combat boots are easy to walk in, so be sure to wear them on your trip. Class this look up with a chic gold watch that matches the tote.
Where are you headed for Thanksgiving?
What will you wear on your travel days? Which look is your favorite? Comment below and let us know!