This post may contain affiliate links, which means we may receive a commission if you purchase through our links. Please
read our full disclosure here
.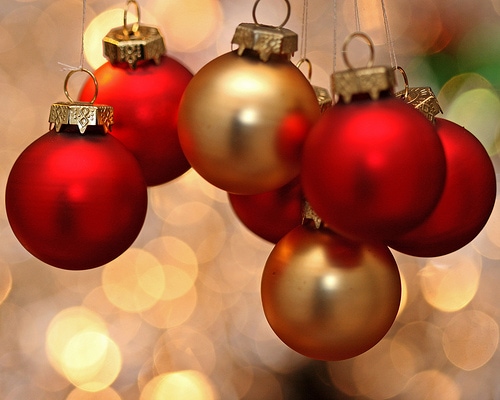 It's not quite Christmas yet (despite the explosion of twinkling lights, wreaths and holiday music), but, as we all know, it's prime season for Holiday events. From tacky sweater soirees to fancy winter formals and silly costume parties, you'll be expected to attend – and dress for – them all. But don't worry – I'm here to help!
From silly to frilly, here's what to wear to four popular holiday events:
Outfit #1: Tacky Sweater Party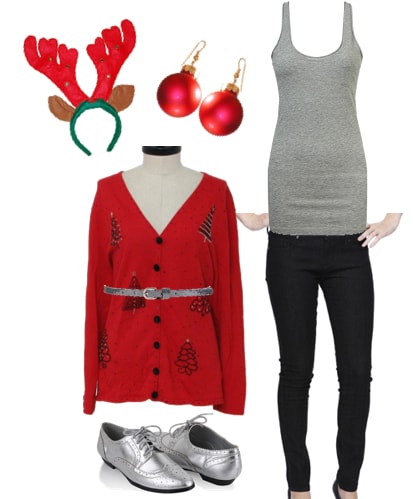 Product Info:Reindeer Headband, Ornament Earrings, Tank, Jeans, Shoes, Sweater, Belt
Ah, the tacky sweater party – a classic holiday tradition. The first rule of dressing for these parties? Don't spend lots of cash on a tacky sweater! The point is to wear a silly, ugly holiday top, not spend $$ on something you'll never wear again. So start in your mom or grandma's closet – it's often a goldmine! If that fails? Visit a local thrift store or Goodwill. If you're still empty-handed, try looking online, hitting up Walmart or making your own.
Of course, you'll still want to infuse this tacky look with style … but how? Try to find a tacky cardigan, vest or sweatshirt because they are easier to style than pullovers. Cardigans and vests offer the opportunity to layer: wear one with a cute tank or shirt underneath, top with a belt at the waist, and your look becomes a tad chicer. If you find a sweatshirt, cut off the collar on a slight slant, then wear it off the shoulder; it's a sexy and stylish update. Finally, balance out the silliness of your holiday garb with trendy jeans and fashionable shoes.
Outfit #2: Winter Formal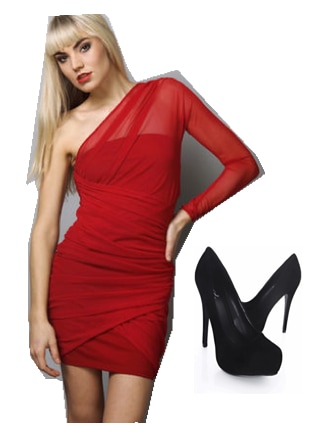 Sometimes all you need to stand out at a party is a fabulous dress and a simple pair of heels. This body-con, one-shoulder dress will definitely garner attention for all the right reasons. The wrapped mesh overlay is very on-trend, and the vibrant red color is perfect for the holiday season. The dress makes a statement on its own, so you can keep the jewelry pared down (or skip it altogether) and shoes simple. A great dress is also a sound investment; you could easily wear this number out on a girls' night, to future parties, or on a special date.
For more on winter formal attire, see our post on Winter Formal Outfits Inspired by the Runway.
Outfit #3: Family Get-together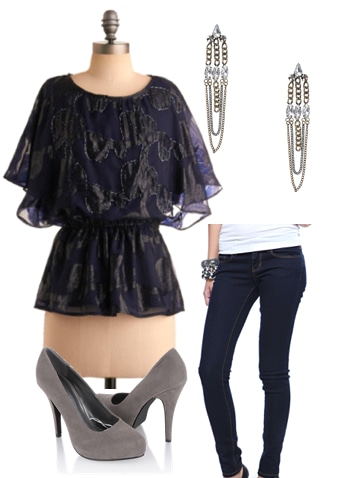 Product Info:Top, Earrings, Jeans, Heels
Hanging with your fam is generally a relaxed affair, but when you're getting together to celebrate special occasions, like holidays, it's nice to ditch the comfy t-shirt and jeans for a more polished look. A pretty top, like this chiffon one, makes all the difference. Add some dangling earrings and neutral heels, and your jeans instantly get upgraded to glam.
Outfits #4 & #5: Costume Party — Sexy or Silly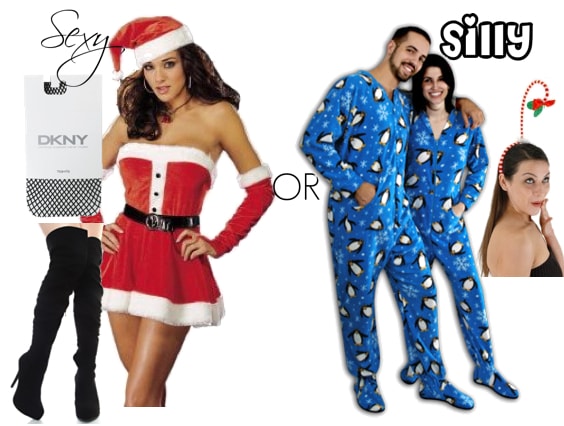 Product Info: Sexy — Santa Costume, Tights, Boots; Silly — Footed Pajamas, Mistletoe Headband
Theme parties are popular around the holidays, and it's not just the tacky sweater theme that's a hit. If you're invited to a costume party, the options are endless, but it often comes down to silly versus sexy. It's a personal preference, but one thing's for sure: skanky is never in fashion.
If you go the sexy costume route, keep it classy. Make sure the costume's skirt isn't so short it's baring your behind, stir clear of trashy fabrics (like latex) and beware of showing too much skin (it's cold outside!). For the silly route, footy pajamas are cozy and LOL-worthy, while a mistletoe headband adds just the right amount of flirty humor.
Want more tips and suggestions?
Still unsure of what frock to rock under the mistletoe? Check out these other College Fashion articles from holidays past:
What do you think?
Do you like these outfits? What holiday parties are you planning to dress up for this winter? Do you prefer themed shindigs or fancy formals? Please leave a comment!