One of the things I miss most about being a child is back to school shopping. Like clockwork, one week before school started, my parents would drive us to the nearest big city and we'd spend the entire day shopping for an entirely new wardrobe. Just like that, in one fell swoop, I would be set for clothes through winter.
Being college students puts an entirely different spin on the back to school ritual, mostly because we have tremendous budget restrictions! We can't just completely revamp our wardrobes in a day. Fortunately, we can freshen things up with trendy takes on classic staples. For this week's Outfits Under $100, I've styled five classic back-to-school pieces into affordable – and adorable – ensembles.
Fresh Take on a Blazer: Boyfriend Blazer (Total: $97.74)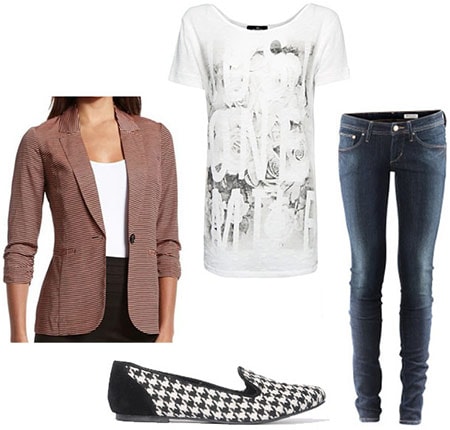 Product Information: Top – Mango, Blazer – Charlotte Russe, Jeans – H&M, Loafers – Forever 21
Blazers are wonderful, aren't they? They can be worn with anything, from slacks to a t-shirt, and add an amazing sense of structure to an ensemble. For class, pair jeans and a tee with a boyfriend blazer in a cool, unexpected shade like dark rose pink. Add trendy smoking slippers to finish the look.
Fresh Take on Boots: Wedge Ankle Booties (Total: $97.43)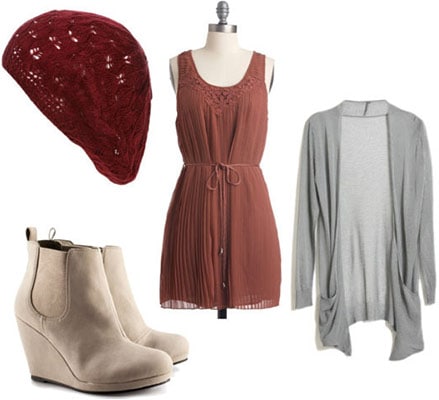 Product Information: Dress – Modcloth, Sweater – Romwe, Shoes – H&M, Hat – Wet Seal
We all have our trusty riding boots and high heeled dress boots, but wedge ankle booties are the perfect dressy-yet-casual footwear style for fall. They're a great investment because they are versatile and can be worn with tights, leggings, or jeans. We love them paired with a dress and cardigan for class.
Freshen Up a Backpack: Carry-All Tote (Total: $93.33)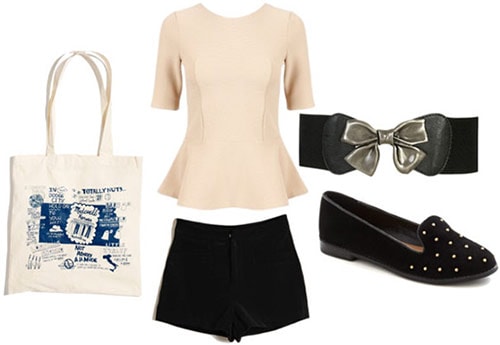 Product Information: Top – Lavish Alice, Shorts – Romwe, Shoes – Modcloth, Belt – Wet Seal, Tote Bag – Madewell
Backpacks can be cool, but here at CF, we have an undying affection for the tote bag. After all, it carries your school books and goes with just about everything. Pair one with some trendy pieces from Modcloth and Wet Seal, like a peplum top and a smoking slipper.
Freshen Up a Sweater: Oversized, Printed Sweater Dress (Total: $90.53)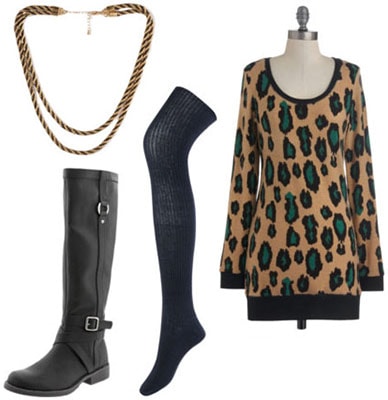 Product Information: Sweater – Modcloth, Tights – Forever 21, Boots – Old Navy, Necklace – Forever 21
We cannot get enough of bold prints this fall. An oversized leopard print sweater dress looks killer with tights and boots. Chances are, you already have the perfect accessories for this look in your closet!
Fresh Take on a Cardigan: Printed Cardigan (Total: $97.48)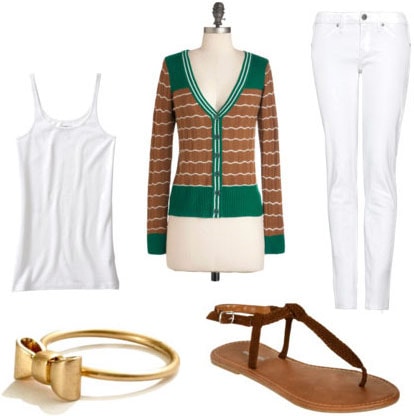 Product Information: Cardigan – Modcloth, Tank Top – Old Navy, Jeans – Mango, Shoes – Wet Seal, Ring – Madewell
What's more back-to-school-appropriate than a cardigan? We particularly love this one from Modcloth because of its contrasting colors and stripes. With white jeans and sandals, a cardigan can help transition your summer pieces into fall.
How will YOU freshen up your wardrobe for school?
How do you keep your back-to-school outfits budget-friendly? Which look above is your favorite? What are your go-to pieces this fall? Leave a comment below and let us know.