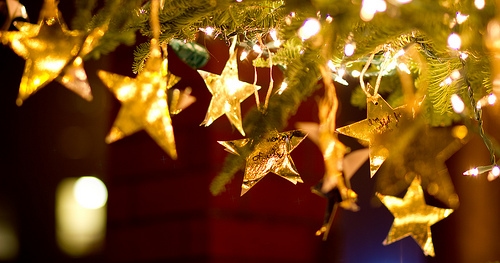 No matter which of the holidays you are celebrating this December, there are always a lot of reasons to dress up. From the ugly sweater parties to cocktail parties, cookie baking parties, and even work parties, we have you covered when it comes to putting on your swanky shoes.
If you (like, um, all of us) are on a serious budget, we found some holiday gems that won't hurt your wallet! All the festive party looks below are frugal; each one costing less than $100 for the entire outfit, including shoes.
Cocktail Soiree – $92.55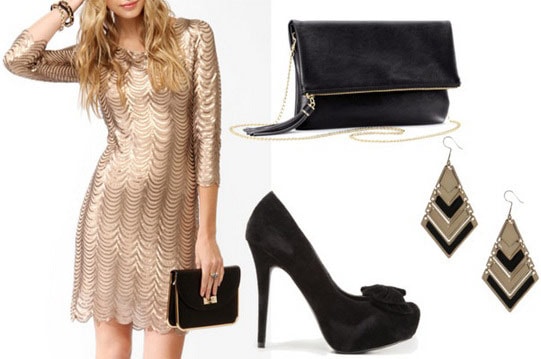 Product Information: Dress – Forever 21, Shoes – Forever 21, Bag – H&M, Earrings – BooHoo
If you're working the cocktail party circuit this season, you need a dress that stands out! This one from Forever 21 comes in at $32.95 but looks designer. (I'm just a click away from buying it myself!) Since the dress is so glittery, don't go too outrageous with your accessories. Stick with a simple black or white shoe and bag, and add simple earrings for the finishing touch.
Cookie-Baking Party – $99.46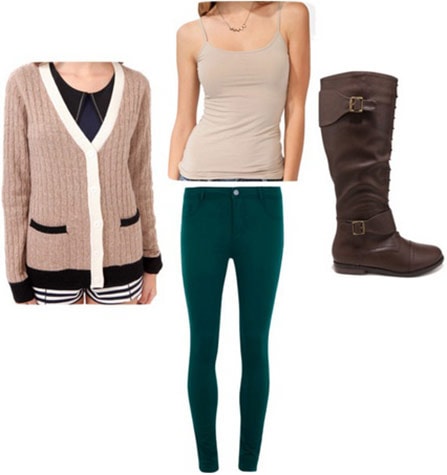 Product Information: Sweater – Forever 21, Cami – Forever 21, Jeans – Dorothy Perkins, Boots – Forever 21
Baking and decorating cookies with friends can be the most fun holiday event of the season! If you're hosting a cookie bake-off or headed to a pal's kitchen, there's no need to get super dressy, but you can still look cozy and in the spirit of the season. A great cardigan will keep you warm, but if the kitchen gets hot, it can always be removed, while dark green jeans are a nod to winter foliage.
Gift-Exchange Party with Friends – $83.74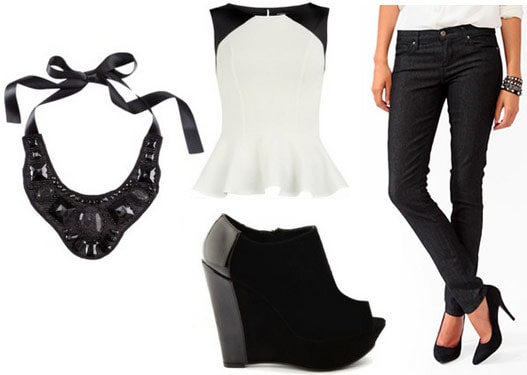 Product Information: Top – Dorothy Perkins, Pants – Forever 21, Shoes – Charlotte Russe, Necklace – H&M
If one of your friends is hosting a fun fete, you can still look swanky on a dime! The above outfit is completely on-trend, but also festive. A bib necklace with a ribbon-tie back and a peplum are cute touches to make this edgy look more seasonal.
Ugly Sweater Party – $98.70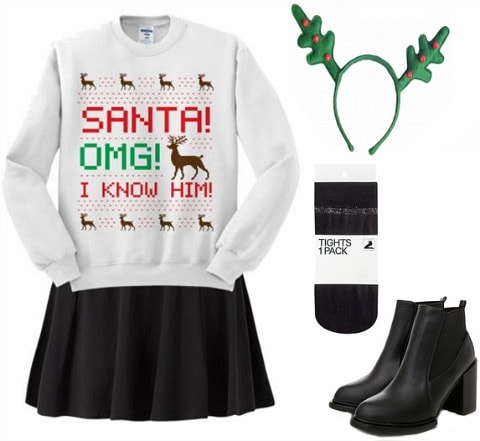 Product Information: Sweater – Amazon, Skirt – H&M, Tights – Forever 21, Socks – Forever 21, Boots – Delia's
Who doesn't love a tacky sweater party? And when it comes to donning your tackiest, you might as well go big or go home! Pair your silly sweater with a cute skirt, boots, and tights for a warm and sweet look.
Work Party – $97.09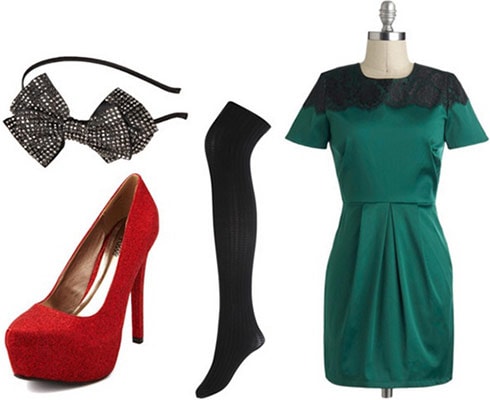 Product Information: Dress – Modcloth, Shoes – Charlotte Russe, Tights – Forever 21, Headband – Forever 21
Everyone raves about their work holiday parties, and we can attest that they're always a blast. Just remember that a work party is still work-sponsored, so it's important to dress conservatively. Save your flashiest dress for your night out with the girls! That caveat aside, you can still look absolutely darling. We love this jewel-toned dress from Modcloth paired with contrasting heels and opaque tights.
What are you wearing to your holiday parties this year?
How do you keep your party outfits under $100? What kinds of accessories do you wear to your holiday festivities? What look above is your favorite? Leave a comment below and let us know!