This post may contain affiliate links, which means we may receive a commission if you purchase through our links. Please
read our full disclosure here
.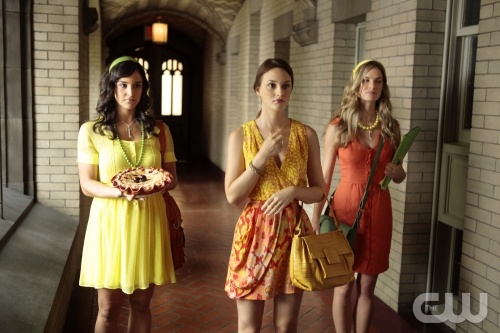 Blair and her nameless minions always hit the Columbia campus in style (Credit)
It's that time again: back to the daily grind of classes, homework and campus activities. Along with acing tests and keeping to deadlines, one new semester resolution to add to your list is dressing well for class.
Sure, it seems frivolous, but the truth is that when you're dressed nicely, you feel more confident, and that attitude extends to everything you do. Maybe you'll have that extra nerve to raise your hand in class, give a great presentation or talk to the cutie sitting next to you. Don't underestimate the power of dressing for success.
Of course, when you roll out of bed to make it to an 8 a.m. after pulling an all-nighter, fashion can be the last thing on your mind. And sometimes the only thing you crave as you venture out into the January chill is a cozy sweatshirt. But comfort and convenience don't mean sacrificing style; if you plan ahead and get creative with styling, you can go to class in outfits that are both comfy and fashionable.
Tips for Dressing Cute for Class in a Flash
Ditch the boring backpack. No matter how dull your outfit, a fabulous bag instantly perks up your look. For everyday use, swap out that nerdy backpack or dull messenger for a unique, colorful or eye-catching shoulder bag or tote. Carrying a dainty purse around campus a la Blair and Serena is pretty unrealistic, but over-sized shoulder bags or classic carryalls like Herve Chapelier or Longchamp totes are the perfect compromise between fashion and function.
Always wear jewelry. It's amazing how different a basic t-shirt or sweatshirt looks when you add a statement necklace or a shoulder-grazing pair of earrings. Jewelry is easy to wear — it's never too constrictive, too short or too small — so don't be afraid to pile on bracelets, wear a chunky watch or adorn your neck.
Invest in quirky flats. Heels are fun, but for most of us, they're not realistic for school. The better investment is garnering a collection of unique flats, included Oxfords, ballets and mocs. You're more likely to reach for those shoes that you enjoy wearing, so if you get comfy shoes that include bright colors, glittery finishes or embellishments, it's a win-win.
Find jazzed-up basics. Wardrobe mainstays can go from bland to bombastic if you scout out versions that are a unique variation on the classic. Try hot pink leather gloves, a studded cardigan, a t-shirt in a luxe fabric or skinny jeans with zippered ankles. That little alteration that sets your basic garment apart from the rest will be the slight adjustment that makes a basic outfit turn chic and interesting.
Nails are a secret weapon. Seriously, having your nails painted can help you fake looking pulled together, and depending on your color, an at-home manicure can add a new element to an outfit. If your wardrobe is dominated by neutrals like black and gray, keep your nails painted in a rotation of attention-getting hues like forest green, coral, jade, rich red or hot pink. (Or try one of winter's hottest nail shades!)
Layer, layer, layer. No matter how simple your pieces are, layering adds dimension. Try layering different textures or patterns for easy, chic styling.
Here are five easy yet stylish outfits for class that are easy on the wallet, too:
Outfit #1: Sophisticated Sweater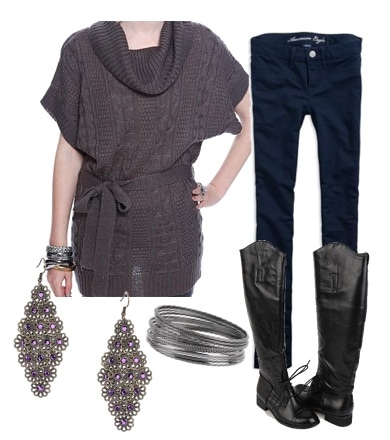 Product Info: Sweater, Jeggings, Boots, Bangles, Earrings
Is a sweater really that different from a t-shirt? Are cute flat boots that much harder to wear than Uggs? It's the little adjustments that instantly perk up your wardrobe. A cozy, oversized sweater over soft jeggings with flat boots is as easy to put together as that t-shirt, jeans and Uggs combo, but it's infinitely more stylish and polished. If you're straining to motivate yourself to dress well for school, just remember to start simply with easy combinations that aren't total departures from your routine look.
Outfit #2: Tiny Dancer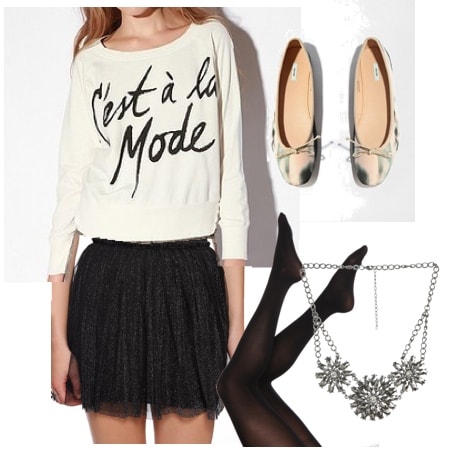 Product Info:Sweatshirt, Skirt, Flats, Tights, Necklace
The key to dressing well for class in a pinch starts with shopping; it's crucial to find comfy classics that have been reinvented with an alluring twist. This sweatshirt is both comfy and chic, a winning combination. If you pair it with a flattering tulle skirt, like this tutu-esque number, the outfit will escape a sloppy fate while its comfort remains intact. Ballet flats are easy-to-wear and relentlessly chic, particularly in unexpected prints and colors such as this dip-dyed pair.
Outfit #3: Country Strong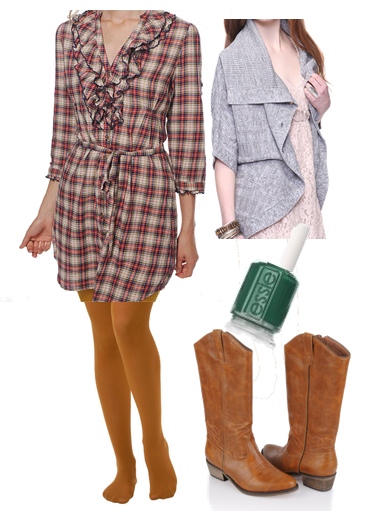 Product Info:Dress, Sweater, Tights, Boots, Nail Polish
A plaid dress, a chunky sweater and boots – these are items that most people can find in their wardrobes, and putting them together isn't rocket science. So don't over-think your wardrobe! School can be stressful enough; make sure you have some quick go-to outfits ready for days when you yearn for your easygoing sweats. Add a touch of the unexpected with tights in an unconventional color, like these dark mustard ones, and nails painted in an on-trend hue, like Essie's Going Incognito.
Outfit #4: Neutral Palette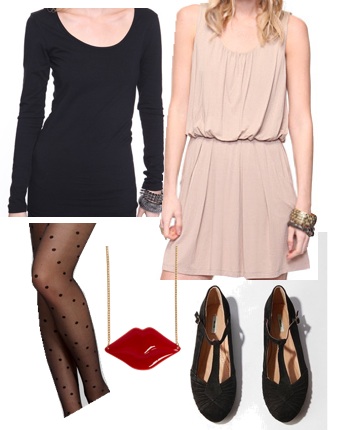 Product Info:Shirt, Dress, Tights, Necklace, Flats
Keep in mind that basic doesn't have to mean boring. This outfit is composed of items in neutral tones, with the exception of the red lips necklace, but the overall look isn't bland because it has layers, dimension and a mix of cuts and textures. Utilize interesting leg wear, humorous accessories and sophisticated shoes to make even your most basic-seeming outfit stand out. Layering also allows you to show off items that may normally get lost under sweaters or in the back of your wardrobe until warmer weather, like this sleeveless dress.
Outfit #5: Dressy Casual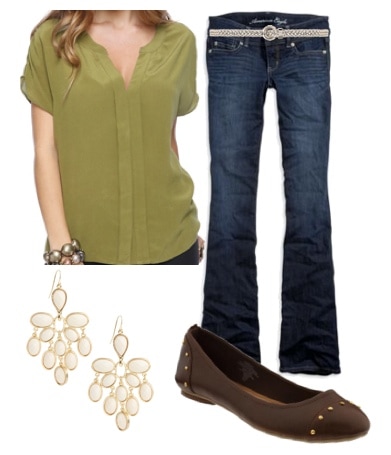 Product Info:Top, Jeans, Belt, Earrings, Flats
The simplest way to keep relaxed jeans from looking sloppy is by upping the ante when it comes to your top. You can get away with wearing a dressy top to class if you pair it with comfy jeans because the two items balance each other out and keep the outfit from looking too stiff. Remember, just because a blouse is made of a luxe material like silk or has frilly embellishments like ruffles doesn't mean it's going to be uncomfortable during your lectures. This top, made of silk with a loose fit, is a prime example of a dressy garment that works well for everyday wear, too.
More "What to Wear to Class" Tips
Want some more tips and outfit ideas for what to wear to your next class? Check out these vintage CF posts.
What do you think?
What do you normally wear to class? Are you resolving to look more pulled together from day to day? What do students typically wear on your campus? Do you like these outfits? Which would you wear to school? Please leave a comment!