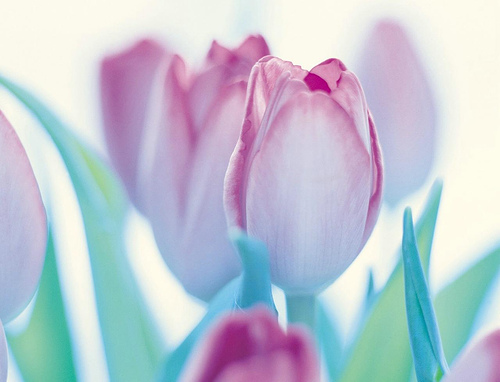 Now that the days are long and the temperatures are rising, I've been coming up with reasons to go outside – everything from longer dog walks to drive-in movies. But along with glorious weather comes an interesting sartorial twist: What do I wear to the music festival? The baseball game? The bonfire party?
Don't fret, my fellow fashionistas: I have plenty of tips to ease the pain of dressing for awkward spring fashion scenarios. Below, I've created four outfits for different spring occasions, with each look under $100 total.
Music Festival – Total: $97.34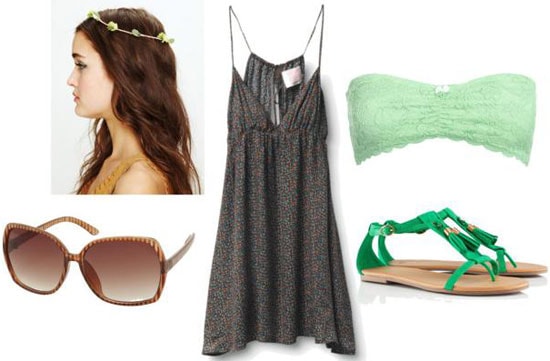 Product Information: Dress – Quiksilver, Sunglasses – Dorothy Perkins, Shoes – H&M, Bandeau – Wet Seal, Flower Crown – Free People
We've all been there: it's Coachella/Stagecoach/insert-other-outdoor-music-festival-here and you are wearing the wrong outfit. You're sweating like crazy, dirt is sticking to your face, your linen dress is wrinkled, you're wearing boots and socks, and your hair has completely deflated. Follow these tips to avoid the above situations:
The looser, the better. Go for loose, flowing clothing. Anything is too tight will make you sweat and then absorb it, which will leave you feeling self-conscious and gross all day. So skip the skinny jeans and rock a carefree dress! Just make sure to check the wind report, as you don't want to go with a weightless dress in 20-mile-an-hour winds.
Go boho. There is no better place than a music festival to wear hippie headbands, tons of bracelets, and flowers in your hair.
Always wear flat shoes. You will be miserable in heels after the first hour, I promise.
Don't wear anything too expensive. Losing that priceless piece of jewelry would be a disaster, and your clothes will likely end up dirty anyway.
If you're smaller on top, leave your bra at home. I'm not suggesting going commando or anything, but bras can feel more like straightjackets when worn for several hours in the heat. For support and coverage, try a bandeau.
Check your fabric. Avoid flannel, polyester, linen, and, if the festival is during the day, anything all-black.
Sunscreen is an absolute must.You may have seen us rave about it before, but we cannot over-stress the importance of SPF!
Baseball Game – Total: $98.85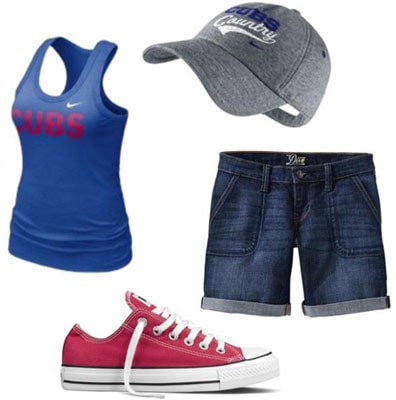 Product Information: Top – Wrigleyville Sports, Shorts – Old Navy, Hat – Nike, Shoes – Journeys
It's baseball season and I could not be more excited. For those of you headed to the games this spring, be sure to glance at these tips to avoid baseball game fashion faux pas:
Be supportive of your team! Although I would never suggest wearing Cardinals or Brewers gear because it would be sacrilegious for me to do so, it is key to support your team by donning their logo and/or colors.
Wear the right makeup and bring along a ponytail holder. I once attended a spring training game in Arizona where it was so hot that my fingernail polish began to melt off my nails! Now that was something I hadn't expected to deal with. So don't be afraid to wear as little makeup as possible and throw your hair in a pony with a cap.
Don't wear anything too delicate, expensive, or precious. It's almost guaranteed to have beer spilled on it.
Rainy Day on Campus – Total: $97.77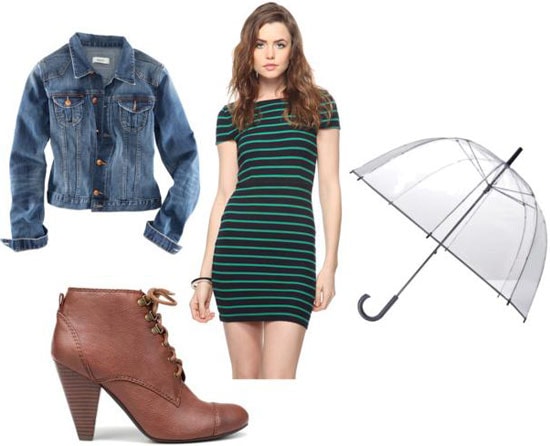 Product Information: Dress – Forever 21, Jacket – H&M, Umbrella – Target, Shoes – Zara
Rainy day outfits are always tough to put together, especially if it's warm outside. You'll probably want to spend a rainy day curled up inside anyway, but for those of you who actually have to go out and still want to look cute, follow these tips:
Don't be afraid to wear a dress. As long as it's a warm spring rain, wearing a dress in the rain is perfectly acceptable and you avoid having to wait for your soaking wet jeans to dry!
Do keep a jacket around. You will want something around your shoulders. Although we chose a standard denim jacket above, hooded jackets are also good in case your umbrella breaks!
Galoshes are great! We've covered stylish rain boots, and even more cute rain boots to fit your style.
…but don't fear wearing heels either. With snow, one must be very careful of falling on ice. But with rain, there's no reason not to wear your heels and look your best – just don't jump in puddles!
Don't wear leather or suede shoes, otherwise they will be ruined. And no one wants that. (If you really need to wear them, make sure you use waterproofing spray first!)
Waterproof mascara is a must, for obvious reasons.
Bonfire Party – Total: $97.93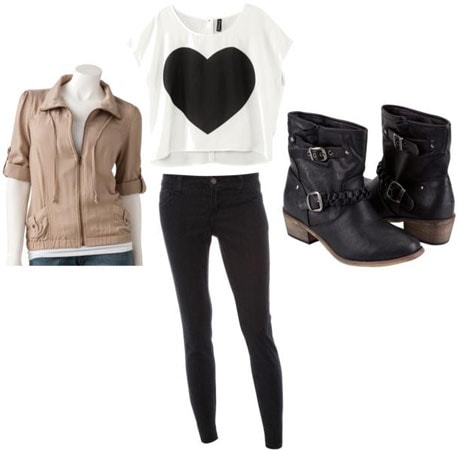 Product Information: Top – H&M, Jacket – Kohl's, Pants – Dorothy Perkins, Boots – Tilly's
You lucky girl, you, headed out to a bonfire party. I have dreams about roasting marshmallows and making s'mores, surrounded by good friends and maybe someone with a guitar. But I have had nightmares about what to wear to a bonfire. Since I now consider myself well-versed in the ways of dressing for outdoor night parties, here are my tips:
Don't stay in because it's too cold. This is key, because I am notorious for whining about being out in the cold, when really anything above 50 degrees is perfectly acceptable bonfire weather. Isn't that the whole point of cozying in around a hot fire?
Crop tops make for a great party look. Since you'll be wearing a jacket to cover your shoulders from the cold, a crop top is a trendy way to sneak in some skin. If you're self-concious about it, wear a tank underneath. You'll still be on-trend.
Flat shoes are a must, and booties are even better!
What do you think?
Leave a comment below and please share! What spring situations do you find the most difficult to dress for? Which of the looks above is your favorite? Can you relate to any of the frustration of dressing for these situations? Do you have any handy tips or tricks?