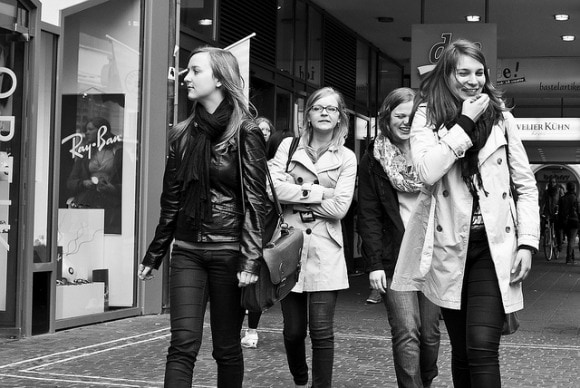 If you ask us, there's nothing better than indulging in some R&R with your girlfriends. Whether it's getting pampered with a mani/pedi, a coffee date, or just a pajama party, we always vote in favor of time with the gals.
Girl time does call for some wardrobe planning, however. Your girl-date outfits should be fun (after all, your friends will appreciate your fashion risk-taking), so pull out all the stops. Giant earrings? Check. Leopard print shoes? Check. Decked-out moto jacket? Double check. That said, you should never spend too much money on your trendy pieces.
For this week's installment of Outfits Under $100, we have assembled four girl date looks that won't completely deplete your paycheck. Scroll down to see them all:
1. Happy Hour Hopping – $90.86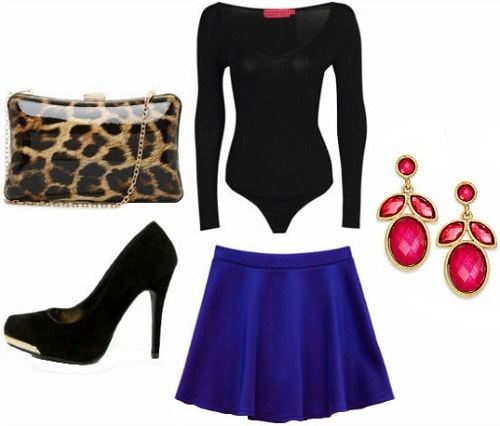 Product Information: Leotard – Boohoo, Skirt – Forever 21, Shoes – Lulu's, Bag – 2B, Earrings – Macy's
If you have an excuse to dress up, use it!No more slopping around in your favorite leggings; sass it up with a long-sleeve leotard, cobalt skirt, and pumps with metallic detail. An evening with the girls calls for embellishing your look, so accessorize with gigantic jeweled earrings and a leopard print bag.
2. Shopping Date – $93.74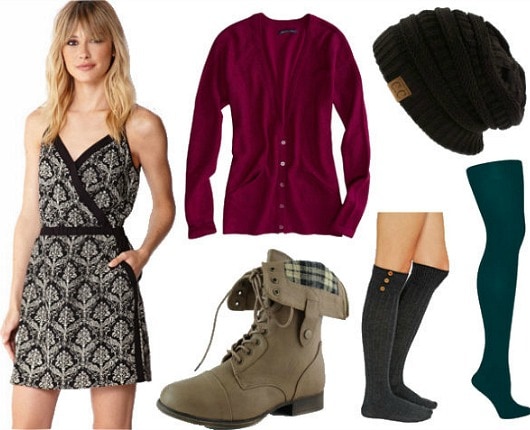 Product Information: Dress – Forever 21, Cardigan – American Eagle, Boots – Amazon, Tights – Betsey Johnson, Socks – Urban Outfitters, Hat – Amazon
Believe it or not, the most important part of shopping is wearing comfortable shoes, like these lace-up combat boots. Rock them with a wrap-around dress, cardigan, and layered socks with tights. In addition, a cozy beanie hat is easy on those lazy-hair days. There's no need to have wardrobe worries on an afternoon of shopping with your friends, but there's also no need to sacrifice style.
3. A Night at the Movies – $97.89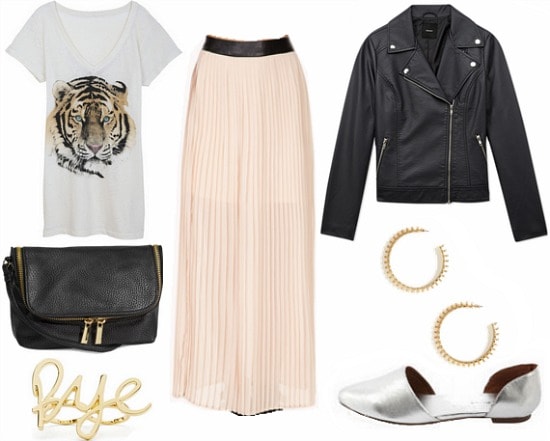 Product Information: Top – Delia's, Skirt – Forever 21, Jacket – Forever 21, Shoes – Charlotte Russe, Bag – H&M, Ring – Nasty Gal, Earrings – Nasty Gal
When you're going out with your girls, be yourself, wear what you love, and bring out the trendy pieces you can't get enough of. We love the idea of an accordion pleated skirt, a fitted motorcycle jacket, and silver d'orsay flats. Don't be scared to mix up your metallics with a gold double-finger ring and spiked hooped earrings.
4. Coffee Shop Date – $98.74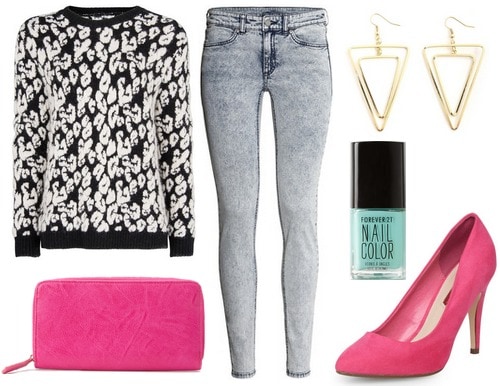 Product Information: Sweater – Mango, Jeans – H&M, Shoes – Dorothy Perkins, Wallet – Forever 21, Earrings – Charlotte Russe, Nail Polish – Forever 21
Chatting over coffee with your best friends? Go with a cozy with a sweater and washed-out jeans, but pair the look with serious pops of color. Get a jump start on spring with pink details and mint nail polish. This style is cheery, and you should be cheery because you are having an abundance of girl time!
What do you wear when you're going out with your girls?
Do you always amp up your look for girl's night or keep it more mellow? How do you keep your looks frugal? What look above is your favorite? Let us know by leaving us a comment below!