Previously on Outfits Under $100, we were lounging around, summer was going to last forever and whoops, now it's halfway through August and you're scrambling to carpe diem the last few weeks away. So, here you are, battling simultaneous impulses to make the most of summer, dress cute for your hometown, and not eat through your hard-earned summer job savings.
No worries! I've got your back with four looks, along with with potential ideas for enjoying the end of summer. And for the budget-conscious, you're in luck, since each of these outfits rings in at under $100.
Short Road Trip – $99.58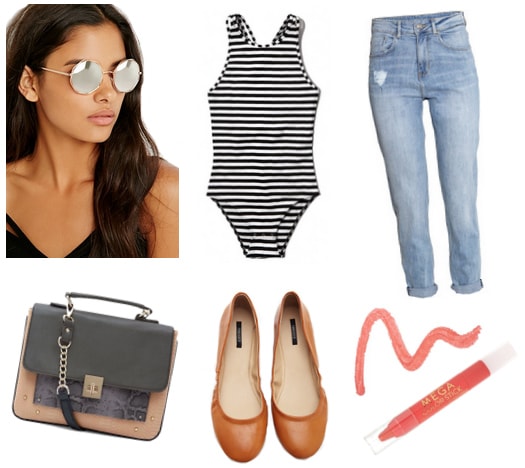 Product Info: Mirrored Sunglasses, Bodysuit, Jeans, Crossbody, Flats, Lipstick
"Short road trip" could mean a glorified coffee shop run (some travel far for good caffeine) or a jaunt out to a major city, but whatever you choose, it's time to break out some trendy staples.
Pair distressed cuffed jeans with a striped bodysuit and my-future's-too-bright mirrored sunglasses for a casual-cool vibe. Add comfy flats if you're the type to kick your shoes on and off in the car, as well as an edgy color-blocked crossbody bag. Swipe on coral lipstick and you're ready to roll.
Lounging around the Beach – $97.89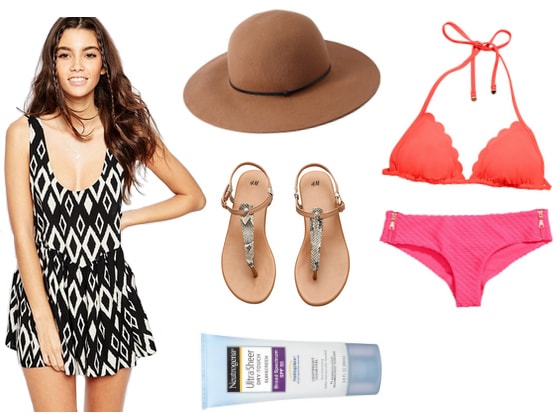 Product Info: Romper, Bikini (top, bottom), Sunglasses, Sandals, Hat, Sunblock
Print bikini, monokini, lying on the beach with a (virgin if you're under 21) martini, this cute printed romper has you covered, whether you're on the beach or strolling the boardwalk. The low back and open design make it easy to slip on and off while showing off your adorable swimwear.
Put on a floppy wide-brim hat and sunblock to protect yourself from the sun, then slip on snake print sandals to complement the romper's geometric print.
Dinner Downtown – $93.99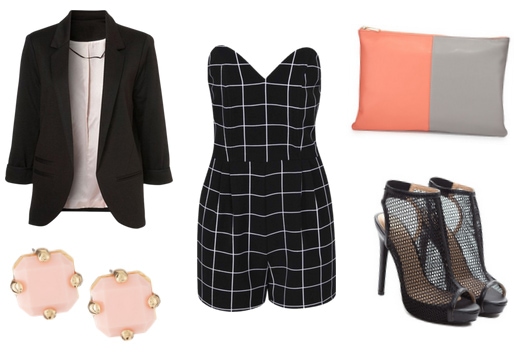 Product Info: Blazer, Romper, Clutch, Heels, Earrings
If you're lucky enough to have a thriving downtown area or a major city nearby, dress up in a strapless romper and blazer as an alternative to dresses. Accessorize with pink stud earrings and play off the grid pattern with a color-blocked clutch. Step into black mesh heels to elevate the look and go explore the nightlife scene.
Take Me Back to School – $95.70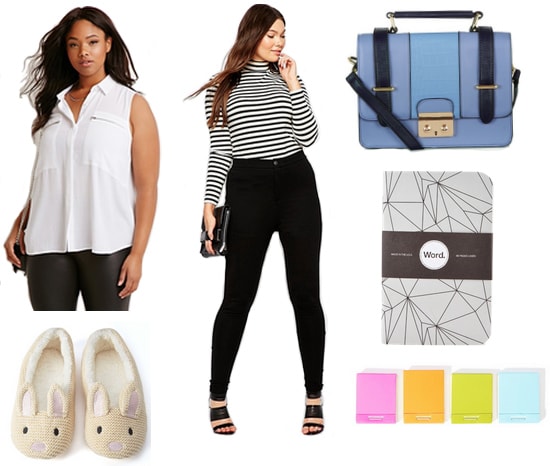 Product Info: Pocket Tee, Trousers, Satchel, Notebook, Slippers, Sticky Notes
But actually, you say, I'm over summer and I'm itching for the new semester to start. You're out and about getting everything organized for the year ahead, and you might make a hobby out of shopping for school supplies. (Guilty.)
Keep things scholarly with a sleeveless button-down tank, polished (and comfy) high-waisted trousers, and a bright blue mini satchel to stash the essentials. Whether you're a paper or digital planner, keep a notebook handy to jot down to-do lists. Come home and unwind after a long day with fuzzy bunny slippers.
Your thoughts?
What did you think of these looks? How are you planning on finishing summer? Anything you wish you had more time to do? Let us know in the comments below!