This post may contain affiliate links, which means we may receive a commission if you purchase through our links. Please
read our full disclosure here
.
Loungewear has trekked a long way from its velour days, becoming an R&R support system for the stylish college student who can't resist looking cute, even on days off. The more tolerant cousin of what you wear during the week, loungewear celebrates bright colors, liberal pattern mixing, and softer, tousled proportions that make those glorious stretches of free time all the more indulgent.
Since many of you may be burnt out from a busy and demanding summer (or close to it), I've created four fun loungewear looks (#2 features items available in plus sizes) to help you finish out the week in good spirits. And don't worry if you're on a budget— each of the looks below rings in at under $100.
Look 1 – $99.64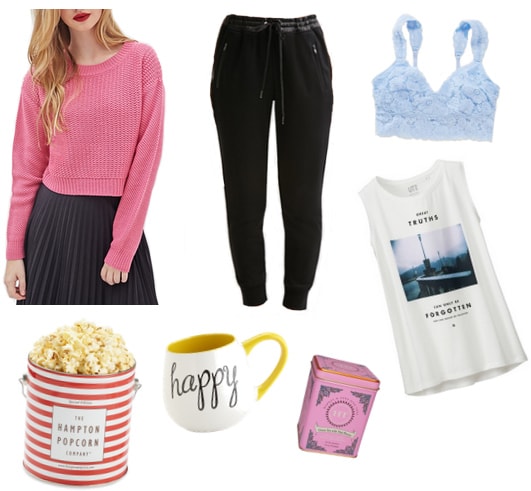 Product Info: Cropped Sweater, Joggers, Bralette, Graphic Tank, Popcorn Tin, Mug, Tea
This look is for watching movies and whipping up a platter of snacks beforehand. Swap in a stylish pair of joggers in lieu of worn sweats. The zipper and faux leather detail on this pair add visual interest and the illusion of effort. Throw on a relaxed graphic tank with a soft bralette underneath and layer a cropped sweater in a contrasting color for cooler temps.
If you're a relentless snacker like me, try this cute popcorn tin. Settle into the couch with a mood-forecasting mug for the delicious coffee/tea you brewed at your leisure— as opposed to slapping it into your thermos and barreling out the door à la "Breakfast" at Natsumi's.
Look 2 – $84.96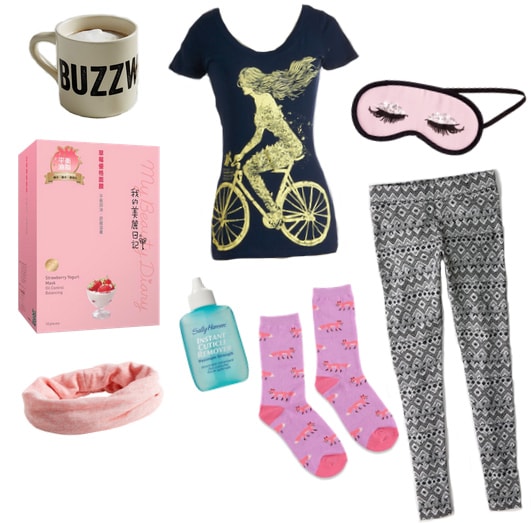 Product Info: Tee, Leggings, Mug, Sheet Mask, Headwrap, Fox Socks, Cuticle Remover, Sleep Mask
Maybe all you're planning is some well-deserved time cuddled up in bed. This stunning graphic tee, patterned leggings, and foxy socks are all you need for the day, plus a mug as buzzworthy as your daily juggling act.
It's the perfect time to take care of what you might neglect during the week— your cuticles, your skin, your peace of mind, even— so sweep your hair back with a headband and let a cuticle dissolver and Korean sheet masks do all the work.
Look 3 – $80.29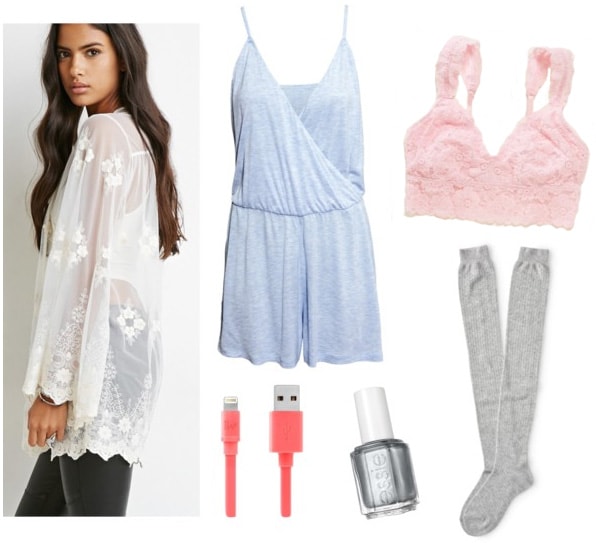 Product Info: Cardigan, Romper, Bralette, Socks, Nail Polish, iPhone Charger
Whether you're in a long-distance relationship or simply have someone special in your life, finding the time to catch up is an occasion in itself. You've been looking forward to being on the phone with your boo all week, so why not have fun with your look?
Here, I went with soft tones and textures. Layer this lovely crochet-detail cardigan over a drape-front romper with just enough shape to upgrade your usual sleepwear. A pastel lace bralette, cozy knee-high socks, and a swipe of silver nail polish are all the accessories you need. Your charger, of course, will be on hand.
Look 4 – $81.83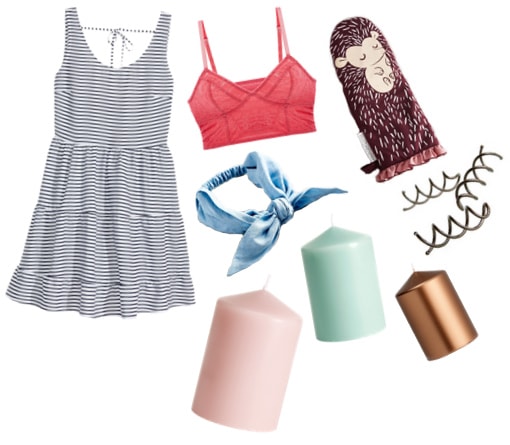 Product Info: Dress, Bralette, Headwrap, Oven Mitt, Spiral Pins, Candles
If your big plan is to try out a new recipe or treat your family to a homecooked meal, you'll need no-fuss pieces, like a loose dress that'll keep you cool in the kitchen heat. Twist your hair into a bun with spiral pins and a headwrap or tie it back in a French braid.
A fun wireless bra is a no-fuss way to spice up the look, while an adorable hedgehog oven mitt adds personality and practicality. For bonus points, set up (unscented!) candles as you serve the final product to grateful taste testers.
What do you think?
Got any plans for the weekend/upcoming day off? What did you think of these looks? Let us know in the comments below!