The little black dress is one item that most fashion experts agree is a great investment piece for your wardrobe. The perfect LBD is timeless, can be dressed up or down, and goes with just about anything.
However, finding the perfect little black dress can be time consuming and often gets expensive. If you're still searching for the perfect LBD or are short on cash, here are four inexpensive LBDs and four different ways to wear an LBD– all for under $100!
Outfit #1: Keeping it Classy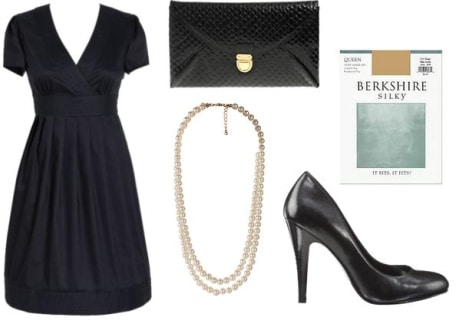 Product Information: Dress- Delia's, Clutch- ASOS, Necklace- Forever 21, Tights- Bare Necessities, Pumps- Target
Outfit Total: $95
When I think of the little black dress, I immediately think of Audrey Hepburn in Breakfast at Tiffany's – classic, chic, and totally timeless. The above outfit is a budget-friendly version of a classic way to wear a LBD. The dress has a great silhouette and could be worn casually if you wanted to dress the look down. Add a classic clutch with a modern twist– (faux) crocodile skin! Some tights add warmth without overpowering the rest of the outfit and nothing says timeless like a strand of pearls and black pumps.
Outfit #2: Bohemian Like You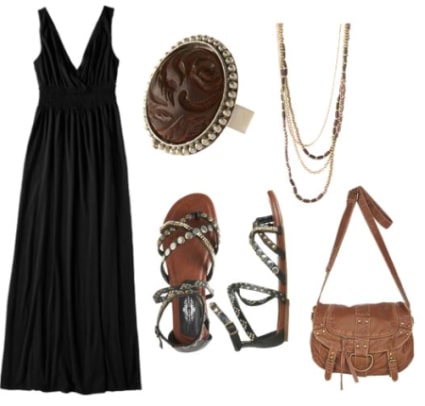 Product Information: Dress- Old Navy, Ring- ModCloth, Necklace- Forever 21, Shoes- Wet Seal, Bag- Alloy
Outfit Total: $93
This is a boho-inspired way to rock a LBD. A lot of people think mixing black and brown is taboo, but we find that they look great together, especially when trying to achieve a boho style. This maxi dress is very plain, so the accessories can take center stage. Add a long chain necklace with wooden beads and continue the wooden motif with this cute ring. Wear some comfy gladiators and a faux leather bag to finish this effortless look. This is definitely a day look, but adding some gladiator heels and a clutch would work for night.
Outfit #3: The Feminine Mystique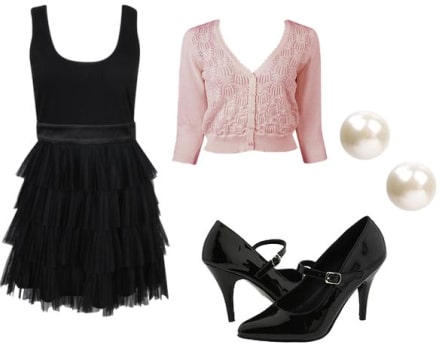 Product Information: Dress- Forever 21, Cardigan- Forever 21, Stud Earrings- ASOS, Mary Jane Pumps- Zappos
Outfit Total: $99
Embrace your girly side with this pretty LBD. The tiered dress is super feminine and reminds me of an adorable tutu – very Carrie Bradshaw in the opening credits for Sex and the City. Wear it with a soft pink cardigan with a delicate scalloped detail and some oversized pearl earrings. Finish this look with some sweet yet chic mary jane pumps.
Outfit #4: Woman on the Edge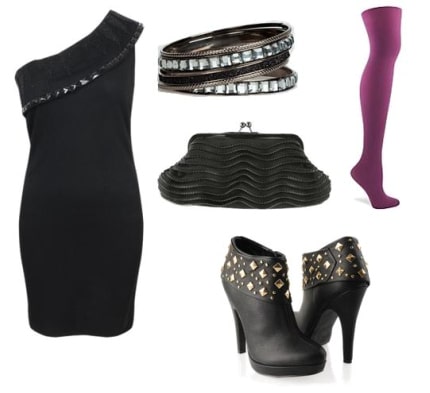 Product Information: Dress- Forever 21, Bangles- Charlotte Russe, Tights- Dillard's, Clutch- Forever 21, Booties- Forever 21
Outfit Total: $93
Add some rocker elements to your LBD with this edgy look. The stylish one-shouldered dress has some great beaded and studded detail. These bangles carry on the studded look and add some glam, while the zippered clutch adds a tough element. These plum tights add a bold and much needed pop of color and these booties complete the edgy look.
What do you think?
Have you found your perfect little black dress yet? Which outfit do you like best? Is your personal style similar to any of these or is it something completely different? Let us know in the comments!