At this point in the semester, it's hard to tell if you're shivering from the chilly temperature or that daunting bundle of assignments and deadlines. Either way, you still have to get up despite waning motivation and your bed's siren call. Rather than throwing on something ratty, try some comfy, thrifty looks for a pick-me-up.
I've put together four looks for when you're slogging through the morning with a full day of classes ahead of you. And don't worry if you're on a budget — each of these looks ring in at under $100. Also, #3 features plus-size items.
Look 1 – $97.87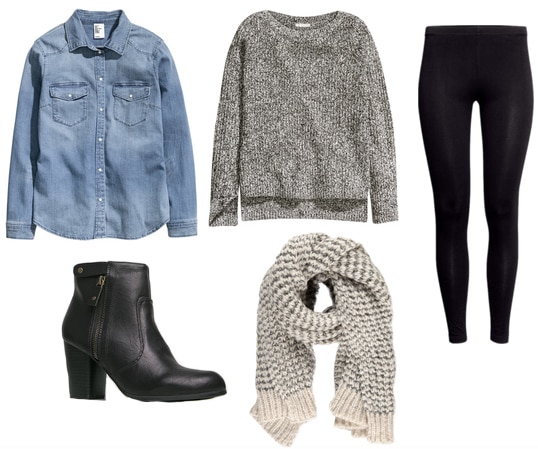 Products: Leggings, Denim shirt, Sweater, Booties, Scarf
This outfit happens to feature my go-tos in cold weather: Leggings, chunky knits, and lots of layers. When you're bored of wearing just a sweater and leggings, add a denim shirt (or a flannel) underneath for extra warmth. Find a moment to wrap a fluffy scarf around your neck while you're throwing on black ankle booties, then brush your teeth and rush out the door.
Look 2 – $90.49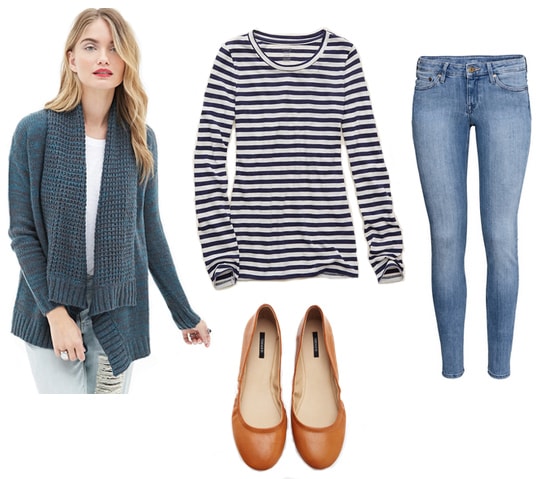 Products: Striped tee, Jeans, Flats, Cardigan
If you've been up studying all night or you feel a cold coming on, take it easy in a relaxed striped tee and light wash jeans. Slip on ballet flats and a marled knit shawl cardigan — the more oversized the fit, the bigger the consolation that you're not going to see your bed for a few hours.
Look 3 – $88.87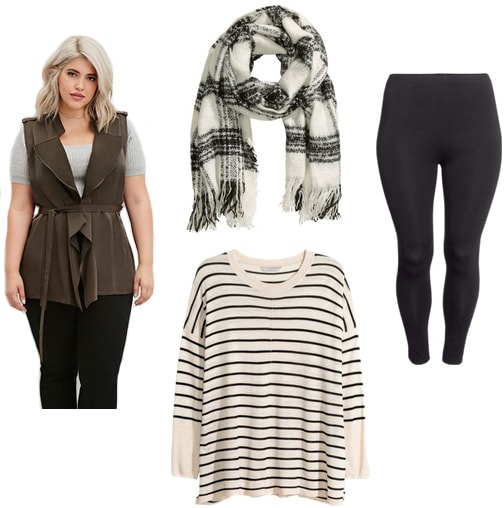 Products: Vest, Scarf, Leggings, Sweater
For when you want to feel more polished, layer a drapey olive vest over a loose striped sweater for soft, sophisticated folds. You can also substitute a black turtleneck for a sleeker outfit. Black leggings and a fuzzy brushed plaid scarf complete the look.
Look 4 – $97.93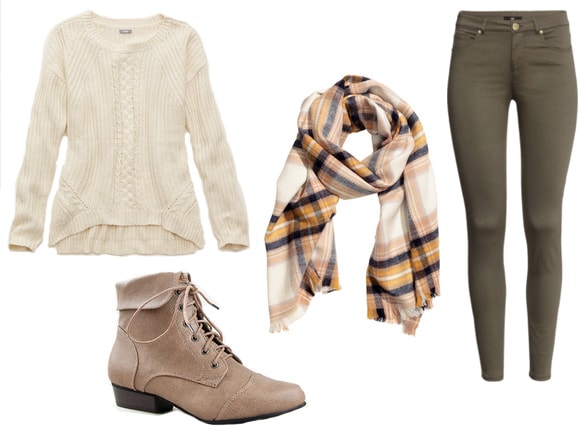 Products: Sweater, Scarf, Pants, Booties
I actually saw someone wearing this comfortable, eclectic look the other day. While she was wearing work boots, I swapped in lace-up taupe booties for a rustic look. This soft cream sweater, olive pants, and adorable plaid scarf combo is perfect for crisp fall mornings.
What do you think?
What did you think of these looks? What staples do you keep on hand for when you're feeling frazzled?