This post may contain affiliate links, which means we may receive a commission if you purchase through our links. Please
read our full disclosure here
.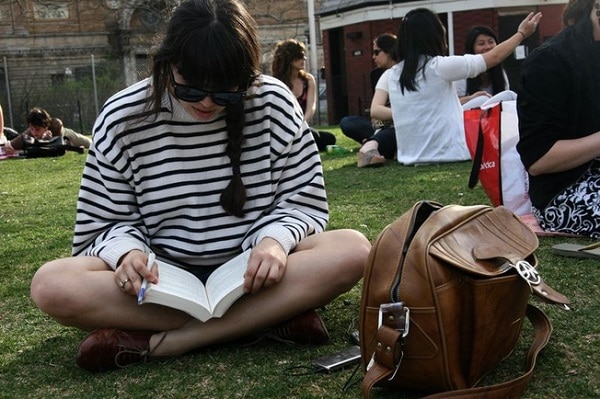 Photo: ELLE
You've got your textbooks purchased, all of your classes mapped out, and your backpack packed. Now what's left is the struggle to figure out what to wear on that important occasion: the first day of college.
You want to put your best self forward and start the semester off on the right foot, but there are so many things to take into consideration. How professional is too dressy? What shoes are going to be comfortable enough for class? Will the classrooms be cold even though it's hot outside?
Don't fret, freshman. Below are four outfits to inspire your first-day-of-college wardrobe. It isn't our first semester, so we understand how strapped your wallet can be. All the looks are budget-friendly, ringing in at under $100 each. Scroll down to check out all of the looks:
Introduction to Business – $92.73
Product Information: Top – H&M, Skort – Boohoo, Shoes – Charlotte Russe, Bag – Black Five, Necklace – Forever 21
Don't forsake your personal style in an effort to look professional… there is no reason you can't have both! This boldly-patterned asymmetrical skort should be the focal point of your look. A simple sleeveless button-up is classy enough for college, but will also keep you cool in the sweltering temps.
Opt for neutral-colored flat oxfords that are comfortable enough to walk across campus. A colorful necklace ties in with the skirt, while a bold yellow bag adds fantastic contrast.
Pottery I – $89.18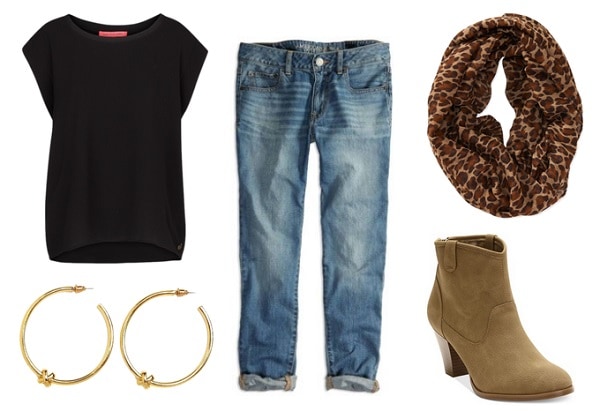 Product Information: Top – Mango, Jeans – American Eagle Factory, Shoes – Macy's, Scarf – Aeropostale, Earrings – Charlotte Russe
If you're taking an art course this semester, you probably won't be getting too messy on your first day. However, some classes do require you to dive right into the pottery or paint, so there's no need to get dressy.
We love the idea of baggy boyfriend jeans and a plain tee. Jazz it up with a leopard print scarf and some cute little booties. If you feel underdressed, throw on gold hoops to complement your look.
Beginner's Latin – $94.88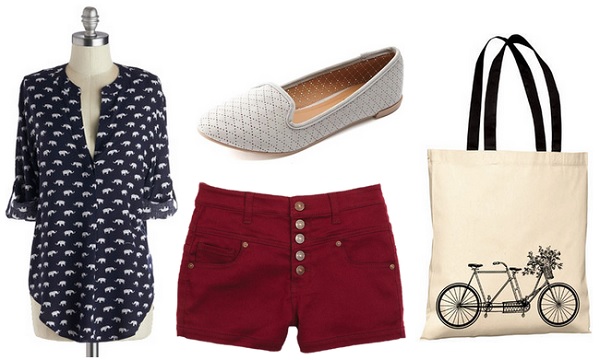 Product Information: Top – Modcloth, Shorts – Delia's, Shoes – Charlotte Russe, Bag – Etsy
Although you're back in school, it is still summer. You don't have to ditch your favorite red shorts as long as you pair them with a polished button-up. Smoking slippers are right on-trend and comfortable enough to hike from class to class. A cute graphic tote is perfect for hauling around a textbook, your laptop, and the rest of your essentials.
English Composition I – $84.06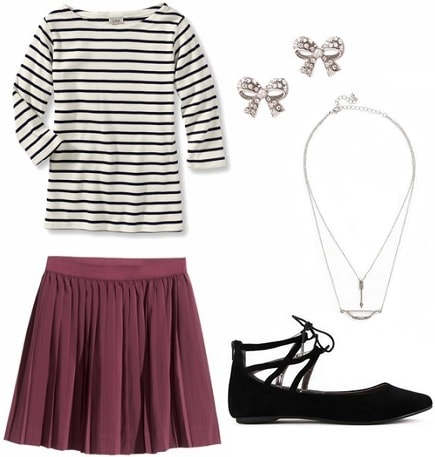 Product Information: Top – LL Bean, Skirt – H&M, Shoes – Deb, Necklace – Modcloth, Earrings – Forever 21
A high-waisted pleated skirt looks polished when styled with a three-quarter length striped sailor shirt. Lace-up ballet flats are a chic take on a classic style. Your finishing touches should be simple; a dainty necklace and a pair of bow-shaped studs are all this outfit needs to make your first day of class a smashing success.
What will you be wearing on the first day of college?
Do you already have an outfit picked out? What style above is your favorite? If this isn't your first year, what tips do you have for incoming freshman regarding what to wear? Leave a comment below!