This post may contain affiliate links, which means we may receive a commission if you purchase through our links. Please
read our full disclosure here
.
As with the white button-down, I used to have a strange hang-up with professional/business casual clothing.
Unlike my roommate, who's a marketing major, or my other roommate, an engineering major with presentations always around the corner, I have a slim selection of professional clothes. Part of the reason was me being averse to buying boring blazers and staid suit separates. My uniform as a magazine major tends to be casual for class, or pajamas and messy hair when I'm working on stories.
That was until, of course, I started watching Scandal and How to Get Away with Murder, which I'm pretty sure are responsible for reigniting a nationwide obsession with chic workwear. Abby's pretty Joie blouses, Olivia Pope's luxurious statement coats (Scandal), Laurel's smart layers, and Annalise Keating's sheath dresses (HTGAWM) finally had me appreciating power dressing.
The power of power dressing, if you will, is the fact that it looks so deliberate. Few people accidentally put on tailored pants and a nice jacket when rushing out the door, so I think part of the appeal of Scandal or HTGAWM's fashion is how it says I show up, I'm good at what I do, and you'd do well to pay attention.
So, I've put together four business casual outfit ideas for professional occasions. If you need ideas for networking events, job interviews, internships, or important presentations, look no further. And don't worry if you're on a budget — each of these looks ring in at under $100 (#4 features plus-size items).
Look 1 – $98.27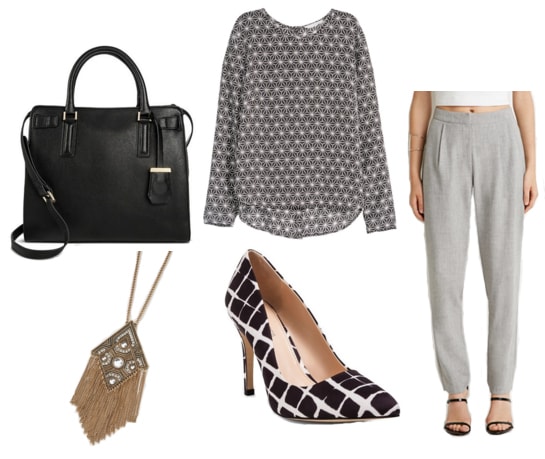 Products: Blouse, Trousers, Tote, Pumps, Necklace
When you're putting your professional wardrobe together, a flattering blouse, tailored trousers, and comfortable heels are a good start. These black and white plaid pumps play off the cute tile print blouse, while these dove gray pants add a second dose of soft lines. For a more feminine look, swap in wide-legged pants and platform pumps. A structured black tote and a geometric pendant necklace round out your basics.
Look 2 – $98.79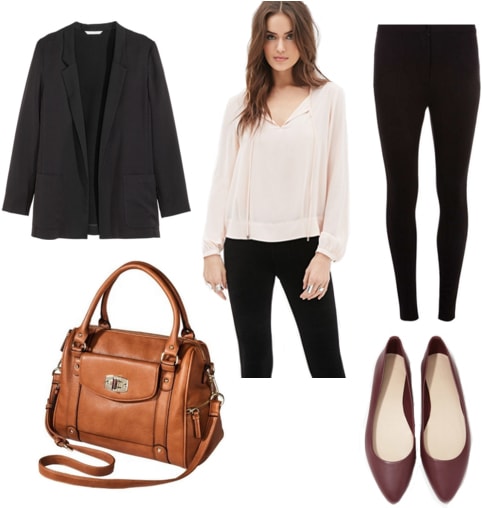 Products: Satchel, Blouse, Blazer, Trousers, Flats
I like to think this is how I'll dress once I find my footing in the work world: Polished and cosmopolitan, with enough trendy touches to feel current. I've picked out a black blazer and black knit trousers as a variation on the typical suit. Layer a gorgeous chiffon blouse underneath for a softer professional look, and play off its pale pink tone with maroon pointed flats. Keep the essentials handy in a sturdy tan satchel perfect for work, interviews, and presentations.
Look 3 – $99.69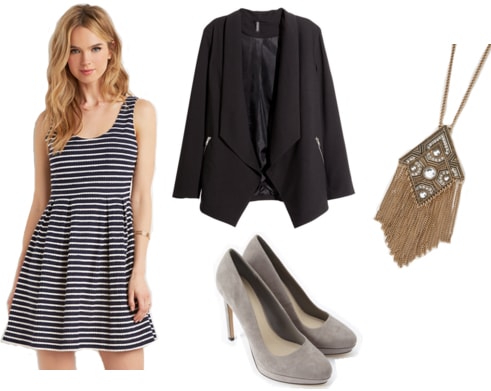 Products: Dress, Blazer, Pumps, Necklace
If the dress code is a bit more casual, opt for a fit and flare striped dress (this type of piece is great for working in a vibrant pattern or color) and layer a longer draped blazer on top for a laid-back, yet polished look. Accessorize with the geometric pendant necklace from earlier and gray suede pumps. This look is great if you're working a professional event or even attending a dressier company party.
Look 4 – $98.80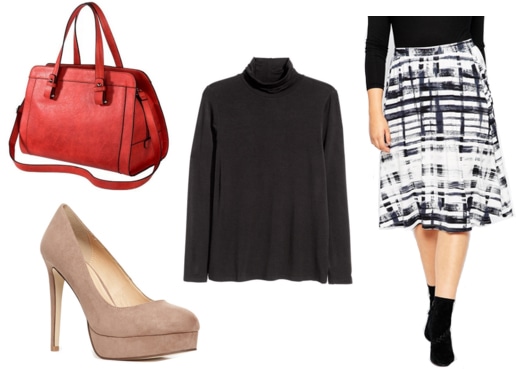 Products: Turtleneck, Skirt, Pumps, Satchel
Go for a classic look at the office with a black turtleneck tucked into a midi skirt with a great print, such as this black and white grid pattern. Slip on taupe suede platform pumps, and add a pop of color with this red statement satchel.
Extra Items to Bring to Professional Events
Take some time the night before to pack these extra items and get ahead of any emergencies that could pop up:
Portfolio folder to stow copies of your resume and a small notepad. You can find them at various price points, but a portfolio in a tasteful, neutral color will not only help you keep your materials together, but look more organized and professional. They might also be sold as executive portfolios or writing portfolios.
Extra pens. This might be the magazine major in me, but I always have about three pens crammed in my bag anyway. They're useful when you're researching something about your interviewer on the fly, or when you think of last-minute questions you might want to jot down.
Flats. (if you plan on showing up in heels)
Seamless underwear. For when you need your undergarments to stay smooth.
Deodorant.
Band-aids, or even better, gel insoles as a preventative measure. You want to focus on the person you're talking to and how to best talk about your accomplishments, not how you're screaming internally from multiple blisters.
Blotting papers. (toilet paper works in a pinch)
Your phone charger.
Your thoughts?
How do you dress for professional events or business casual workplaces? What do you always have on hand? Let us know in the comments.