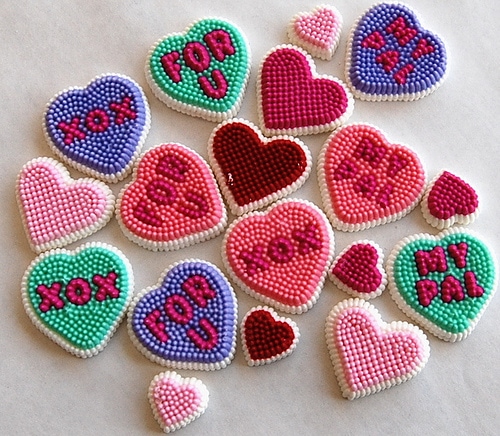 It seems that as soon as February hits, all we see are red clothes, store decorations covered in hearts, and hundreds upon hundreds of cards dedicated to the holiday of love. Whether you're single or taken, Valentine's Day is around the corner, and it's time to think about what you're going to wear!
With this week's edition of Outfits Under $100, I've created 3 cute, budget-friendly outfits ready to wear for any valentine occasion. Whether you're going out with your significant other or celebrating your singleness with a bunch of your girlfriends, with these great outfits, you'll be ready to dress your best for February 14th.
Outfit #1: Fancy Date! (Total $96.80)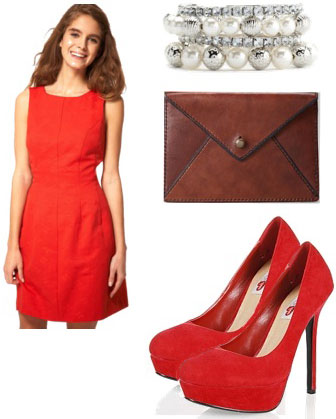 Dress, Shoes, Clutch, Bracelet
Though I titled it "Fancy Date," this outfit is not only for those who have a special someone to spend Valentine's Day with, but also for those who just like dressing up!
I started with a Valentine's classic – a LRD (little red dress). Red is a bold color, but the length of this dress and its sleeveless design allows it to remain classic. I decided to pair it with bold red shoes (come on, it is Valentine's Day) for some extra oomph. Because the red color scheme is the main focus of this outfit, don't go overboard with the accessories. A simple leather clutch and some pearl bracelets are the perfect choices to keep this outfit looking classy.
Outfit #2: Casual Valentine (Total: $99.47)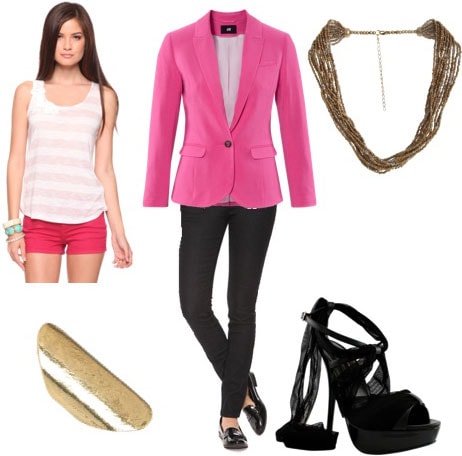 Tank, Pants, Blazer, Shoes, Rings, Necklace
This season, the pink blazer is taking the fashion scene by storm. And what better time to wear a pink blazer than on Valentine's Day? Black pants and shoes balance out the popping pink blazer on top. As for the accessories, I always love gold rings and jewelry to class up a bold ensemble.
Outfit #3: Single and Ready to Mingle! (Total: $99.08)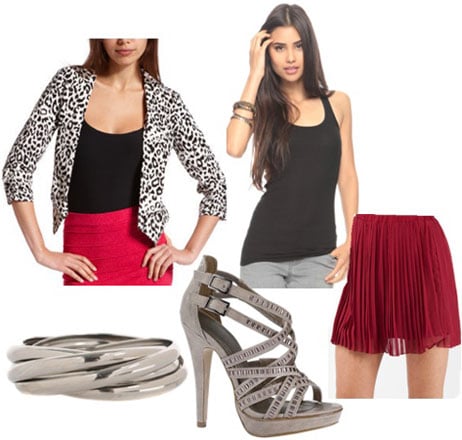 Blazer, Tank, Bracelet, Shoe, Skirt
Who says that Valentine's Day is just for couples? If you're unattached, a great way to celebrate this holiday is to spend time with your girlfriends and go out declaring your singleness!
And what better way to declare that you're on the prowl than by rocking a cheetah printed blazer? As with the pink blazer above, any printed blazer already draws lots of focus, so keep everything else simple. One of my favorite trends this year is the pleated skirt (and this skirt is high waisted!). The color, a rich maroon, is perfect for Valentine's Day. To match the blazer, I've paired this outfit with some silver bracelets and grey heels with a hint of sparkle.
Questions? Comments?
How do you plan on spending your Valentine's Day? How are you planning on dressing up? What do you think of this week's outfits? And like always, if you've found a great deal, please share!