This post may contain affiliate links, which means we may receive a commission if you purchase through our links. Please
read our full disclosure here
.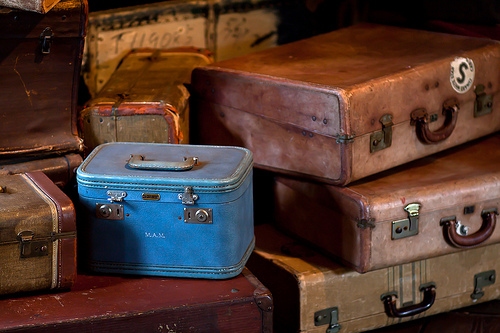 Scenario time. You're headed home for the holidays or even jetting off to the beach to celebrate the impending end of the semester with your friends. The days leading up to your big vacation are spent packing travel-sized baggies of liquids for your carry-on and selecting the perfect outfits for your trip. But, without fail, you wear the entirely wrong thing to the airport. You spend ten extra minutes going through security and struggling all day with your poorly thought-out wardrobe.
Maybe this tragedy tale relates more to us than it does to you, but we can't be the only gals that have travel-outfit woes! Having an easy, go-to travel outfit will save you so much grief from lost tickets, being too chilly or hot, or struggling with your jewelry all day.
To help avoid any of these unfortunate circumstances, here are three foolproof travel outfits, complete with tips to make your travel day a breeze. Don't worry: each look rings in at a reasonable price of $100, max (and likely includes items you already own).
Fly Me to the Moon – $98.64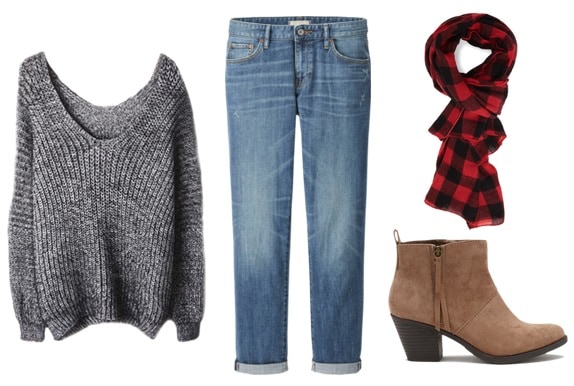 Product Information: Dress – Target, Sweater – H&M, Shoes – Forever 21, Tights – Nordstrom, Scarf – Modcloth
Just because you're on the road doesn't mean you can't look polished and trendy. So many daytrippers reach for yoga pants and oversized hoodies, but there are ways to be perfectly comfortable while still looking adorable, as outlined below:
Search for comfy fabrics and cute knits that you can easily curl up in. Scarves, tights, and chunky sweaters will keep you warm on long flights and give you several options for layering.
Don't be afraid to layer a pullover sweater with a dress. This will make your dress look more like a skirt, which gives you a lot of versatility. For example, take off the sweater once you arrive at your destination, and you'll have a cute and dressy look that you can wear out to dinner that night.
Keep your accessories to a minimum. Metal sets off the scanners and can hold you up at the airport. It also takes an exceptionally long time to put all those rings, bangles, necklaces, and earrings back on! Go sans jewelry while traveling, then accessorize to your heart's content once you arrive.
Catch Me If You Can – $96.54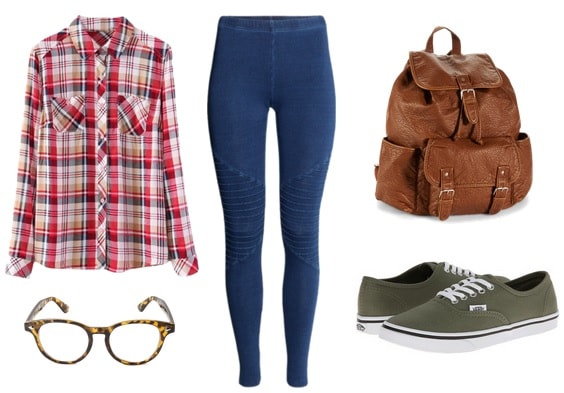 Product Information: Top – American Eagle, Jacket – Aeropostale, Jeans – H&M, Shoes – Forever 21, Bracelet – Forever 21
Travel days are not always just travel days. Sometimes there's a friend waiting on the other end who will drag you out on the town. Perhaps you're travelling for work and you have a business peer to meet. The bottom line is that the opportunity to change and clean up at a hotel is not always a possibility.
However, you can look just as fresh stepping off a train or plane as you did when you first set foot inside the station or airport if you keep these things in mind:
Wear a versatile outfit. If you're going out to dinner, wear a funky, bright jacket. You can easily pack a nicer undershirt in a carry-on and quickly change in a bathroom.
Comfortable shoes are key. If you're going with a heel, make it a low, chunky one that you can walk around in all day without pain.
Good pockets are essential. That way you can keep the important things, like a baggage claim receipt or a ticket, in a place close to you and avoid digging around your purse for them. Zippers are another huge plus, as little things can easily be knocked out of pockets.
Don't forget a few beauty essentials. Stash a small bag with foundation, mascara, and a travel-sized can of dry shampoo in your purse to easily freshen up on-the-go.
Up in the Air – $95.67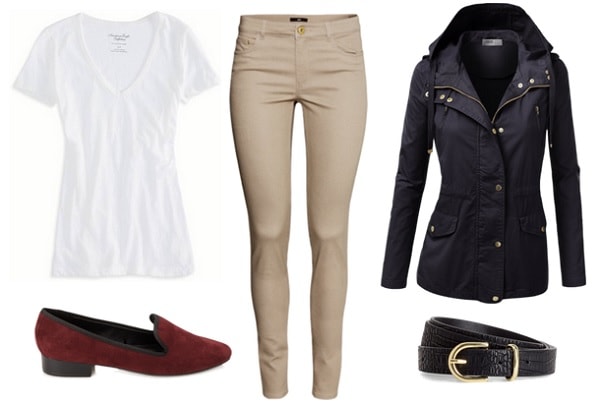 Product Information: Tunic – Amazon, Sweater – Target, Leggings – H&M, Shoes – Charlotte Russe, Scarf – H&M
Comfortable clothes are definitely the way to go when it comes to traveling, and some days you just need to be swamped in a sea of knits and cozy pieces. Here are a few tips to keep your look easygoing yet cute on those long travel days:
Keep comfort in mind. When traveling for long periods of time, choosing an outfit that is ultra-comfortable is a must. In our eyes, a tunic and leggings are the ultimate cozy pairing. The faux leather paneling on the leggings featured here also amp up the style.
Make going through security a cinch. No-fuss shoes are arguably the most important aspect of a great flying outfit. Make sure there are no ankle straps, buckles, or laces on the shoes you choose, as they take a long time to take off and on during security screenings. After all, you don't want hold up others (and yourself!) in line. Flats are easy to slip on and off, thus making them the ideal travel shoe.
Choose multi-purpose layers. In this case, a deliciously warm sweater that doubles as a blanket is a must-have for long rides and flights. Also, if you want to catch some shut-eye while traveling, try draping a scarf over your face to create an impromptu eye mask.
What are your travel day outfit tips?
Do you have a go-to outfit for long car rides or flights? Would you wear any of the outfits above for travel days? Where do you shop for budget-friendly leggings, sweaters, and shoes? Leave a comment below and let us know!