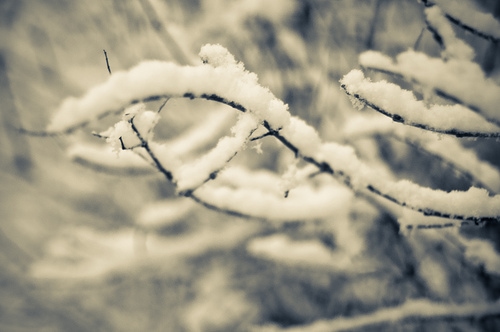 One thing I've learned from living in New York City is to never get dressed without looking up the weather first. Its already hard enough to decide what to wear, but some days it gets even harder when you have freezing temperatures and wind chill to contend with.
Here are my top tips for dressing for colder weather:
Layer. This may sound obvious to some, but during the winter season, dressing in layers is extremely important. If your legs get cold on your walk to class, wear leggings or stockings under your jeans. If your school or classroom blasts the heat, wear a couple of layers that you can take off once you get inside.
Double layer. Yes, layering is THAT important. I often wear two pairs of leggings on days when it's going to be below freezing. Since I have to walk 30 blocks (yikes, I know) to get to school, I always double layer – whether that means two pairs of leggings, two pairs of socks, or even two pairs of mittens.
Rock winter accessories. When leaving your dorm, don't forget those hats and gloves! We lose heat the fastest through our heads, so make sure to grab that hat or wear your hood when it gets cold. Plus, these items are a great way to accessorize your look.
Don't forget the sunscreen. Okay, maybe this won't exactly keep you warm, but sunscreen is super important to wear, even in the winter. Many people forget to put on sunscreen in the wintertime, even though they are still at risk for sun damage. In the winter, I like to wear moisturizer with SPF protection. It keeps my face moisturized and protected against the sun at the same time.
With this week's edition of Outfits Under $100, I've created three outfits to keep you warm this cold winter. The best part? Each outfit costs less than $100 total!
Outfit #1: Who said skirts are only for summer? (Total: $78.19)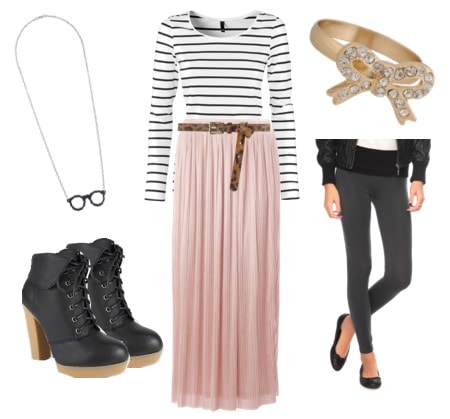 Shirt, Skirt, Belt, Leggings, Necklace, Ring, Shoes
If your summer maxi skirts are in storage, it's time to bring them back out! While maxi skirts have been super trendy this year, the harsh winter temps make them tough to wear. However, by adding a warm pair of leggings underneath, you can now turn your maxi skirt into a winter staple. Rock one with ankle booties, a striped top, belt, and cute accessories for a fun look that will remind you of spring… while keeping you warm enough for winter.
Outfit #2: Fur-licious ($99.72)
Vest, Shirt, Jeans, Headwrap, Mittens, Shoes
The fur vest is another trend that we're loving this season. Fur vests are not only stylish, but are also a great way to add some warmth to your outfit. I've paired this faux fur vest ($25) with a simple knit sweater and some red skinny jeans. I've also seen many NYU fashionistas wear their fur vests on top of their leather jackets for extra layering warmth.
To complete the outfit, add these adorable boots, which are lined with faux fur. The extra lining will keep your feet nice and toasty even in the coldest weather. The cute knit headwrap not only keeps your ears warm but makes quite a fashion statement as well.
Outfit 3: Bring on the Cold (Total $96.82)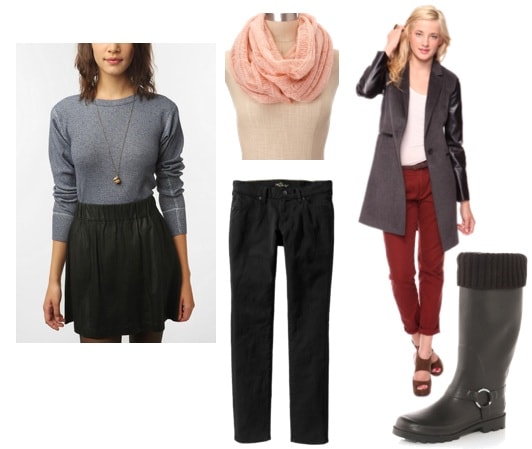 Shirt, Scarf, Pants, Coat, Boots
This outfit is for those battling serious winter temperatures. One of the best ways to keep warm is by wearing thermals, items made of two layers of fabric, which trap more body heat than a single layer of clothing could. This thermal from Urban Outfitters can be worn by itself or under another shirt to add more warmth.
The coat with leatherette sleeves from Forever 21 is another trendy piece: Companies like Zara and Burberry have similar coats for more than 3 times the price right now. Finally, if you live where it constantly snows or rains in the winter, then these boots are really made for walking. They are not only waterproof and stylish, but come with a knit lining that will keep your feet warm at the same time.
What do you think?
What do you wear when it gets cold? What are some of your tips and tricks to keep warm in the winter? Please share your thoughts! And like always, if you've found a great bargain recently, please share!