This post may contain affiliate links, which means we may receive a commission if you purchase through our links. Please
read our full disclosure here
.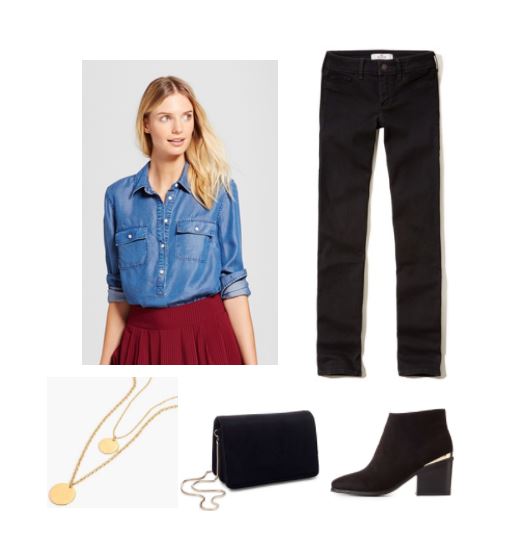 With the start of a new school year comes a new crop of people to meet, and inevitably, some first dates. Dressing for a first date can be tricky: you want to impress your suitor, but you don't want to overdo it or feel uncomfortable, and that predicament can lead to many frustrating hours in your closet.
But fret no more – I'm here to solve your date wardrobe dilemma, without busting your budget. Here are some cute and inexpensive outfits for common types of first dates, along with some dos and don'ts:
First Date Fashion Dos and Don'ts
DO wear something that makes you feel beautiful and confident, like your favorite shirt or your "good luck" bracelet.
DON'T try out a new look or wear something you wouldn't normally wear. You'll fidget, worry too much about how you look, and feel uncomfortable. Comfort is key.
DO accentuate your natural beauty with figure-flattering shapes and natural-looking makeup.
DO dress appropriately for the activity. Taking a hike together? Don't wear heels.
DON'T wear anything too revealing or too tight — save the clubwear for the club. Trust me on this: It's always best to keep your wardrobe classy and comfortable on a first date, especially if you want a second date with this person.
DO make eye contact and SMILE. No matter what you wear, a smile will always be your best accessory.
Outfit #1: Coffee & Conversation
Product Info:Sweater Dress, Necklace, Bracelet, Boots, Tights
A comfy and cute sweater dress is both fitting for fall weather and flirty for a first date. When you're just having coffee and getting to know each other, there's few limitations on what you can wear: It's not as if you're playing softball or riding bikes; you're just sitting, so you can wear a skirt without worrying about it being inappropriate or uncomfortable.
Another bonus? Wearing a dress gives your new guy or gal a glimpse of your gams, but while wearing tights, you're still not revealing too much. Keep it casual with flat footwear, like these versatile boots.
Outfit #2: Picnic in the Park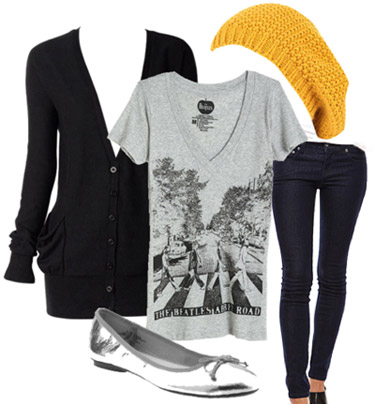 Product Info:Cardigan, T-Shirt, Beret, Skinny Jeans, Ballet Flats
Picnics are a classic choice for romantic first dates, and they're extra-special in the fall when we're enjoying the last doses of beautiful weather before the winter chill sets in.
As far as picnic attire goes, it's a good idea to wear pants since you'll be sitting on the ground: You won't have to fret about having a Britney/Paris/Lindsay moment, and you'll be warm. And don't be afraid to show a little personality by sporting your favorite band tee. It's a great conversation piece! Finally, bring along a sweater in case of a cold front.
Outfit #3: Movie Night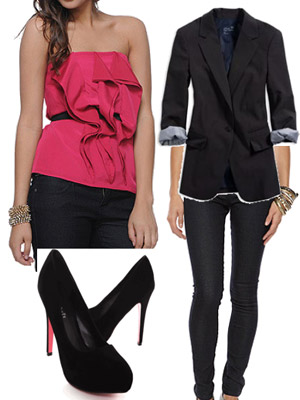 Product Info:Top, Blazer, Jeggings, Heels
Unlike coffee or a picnic dates, in this scenario you'll be hitting up a movie at night — so pump up your day look a notch so it's a little sexier and dressier.
A pop of color, like this hot pink top, gets your date's attention without looking tarty. Also, movie theaters tend to get cold, so bring along a blazer. And it may seem high-maintenance for some, but movies are a great time to wear heels! Why? Because you get to sit down for most of the night!
What do you think?
Have any first dates coming up? What do you like to wear on dates? Have you been seeing your guy or girl for a long time? Do you still have date nights in long-term relationships, and do you still dress up for them? What did you think of these outfits? I'd love to hear from you! Please leave a comment.