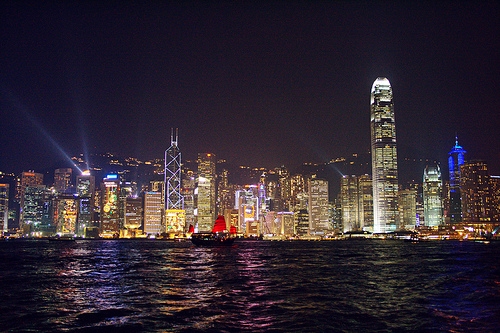 So you just finished a tough week of school and you can't wait for Friday to come around. Maybe there's a huge party or you've got a big date Friday night. . . and of course, you've got nothing to wear.
Fear not! With this week's edition of Outfits Under $100, I've got your Friday night outfit covered. Whether you're hitting up town, going to a nice dinner, or attending the biggest party on campus, these 3 budget-friendly outfits will make you're the fashionista of any party.
Below, I've created three cute outfits for your Friday night out. The best part? Each outfit costs less than $100 total!
Outfit #1: Campus Party (Total: $99.67)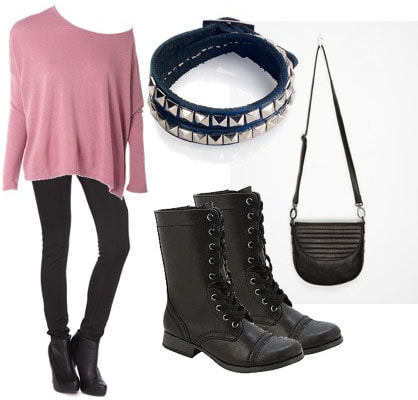 Bracelet, Shirt, Bag, Shoes, Pants
Whether you're just hanging out with the girls or heading over to a party, this outfit is perfect for a night out on campus. The last thing you want to wear to an on-campus party is something that will restrict you from having fun, like an overly tight dress. Campus parties can also sometimes get messy and the last thing you want is for someone to spill beer all over your suede pumps. So keep your outfit minimal and casual and don't wear anything that you don't want to get ruined or lost – save the nicer stuff for a nicer occasion!
This over-the-shoulder sweater is simple, but flirty at the same time. I've paired this shirt with some nice skinny black pants that are comfortable but still stylish. The military boots and studded bracelet add edge to the oufit and keep it from being too simple. Finally, the cross-body bag is perfect for your bare essentials and you won't have to worry about losing your bag because it can easily be worn all night.
Outfit #2: Friday Date Night (Total: $92.18)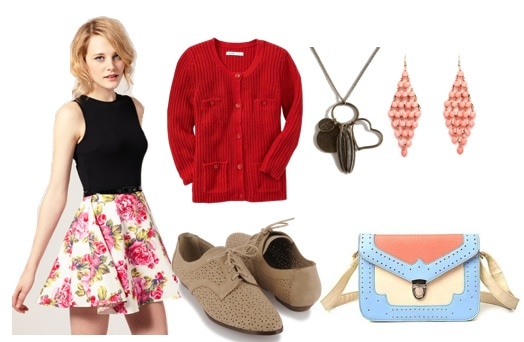 Dress, Cardigan, Bag, Necklace, Shoes, Earrings
This outfit is perfect for any date to the movies or even out to a nice restaurant. For a date, you want to keep your outfit romantic and flirty but not too over-the-top. This dress from ASOS ($22!) plays up the flirty, romantic vibe with the flower design and flare skirt. But the black top keeps the dress casual at the same time. For footwear, I added some simple oxfords, but the look could just as easily be paired with some platform heels for a dressier vibe. Throw on a cardigan to keep you warm, accessorize with some cute jewelry and wear a killer bag (only $8), and you are good to go!
Outfit #3: Dance the night away (Total: $95.20)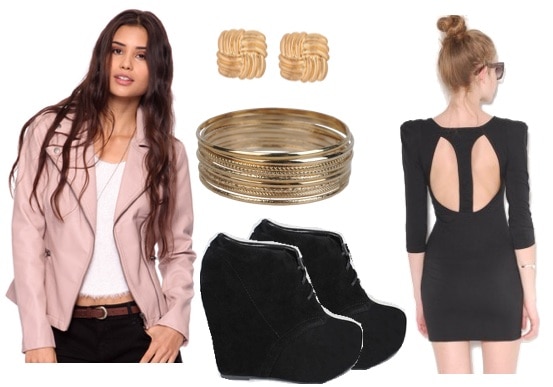 Jacket, Earrings, Bracelet, Shoes, Dress
Turn heads at your favorite club or bar in this little black dress. This statement-making frock is perfect for hitting the town – the unique back detail keeps it sexy while the extra padding in the shoulder area makes a strong and powerful statement. Since the dress is so unique, accessorize with basic jewelry, like simple bangles and pretty studs. Next, add wedge booties to take this outfit to the next level. Finish with a jacket – this pink leather one adds color to the look and is also great for those chilly night outs.
What do you think?
What are some of your favorite Friday night outfits? What would you wear to a date? or to a club? Please share your thoughts! And like always, if you've found a great bargain recently, please share!