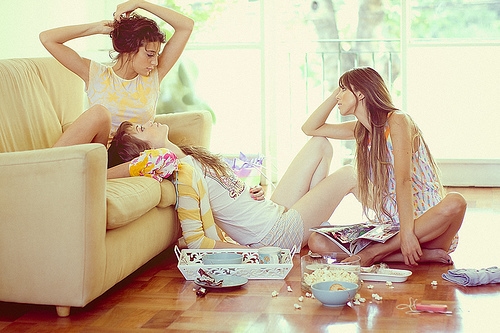 Old t-shirts, ripped sweatpants, and worn-out hoodies: we all have our tried-and-true favorites for lounging around the house or catching some shuteye, but would you want that cute guy or girl on your floor to see you in them? The truth is that those pajama go-tos ain't so pretty.
When you're living in a dorm, a sorority house, or perhaps just having sleepovers of a different nature, it's a good idea to invest in some pretty sleepwear. Here are three budget-friendly looks that will have you aching to cuddle up with hot cocoa and a good book … or a good guy:
Outfit #1: Sporty & Stylish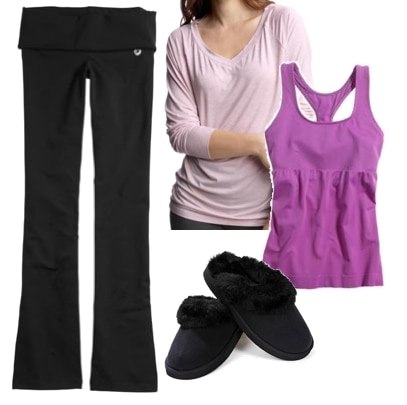 Product Info:Yoga Pants, Shirt, Tank, Slippers
If you're a sporty girl who's always bound for the gym, try loungewear that's as active as you. These clothes pull double duty: they're both soft enough for bed and durable enough for breaking a sweat on the elliptical. You'll never have an excuse for not getting out of bed in time for a morning workout, and you'll look great when you're just hanging around the dorm. Just swap the slippers for sneakers first!
Outfit #2: From Sheets to Streets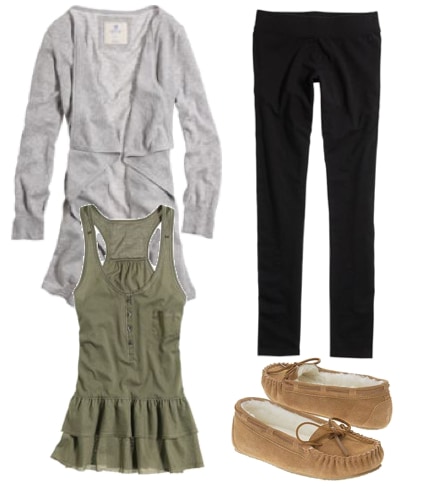 Product Info:Sweater, Tank, Leggings, Moccasins
Have you noticed sleepwear keeps looking more and more like streetwear? Take advantage of stylish loungewear and effortlessly go from your sheets to the streets. Each item in this outfit is extra cozy and intended for bed, but together and separately the clothes work just as well outside the house.
Outfit #3: Flirty & Feminine (Under $75!)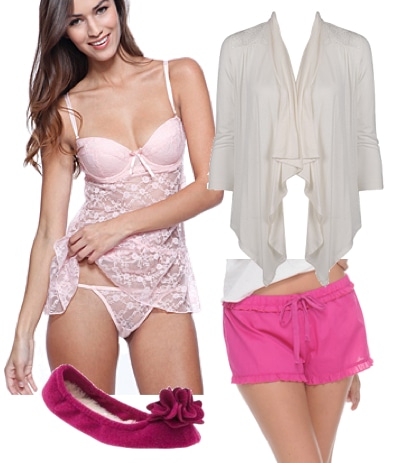 Product Info:Slippers, Slip Set (comes w/ undies), Cardigan, Shorts
Sleepovers with your boy/girlfriend or crush are a fact of college life — it could be an innocent crash on the floor after a night out or it could be … less innocent. Whichever the scenario, it's normal to want to impress them. That's why every girl should have some pretty, flirty jammies in her wardrobe. Worn alone, this slip would be too revealing, but when you add some sweet ruffled shorts and a cozy cardi, it becomes classy, not trashy.
What do you think?
What do you like to wear to bed? Do you have any embarrassing jammies you hide from your friends? Do you like these outfits? Please leave a comment!