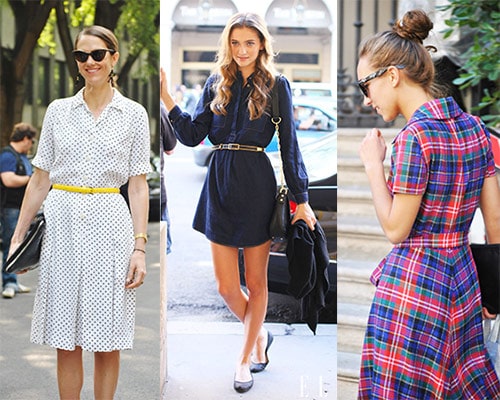 Photos via ELLE
Is there a piece more versatile than the shirtdress? If any of you are in a betting mood, I challenge you to think of a garment that transitions better than the shirtdress. Think about it. What other piece can take you from day to evening, from spring to fall, even from the 1940s to today?
We college fashionistas value items like this: Our money is spent on textbooks, rent, and occasionally a Saturday night on the town, so we need to invest in versatile pieces. This week, I have chosen one of the most easily-changed-up pieces in the world, the shirtdress, and used it to inspire three outfits under $100.
1. Bold and Sophisticated – $80.95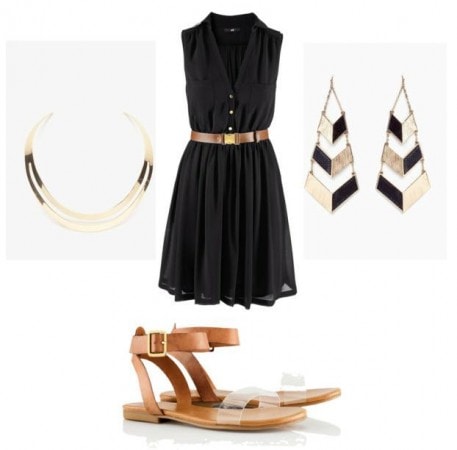 Product Information: Dress – H&M, Shoes – H&M, Necklace – Nasty Gal, Earrings – Nasty Gal
We love the look of a traditional shirtdress paired with ultra-trendy pieces like bold jewelry and clear sandals. The accessories give this plain dress a completely fresh, modern feel. You could could easily transition this look to evening by switching in a pair of wedges.
2. Cute and Casual – $87.49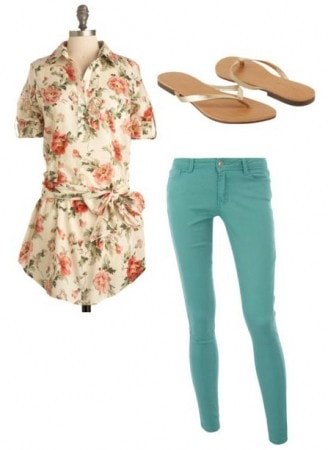 Product Information: Dress – Modcloth, Jeans – Dorothy Perkins, Shoes – Forever 21
My personal weakness for "grandma's couch" floral prints reached an all-time high when I spotted this darling piece at Modcloth. With a drop waisted tie, it could not be more perfect. Don it with some colored denim and you are totally on-trend.
3. Easy and Breezy – $82.85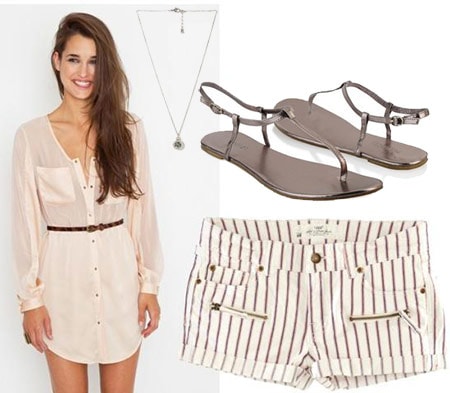 Product Information: Dress – Nasty Gal, Shorts – H&M, Shoes – Forever 21, Necklace – Forever 21
Summer fashion should look easy and be easy. This shirtdress from NastyGal could not be more perfect for throwing on with shorts and sandals – it even comes with a cute belt! The touch of sheer is right on trend, and we certainly wouldn't complain if an electric blue swimsuit top was visible underneath..
What's your favorite way to style a shirtdress?
We are dying to know! Leave a comment below and tell us how you rock it. Which look above is your favorite? Where did you get yours?