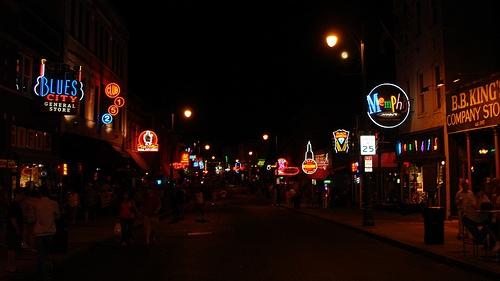 At the start of a long week, sometimes the only thing that gets you through the madness of deadlines, assignments and classes is daydreaming about the festivities of the weekend to come. I've been guilty of plotting out my next weekend-night adventures on Sunday morning – and those daydreams always revolve around what attire I'll be rocking as I laugh with friends or let loose on the dance floor.
To get you through this mundane February week, check out these thrifty-yet-fabulous looks for a night on the town:
Outfit #1: Black Magic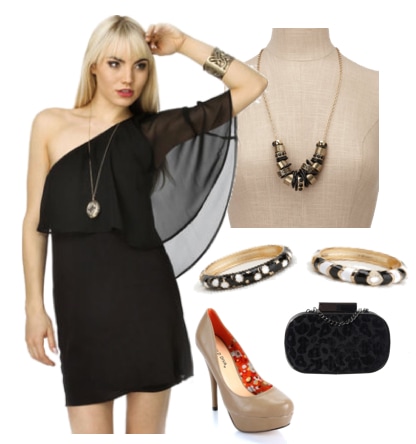 Product Info:Dress, Necklace, Left Bangle, Right Bangle, Clutch, Pumps
This dress has the potential to be dressed up or down in a flash; for this post, I decided to boost it up with high pumps, but you could wear flat boots or even ballet flats for a toned-down look. I paired this bohemian mini with tribal-inspired jewelry, a neutral-yet-fun clutch and nude shoes. Let your hair down in natural waves for a beachy-boho feel.
Outfit #2: Sheer Sensation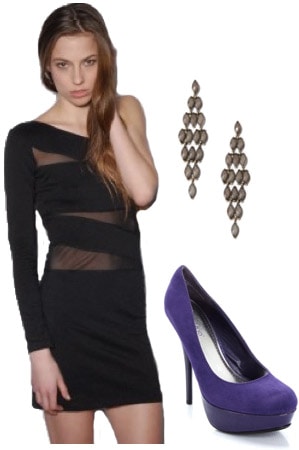 Product Info:Dress, Earrings, Pumps
This sexy look is for the flashy club-goer who's not afraid to be the center of attention. Sheer panels reveal skin without showing too much, and the long sleeve balances out the short length so the overall look stays classy. When wearing a black dress, opt for bright shoes like these purple heels for a pop of head-turning color. Try wearing this look with a slicked-back chignon and smoky eyes for a chic look that smolders.
Outfit #3: Laid-back & Ladylike (Under $75!)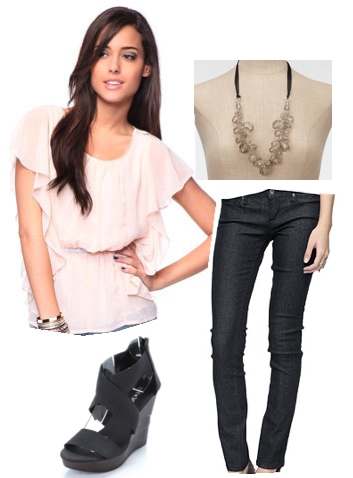 Product Info:Top, Necklace, Jeans, Wedges
Not every night out calls for mini-dresses and stilettos; this girly outfit is feminine and dressy but laid-back enough for a casual party or bar outing. Don your favorite jeans (they don't have to be skinny, though that style is among the most versatile) and a comfy top that has a dressy fabric or cut, like this pink chiffon option. For some height and confidence, try comfy wedges; if you're not into high shoes, try embellished flats instead.
What do you think?
What are your favorite outfits to wear when you hit the town? Do you prefer casual or dressed-to-the-nines? Do you only wear heels? At your school, are people more laid-back or dressed up on weekend nights? Do you like these outfits? Please leave a comment!