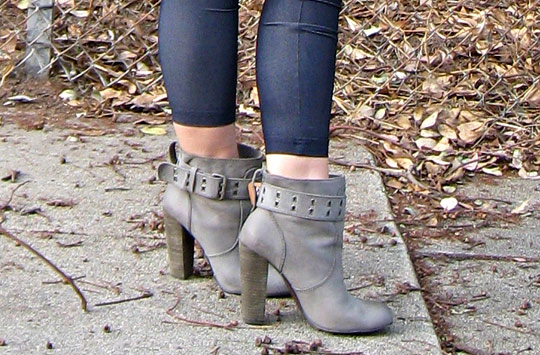 Ankle booties are perhaps the world's most versatile shoe. One may argue that flats can be worn with anything, but most of the time, ankle booties can, too! They are also ideal for transitioning your wardrobe from winter to spring – after all, they provide protection from slushy, leftover snow and rain when flats do not. They are also shorter so they pair well with dresses, skinny or bootcut jeans, and shorts.
For this week's installment of Outfits Under $100, here are four ways to style ankle booties with a variety of different pieces.
Movie Date: $97.01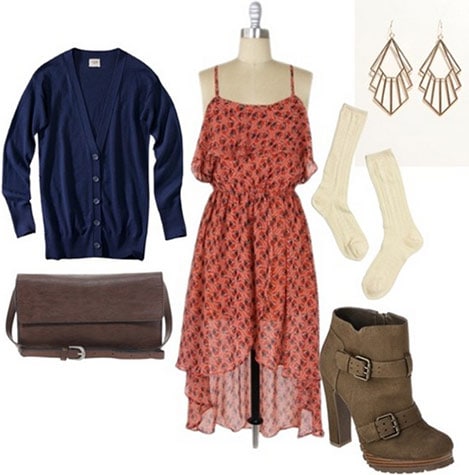 Dress – Spotted Moth, Sweater – Target, Boots – Target, Bag – ASOS, Socks – Madewell, Earrings – Pacsun
Pair your ankle booties with some boot socks – scrunched down a bit – for a fun twist. Next, add your favorite high-low dress for a boho-chic aesthetic. And don't forget a cute cardigan if you're going to the movies – you should always assume it'll be freezing in the theater!
Going to a Concert: $97.98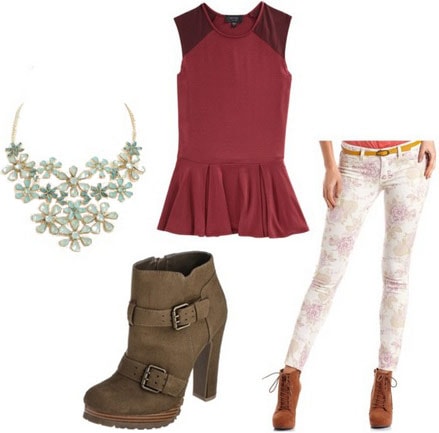 Top – Barney's Co-Op, Pants – Charlotte Russe, Boots – Target, Necklace – Charlotte Russe
If you are rocking booties to catch a show, wear them with some trendy pieces. We love light floral-print pants and a peplum tee. Wearing booties with skinny jeans gives the illusion of ultra-long legs, and what girl doesn't want that look?
Happy Hour with Friends: $95.55
Sweater – H&M, Skirt – Forever 21, Boots – Target, Hat – Forever 21, Ring – ASOS, Necklace – Forever 21
For a low-key Friday afternoon Happy Hour look, try a flowing chiffon skirt with a chunky sweater. A high-low hem sets up a perfect frame for adorable ankle booties. Accessorize with a long necklace, slouchy hat, and cool cocktail ring.
Saturday Errand-Running: $98.68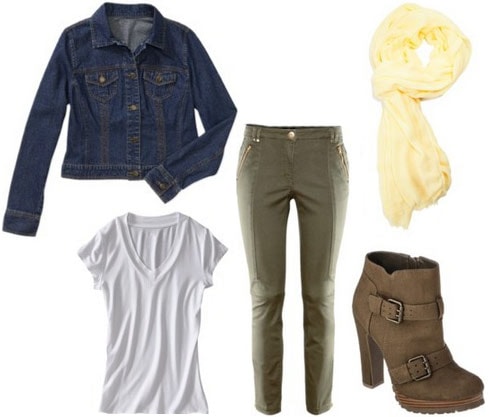 Top – Target, Pants – H&M, Jacket – Walmart, Boots – Target, Scarf – Forever 21
These Target ankle booties are perfect for errand running because they are very casual – and comfy! The chunky heel gives more support than a stiletto, for example, so they won't hurt after hours of running around. Mix them with casual cargo pants, a tee, and denim jacket, then dress it all up with a scarf that adds a pop of color.
We want to know your thoughts!
Do you wear ankle booties? Would you wear any of the outfits above? Where do you find reasonably priced boots and how do you keep your outfits budget-friendly? Leave a comment below and let us know!