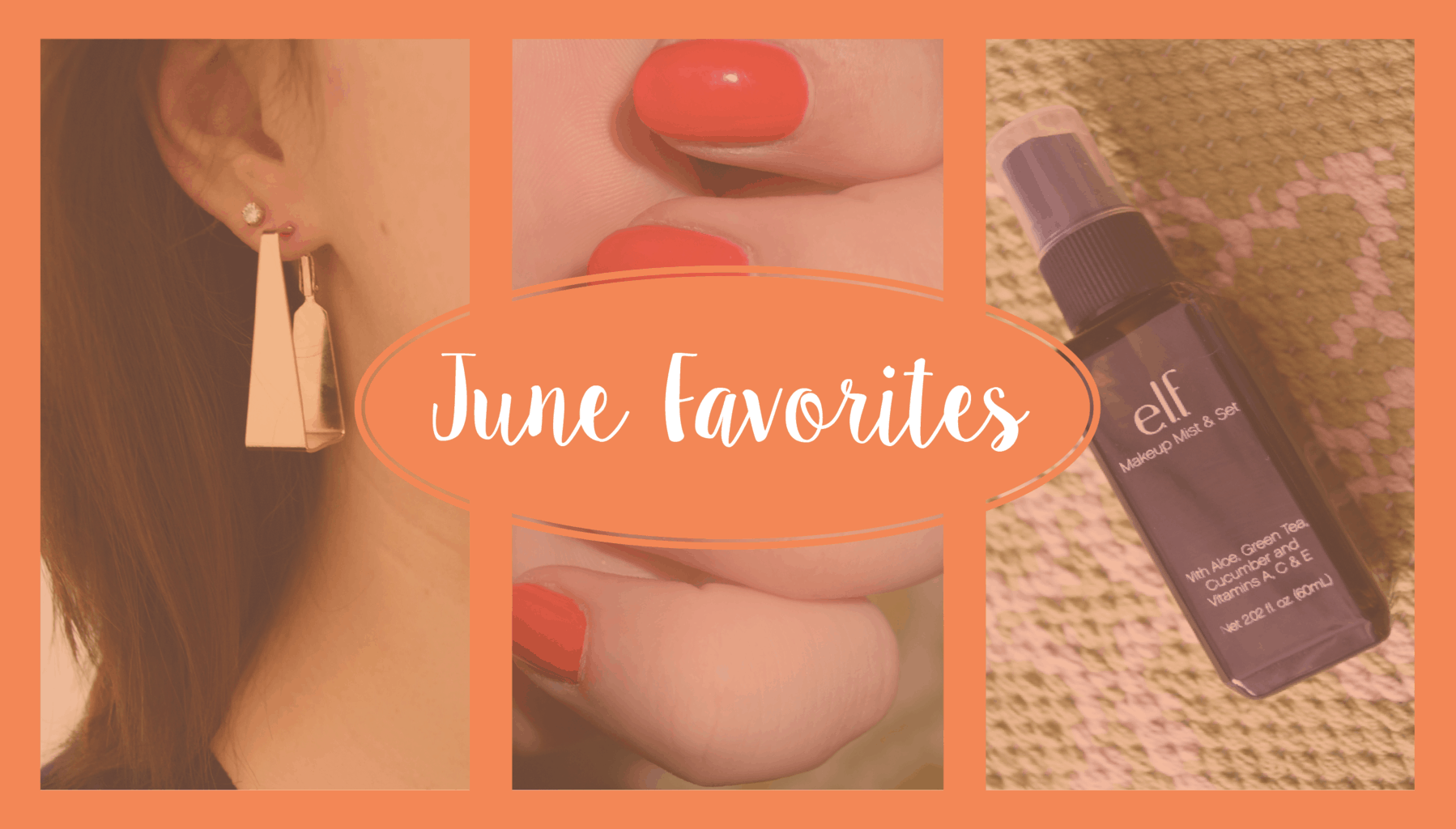 Wait, didn't I just write about my May Favorites? I can't bring myself to terms that my summer in New York City is nearly halfway over, but June has been good to me. Living in Manhattan can definitely take a toll on a girl's wallet, though. This particular round of my favorite products/fashion is inspired by the wonderful and terrible surrealness of being broke in a city where a cup of black coffee is $4.25.
I think I can speak for every single reader out there when I say we all love a good deal. Well, get excited, because all of my favorite beauty products this month are under $3 each! (And that's just the beginning of my budget lifestyle must-haves.)
Scroll down to check out how I'm living the 90%-humidity-life in style:
Beauty Products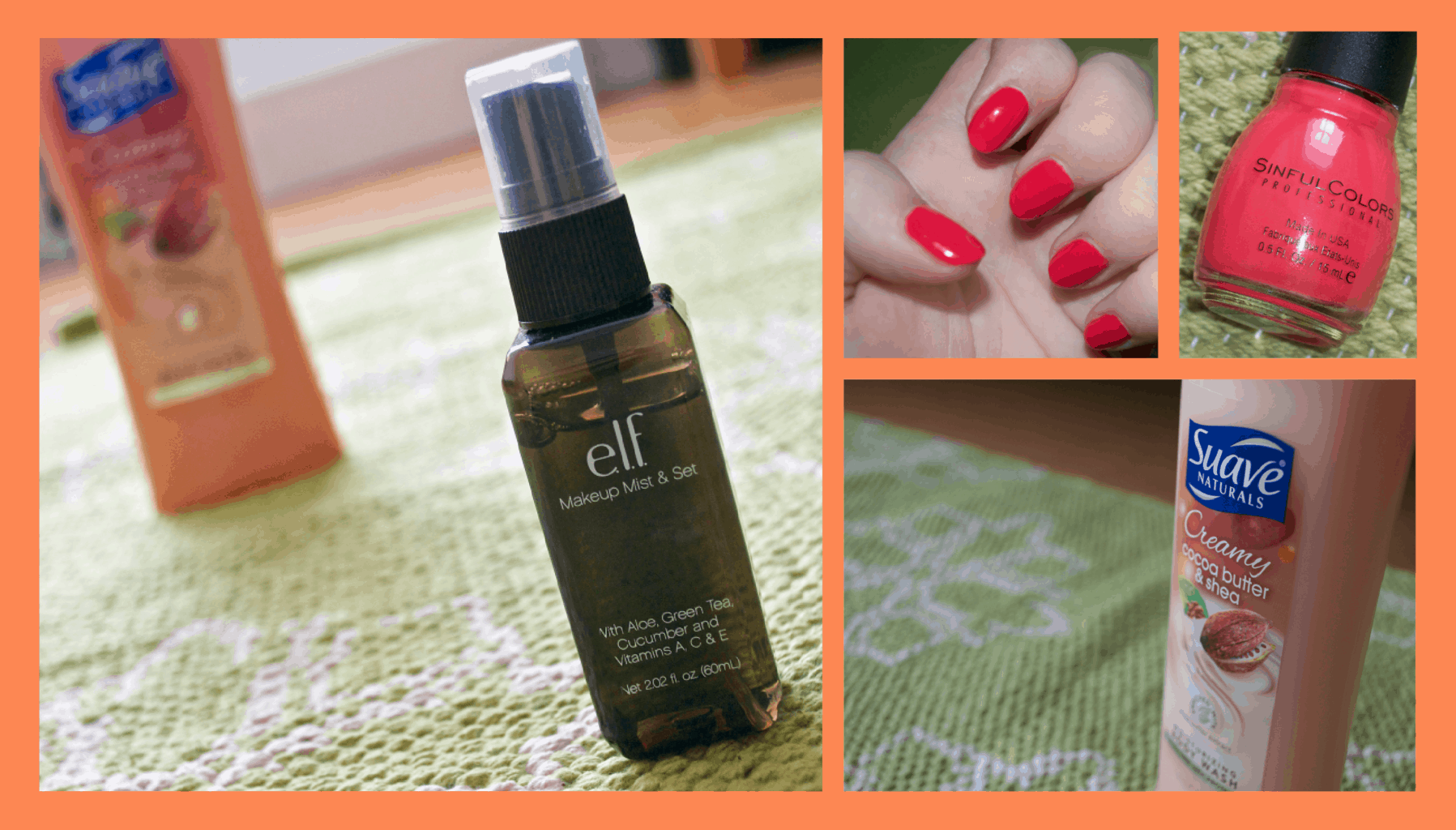 Product Information: e.l.f. makeup setting spray ($3.00), Sinful Colors in "Feel the Vibe" ($1.99), Suave body wash (2.49)
When I say 90% humidity, I'm not exaggerating. Even on the 8 a.m. commute, I have to tie my hair up or it sticks to the back of my neck. If you also live in a humid environment, succumb to occasional glistening (ladies don't sweat, we glisten), or struggle with chronically oily skin, you know what a pain it can be to keep your makeup in pristine condition.
E.l.f. Makeup Mist & Set spray is a lifesaver. It keeps your makeup from sweating off or getting smudged throughout the day. As a bonus, the handy size will last through the summer and well into the fall… even if you use it every day. I can't believe I hadn't found it sooner!
Another price-savvy product that will keep you fresh in the summer is Suave creamy body wash. I like the cocoa butter and shea scent– it's not too sweet, and it lasts a long time. I catch faint smells of it throughout the day. On top of that, it keeps my skin silky smooth.
I know I talked about Sinful Colors in my last post, but I am in love with this polish. For the price, there's no better deal! With careful preparation and application, two coats and a top clear coat will last 4-7 days without chipping. I usually favor darker shades, so the bright "Feel the Vibe" is nice change for summer.
Music
I'm a big believer in music influencing your mood. There are a lot of curve balls when you move to a new city, start a new job, plan to study abroad in the fall, and try to make new friends… all at the same time.
Sometimes I hit home runs and sometimes I strike out. (I do hear myself; baseball metaphors are really the only way I can explain it– I'm sorry.) Whatever each day brings, it's really important for me to unwind once I get home.
I've really been digging indie music lately. It happens in cycles. Classic rock, '90s pop, country, alternative, punk rock, indie, etc. Here are two of my favorite songs this month:
Miley Cyrus and Ariana Grande – "Don't Dream It's Over" (Cover)
My first obsession is Miley Cyrus' Happy Hippie Backyard Sessions. In this series on YouTube, she pairs up with other vocal powerhouses and covers classics. If you haven't already, listen to Miley's vocal sesh with Ariana Grande ASAP.
Of course, the original "Don't Dream It's Over" will always be No. 1 in my book, but this fresh, feminine cover takes a close second place.
Willow Smith – F Q-C #7
https://www.youtube.com/watch?v=mcvjHpDMNoI
Speaking of originals, this is one of the most unique songs I've heard from a teenage musician. Long live the "Whip My Hair" era, but Willow Smith has grown up since then. And that's great for us!
The beat is infectious, and the soul is very believable. I may or may not have listened to this 26 times in a row on listenonrepeat.com.
Style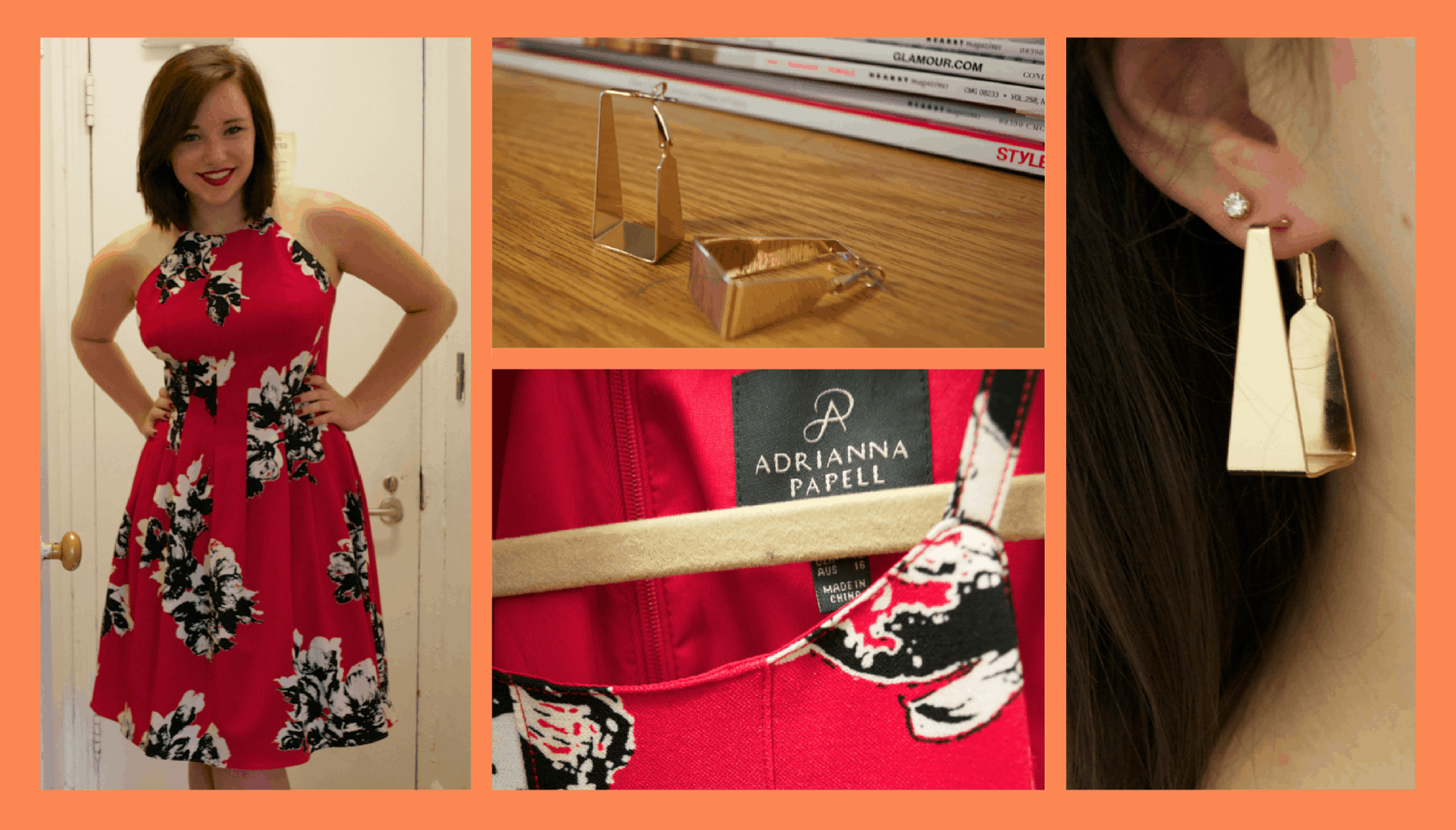 Product Information: Dress- Adrianna Papell ($59.97 at Nordstrom Rack), Earrings- Mango ($7.49)
With all of the stores (and vintage shops, and boutiques, and thrift stores, and…) at my fingertips here in Manhattan, I've promised myself that I'd only buy something if it's on sale, or if it's a true investment piece. I don't even look at the front of stores anymore (*tear*).
It's a good habit though, especially when your dining hall is closed on the weekends and a salad costs $11.95. This month, my two prized finds are an Adrianna Papell fit-and-flare from Nordstrom Rack and some cool geometric earrings from Mango.
The key to sale shopping is to have willpower. Just because you're saving money doesn't mean you can buy twice as much stuff. That's the point of sale shopping: to save money.
Now is the perfect time to look for sales, because a lot of retailers are having mega summer clearance events during June and July. Mango accessories prices have even been chopped since I bought these earrings! Check it out while it's still going on.
Your turn!
Do you think you'll try any of my June favorites? What were some of your favorite purchases this month? What products are getting you excited for summer? Let me know by commenting below!