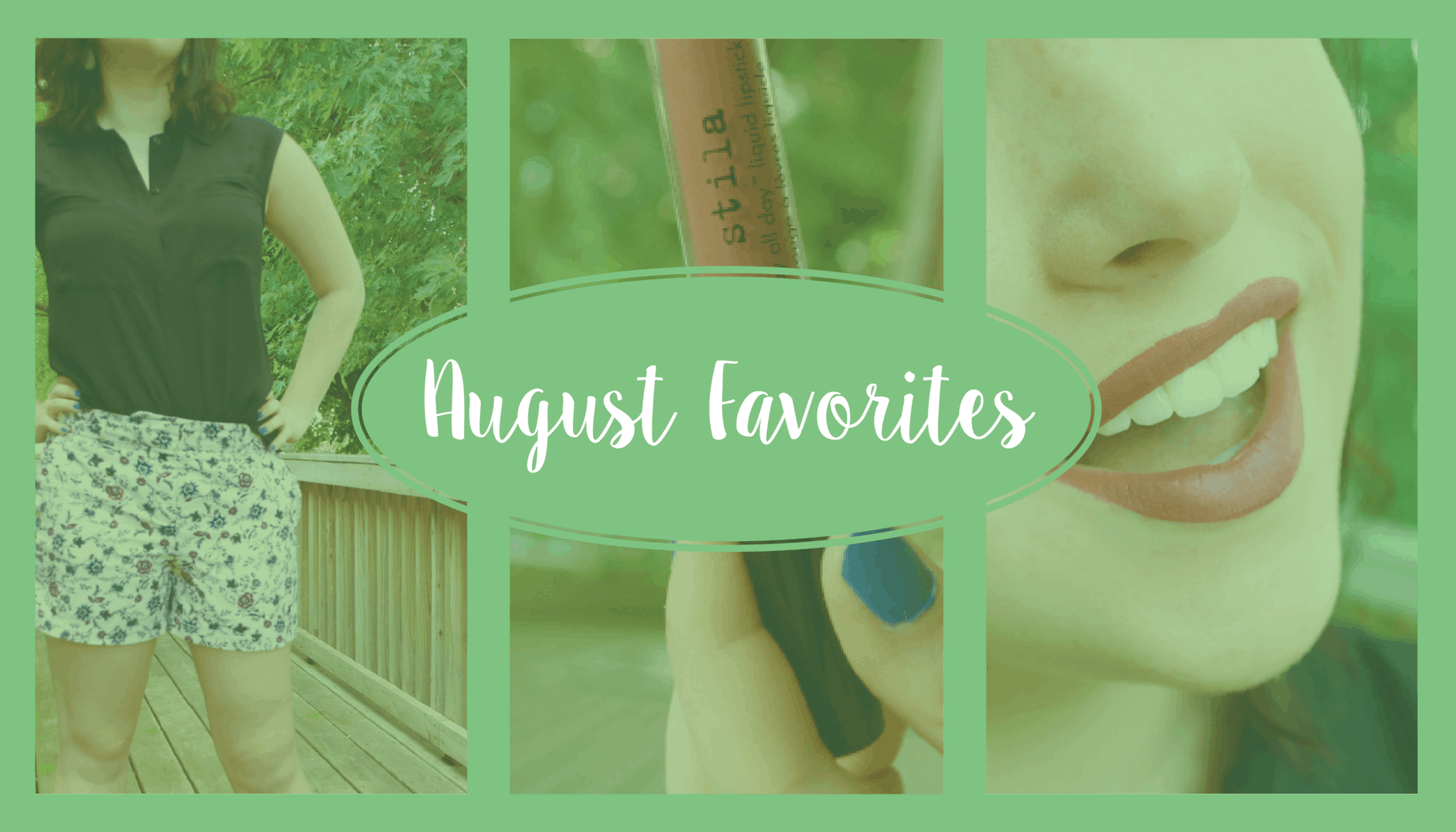 August has come and gone. That sounds almost too surreal to say out loud. The farewell to summer is a bittersweet one, though. We have to say goodbye to swimsuits and flip-flops and sand, but we also get to say "see ya later," to humidity, those torrential summer rains that come and go, and sunburns (as well as the peeling aftermath).
But we don't want to take out our jeans and scarves right away. So, how do we transition seamlessly from summer to fall? I have some great treasures that I've fallen in love with this August that will do me very well in September and into the coming fall months. Scroll down to check them out:
Style
Product Information – Shorts: LOFT, Top: Ro & De
All summer, I've been giving advice on how to style prints and solids. Honestly, pairing one of each is the easiest way to go. I've never been a huge fan of ultra-short shorts, so my favorite printed pair this summer comes from LOFT. There was a crazy BOGO free sale, and I couldn't help myself. Some of my friends call them my "mom shorts," because they're a medium rise and they hit mid-thigh, but if looking like a mom is wrong in this situation, then I don't want to be right.
Everyone needs a neutral, comfortable sleeveless blouse. My black top from Ro & De has been a summer staple, and will serve me well into fall. It's visually interesting with the two front pockets and a collar– perfect for pairing with a cardigan for brusque walks to class, or with a denim jacket on chilly autumn nights. I've worn this top to work, on nights out, and just hanging around. You can usually find Ro & De products at Marshall's and Nordstrom Rack.
Beauty and Accessories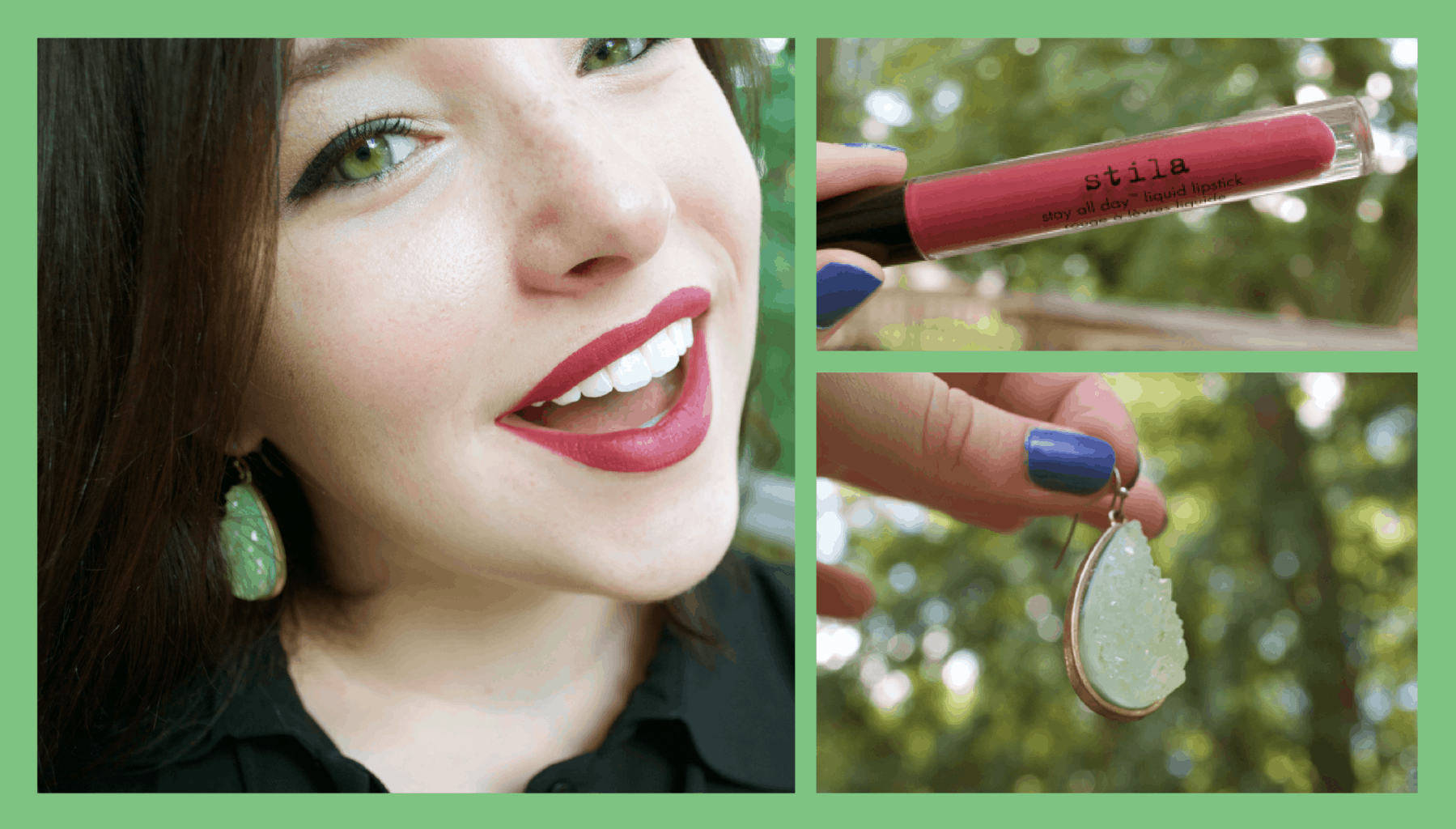 Product Information – Earrings: Francesca's, Lip Stain: Stila in "Aria"
Summer makeup is hard to master. Foundation melts off, eyeliner blurs, and lipstick bleeds to a messy finish. Luckily, I found a steadfast lip product that lasts for up to six hours without re-application: Stila's "Stay All Day" Liquid Lipstick. It works like a lip stain, going on wet and drying to an even matte. This berry shade is a favorite for me, because it complements my pale complexion and green eyes. Darker skin tones may like a bright poppy or orange-red better, and medium skin tones will probably be okay with any shade.
Pro lip stain tip: Be careful with application! This stuff isn't a joke; it stains. Watch the corners of your mouth and the middle of your top lip especially, where crevices and corners can be difficult to match. If you mess up, use your favorite makeup remover to wipe the face clean, then allow time for irritation to go down (about 10 minutes). Remember, don't get discouraged. Practice makes perfect!
These druzy earrings are the perfect accessory for most outfit combinations I have in my closet. The pale green acts as a neutral when paired with simple outfits, like the one I'm wearing here. It also works with prints, like if you had a printed dress or floral kimono. They're not too distracting, but have just enough of a shimmer to draw attention behind a curl of hair or underneath a billowing scarf in the fall.
Music
The following songs are dedicated to my entire summer. These are three of the songs I had on repeat over the last three months, unable to press pause, even to take a shower or walk to the grocery store. These songs were on the playlist that accompanied me everywhere I went, from the flight to Manhattan to the flight back to Iowa and every moment in-between. I hope you enjoy!
"Tear In My Heart" by Twenty One Pilots
I fell in love with Twenty One Pilots back in 2011, before "Car Radio" was even a thing. I followed their music and releases religiously, and was ecstatic when they dropped their newest album, Blurryface, this summer. "Tear In My Heart" may have been the most trafficked of the 14 new songs, but the entire record is pure gold. It was hard to pick a favorite.
"I'm Gonna Show You Crazy" by Bebe Rexha
Warning: this song has language that may be offensive to some listeners.
This was the ultimate girl-power jam of the summer, for me at least. If you want to feel empowered and independent, take a listen to Bebe Rexha's number one hit on Spotify, "I'm Gonna Show You Crazy." It's one of the most relatable songs I've heard from a female solo artist in a long time. Sorry not sorry, T Swift.
"Not Your Way" by MisterWives
MisterWives has such an endearing, unique sound. This album was great, and "Not Your Way" was the perfect track to put at the beginning of the record. This upbeat, feel-good song has real depth to the lyrics and a contagious beat, making it a strong contender for my "most played" song on iTunes this summer.
Your turn!
Do you think you'll try any of my August favorites? How are you going to transition from summer to fall? What were some of your favorite purchases this month? Let me know by commenting below. I love to hear from you!