As requested by Naomi in the comments from my last post, below, I have created three looks centered around a cardigan.
Before we get to the outfits, I just want to remind you guys that, as always on CF, the outfits featured in this article are just suggestions. I am not in any way trying to tell you guys what you should be wearing – we all have different tastes, and the outfits featured are meant for inspiration – use them to spark your creativity and create looks that fit your personal style!
Now that we've got that out of the way, on to the clothes!
The Cardigan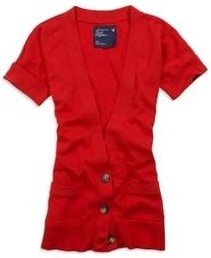 I love the color of this cardigan – because it's a really bright, true red, it's going to work on most skin tones. In addition, red is one of the hottest colors for Fall 2010, so buying a red cardigan is an easy way to get a trendy look while still investing in a basic.
I chose a cardigan with short sleeves, because after all, it is still August, but in a very short period of time it is going to turn colder. (I know, I really don't want to think about snow right now either.) So if long-sleeve cardis are more your thing, all these looks would work with a normal cardigan as well.
Outfit #1 – Meeting: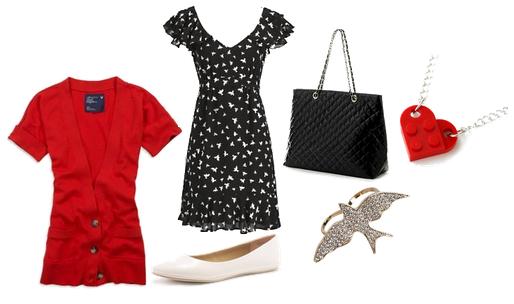 Dress, Shoe, Bag, Ring, Necklace
For this outfit, I wanted to use red as a pop of color against an otherwise-neutral palette. Because it's fairly conservative and classic, this outfit is great for office-wear, or for any meetings you might have at school, such as those with your academic advisor.
I love this dress – the pattern looks like polka dots from far away, but if you look carefully, you'll see that they're actually little white birds (very Miu Miu-esque!). For accessories, I used the ring to keep the bird pattern going. Next, I chose a neutral bag that's big enough to carry a laptop or any books or files you might have to bring along. Chain strap bags are really popular right now, and this is a more functional take on that trend. The shoes I picked are flat, and really minimalistic, because I felt like the pattern in the dress and the other accessories were enough.
Finally, the necklace I chose ties the sweater into the outfit, being as it's red, but I also chose it because it's little quirky. You might not be able to tell from the picture, but it's actually a heart-shaped Lego piece. This necklace would be a way to add your own personality into the rest of the outfit, as well as a way to keep things fun. Obviously, if you work in a more conservative office, you'd probably want to switch it out for something more classic.
Outfit #2 – Date Night: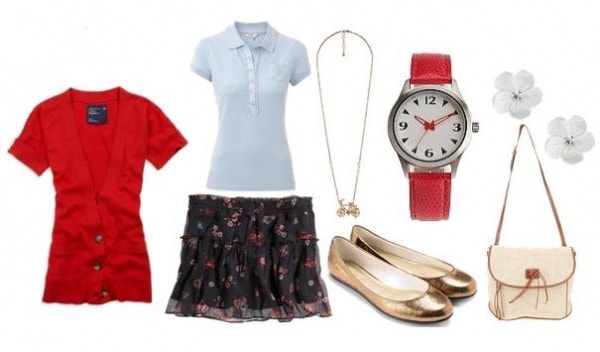 Top, Skirt, Shoes, Necklace, Watch, Earrings, Bag
For this second outfit, I wanted to create something a little more casual, that would also be flirty and fun for date night. I figured if you were going on a casual date with your boyfriend, or out shopping with friends or something, this would be appropriate. It does lean toward being preppy, but the fun accessories make sure it doesn't look too buttoned-up.
I started with a floral skirt, which seems like it would be really swingy and easy to wear. (It would also work for tons of different occasions, and since it's a darker floral, you could easily wear it into winter with tights.) Next, I pulled the blue of the polo shirt from the floral in the skirt. The red cardigan would be worn over the blue polo. Despite the fact that red does not appear in the skirt pattern at all, it complements the light blue, and helps add some spice to the outfit.
Once again, I picked cute little accessories for this look: the floral earrings to echo the skirt's pattern, the bicycle necklace simply because I thought it was adorable. The watch ties the red of the sweater into the outfit, just as the necklace from the last outfit did. The shoes I chose are, again, simple, but because they're metallic, they're not at all bland, and are very on-trend. Finally, the bag I chose is cute and would be big enough to hold all your necessities, while still keeping your hands free. The cross-body style is also hot at the moment, so, again, this look is in keeping with trends while still being functional and fun!
Outfit #3 – Class: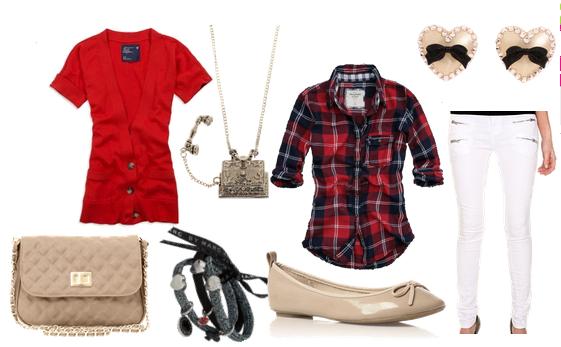 Necklace, Bag, Hair Ties, Top, Shoe, Earrings, Pants
Finally, the third outfit I chose would be a cute and casual look for class, or just a daytime look that's a little beyond basic. I really wanted to use this plaid top in an outfit because I love how it looks against the red cardigan. For some contrast, I chose white skinny jeans, but obviously if you're not comfortable with the stark white, you could wear dark denim skinnies instead.
I chose accessories in a nude tone, so they wouldn't interfere with the bright colours of the rest of the outfit. I also, once again, chose a chain-strap bag, this one being a take-off on the classic Chanel flap. Depending on what books you'll need for class, the bag might not be big enough to hold everything you'll need, but that's an easy switch-out. (You could always rock the chain strap bag from outfit 1 if you need more space!) Finally, I included a set of hair ties (by Marc Jacobs! How could I skip those??) because personally, I focus best when I don't have my hair in my face.
This outfit could easily work into late fall and early winter as well. While here at CF we think the "no white after labor day" rule is outdated, if you are a follower of this fashion guideline, you can always change the white pants for dark denim ones. Also, once the temperature drops, you could swap the cute nude flats for boots and add your favorite neutral jacket on top.
Your thoughts?
So, what do you think of these outfits? Do you follow the "No White After Labour Day" guideline or not? What's your favorite way to wear a cardigan? Let me know in the comments!
Also, if you have any items you'd like to see covered in a future post, be they specific or not, please let me know! I am going to try to get to as many of your comments as I possibly can!