Aubrey's comfortable yet professional outfit is perfect for a long day of work. Her patterned maxi skirt makes quite a statement and proves that you can be fashion-forward on the job without having to rock a pencil skirt and pumps.
Aubrey 101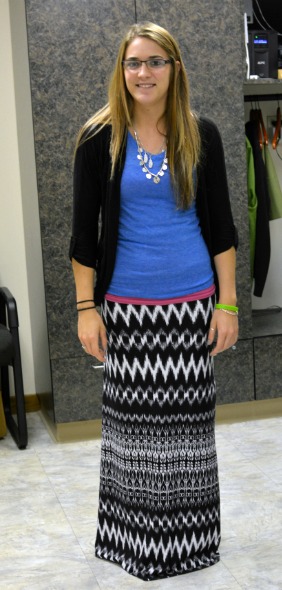 Name: Aubrey
School: University of Illinois
Year: Senior
Let's Talk Fashion
Who or what inspires your style? "I don't have a specific 'who' that inspires me. I really like different things that won't match what everyone else is wearing."
Where do you like to shop? "One of my favorite places to shop at is Gordmans. I love their selection of different things."
What fashion advice would you give students trying to improve their style? "Always dress comfortably. You can look nice while being comfy, too."
If you could raid anyone's closet who would it be? "I would raid Jennifer Aniston's closet."
What do you like to do for fun? "One of my favorite hobbies is reading. I am always looking for new books to read."
Elements of Aubrey's Outfit
1. Printed Maxi Skirt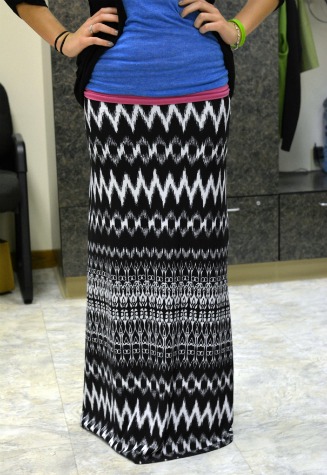 Aubrey purchased this maxi skirt at Gordmans, and it is both darling and versatile. Since it's black-and-white, this bold pattern would match any top. Though it would look super-cute paired with a crop top for a casual weekend look, Aubrey demonstrates that this skirt can also be dolled up for professional wear.
2. Open Cardi & Colorful Top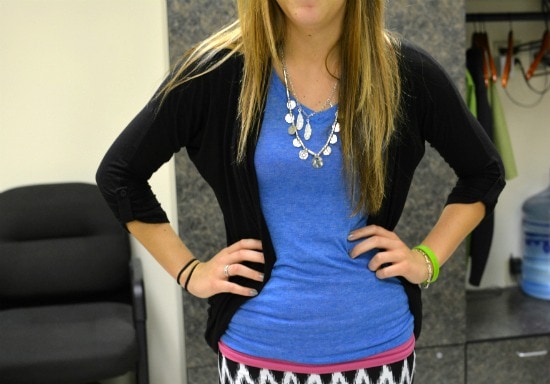 Aubrey's cardigan gives her outfit a professional touch. We also love how she decided to incorporate color into her office-ready look. The bright blue top and the sliver of pink underneath it stand out against the black-and-white skirt. ​
What do you think of Aubrey's look?
Would you wear her outfit? Do you ever wear maxi skirts to work? Comment below and share your thoughts!