This post may contain affiliate links, which means we may receive a commission if you purchase through our links. Please
read our full disclosure here
.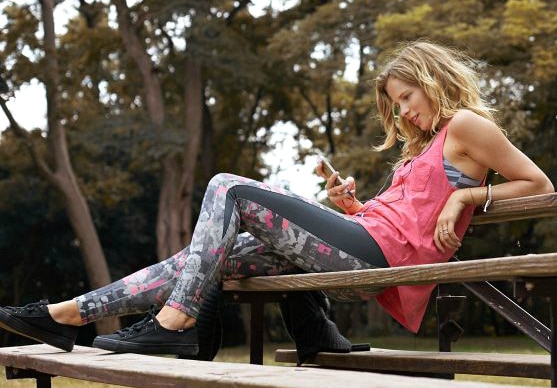 Photo: Aerie
This week's sale-shopping session is inspired by the girls I see on campus who wear sweats, and, get this, totally rock it. When I roll out of bed in the morning, I look it. When these other girls roll out of bed in the morning, they look like a walking Aerie print ad. (See above.)
Curious and determined, I did some hardcore people watching (and celebrity stalking) and found that these chic lounging outfits are largely built around your choice of lounge pant.
Get ready to hit the snooze button tomorrow morning! Scroll down to see three chic loungewear looks, as well as my favorite loungewear finds from around the web.
If You Love… Sweatpants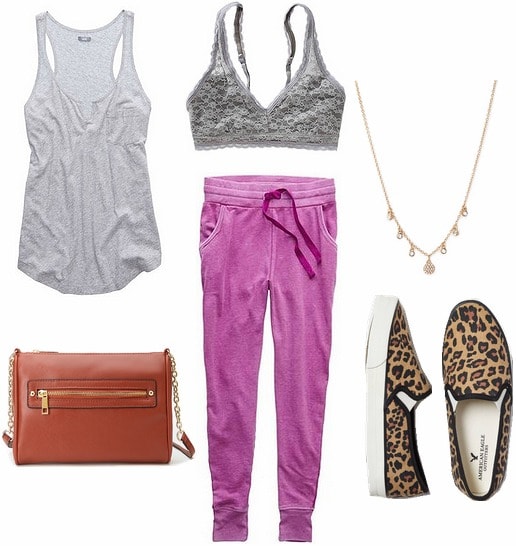 Product Info: Tank, Bralette, Sweats, Bag, Necklace, Shoes
Sweatpants are great for a lot of things, like communicating to the world that you work and study too hard to be bothered to conform to the crippling grasp of society's overreaching norms, i.e. wearing pants.
I give to you (on sale, no less) super stylized and colorful "joggers" that are reminiscent of that glorious time in recent fashion history when some genius thought "jeans… AND leggings" and brought to the people the hallowed jegging pant. Joggers have a stronger structure than slouchy sweats (notice the straight leg, cuffs, and flat waistband), but all the soft appeal of wearing your blanket to class.
This outfit's top and bralette combo is subtle, but still lacy and cute. A simple, no-fuss piece of jewelry, slip-on sneakers, and a structured crossbody bag take this look from your couch to the classroom. Or out to coffee. Or to conquer the world!
If You Love… Soft Shorts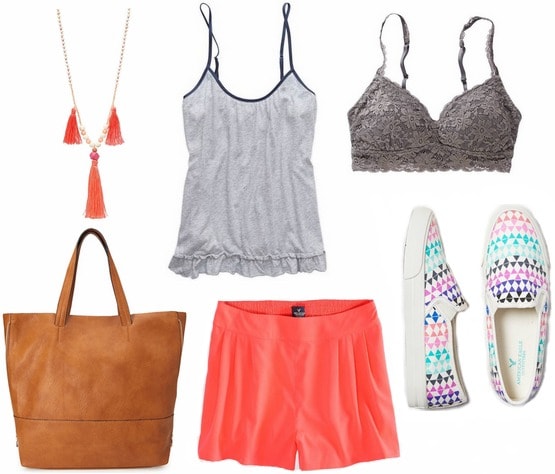 Product Info: Cami, Shorts, Bralette, Necklace, Bag, Shoes
Soft shorts are a stylish alternative to boxers. Let's be real here for a second: it's a tad TMI and inappropriate to wear certain loungewear, like nightgowns and boxers, in public, since they have a tendency to be sheer and suggestive. I don't know why this is, just that it has always been this way. Ladies lounging is evidently a lewd and unseemly affair. I blame the patriarchy.
In any case, soft shorts have been in rotation for a while, and can be worn in place of boxers or yoga shorts. The top is from the sleepwear section, but is definitely cute enough to wear out and about as a cami, which is a little trick I've been pulling for years. I think a lot of the camis in the sleepwear and intimates section are, when modest enough, a lot cuter than most other tank tops out there!
Again, I found some slip-ons and a structured bag so this outfit can work during the day, plus I love this fun tassel necklace. It goes with the other colors in the outfit, and the beads and fringe feel like a fun little nod to the indulgent and over-the-top boudoir style in old movies and print ads. Probably no one will notice this but you and me. The rest of the world will just see a fringe necklace. Thus is life.
If You Love… Leggings
Product Info: Tank, Bralette, Leggings, Bag, Necklace, Shoes
Wearing leggings to class is nothing new, but this pair is adorned with a fun floral print. From afar, they appear to be fashion-forward patterned pants. Close up, they are still fashion-forward, but a lot comfier. American Eagle is having a great sale right now – BOGO 50% off their entire collection. This makes the leggings and tank combo an even better deal, considering they were both around $20.
The flip-flops and bag are easy essentials to throw on in the morning without too much thought. I know we talk a lot here about how accessories can elevate a look, and all of the ones pictured here really rely on the bag, shoes, and jewelry to make a cute outfit out of casual separates.
Extra Essentials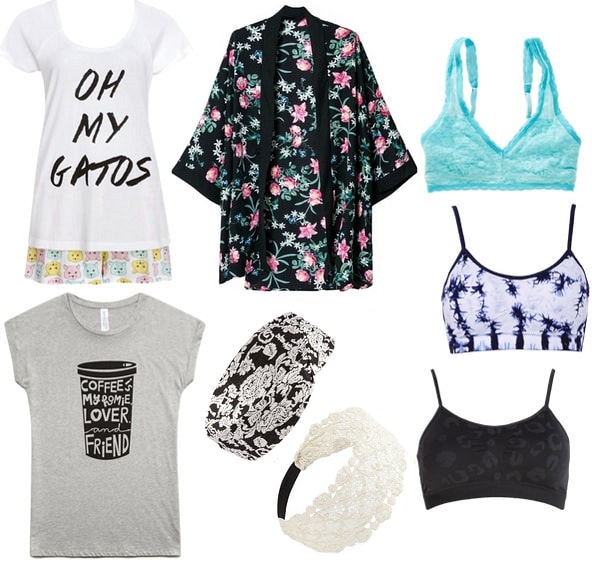 Product Info: Pajama Set, T-Shirt, Kimono, Lace Bralette, Tie-Dye Sports Bra, Leopard Print Sports Bra, Lace Heaband, Print Headband
While on my quest to master lounge-to-day-wear, I made some discoveries worth sharing. The first? Some of the best graphic tees in the whole wide world can be found in the sleepwear department of Forever 21. Many of them are part of a sleepwear set, which is a great 2-for-1 deal.
Also from Forever 21: these comfortable cloth headbands, which will streamline your morning hair routine, and a few cool sports bras if you prefer that style to the lacy bralettes (like the bright blue one in the corner… I just can't help myself.). And finally, a loose kimono jacket for some coverage over your camis and, more importantly, the derriere region of your leggings. Lest we forget the wise words of Blair Waldorf: "Leggings are not pants."
What do you think?
I'm sure everyone has their own tried-and-true variations of essentially wearing pajamas to class. What do you think of these looks? Any loungewear essentials you simply have to have? Discuss! Inform! Debate! And happy shopping!