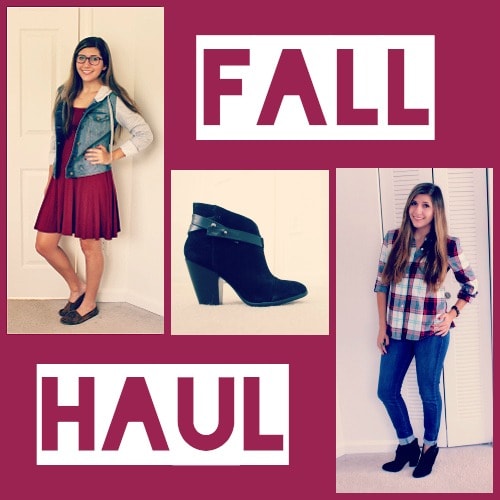 Guess who finally wore pants for the first time this semester? *Raises both legs.*
In celebration of my first day without unbearable heat and humidity, I thought I would show you some fall staples I've gathered over the past month. I can't wait to start wearing these pieces when the leaves start crunching.
1. Boots & Plaid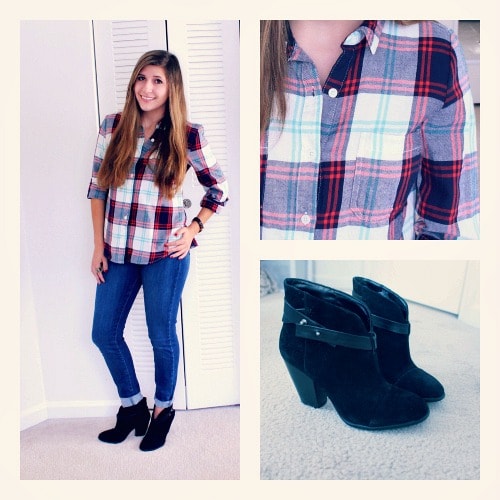 You can never have too many flannel shirts. (Am I right or am I right?)
You can definitely have too many boots, and I have reached that limit. I am sinking in boots. However, I couldn't just leave these suede BCBG booties on the sale rack, all alone with no feet to hold. If you've read my articles for a while, you might know I'm kind of obsessed with Old Navy booties, and I am proud to say they are now back in stores.
Speaking of Old Navy, that's where my flannel shirt is from. The white, navy and red color scheme really stood out to me. I've also fallen head-over-heels for the show Parks and Recreation, and I blame my recent flannel purchases on Ann and Leslie.
2. Burnt Umber & Denim Jacket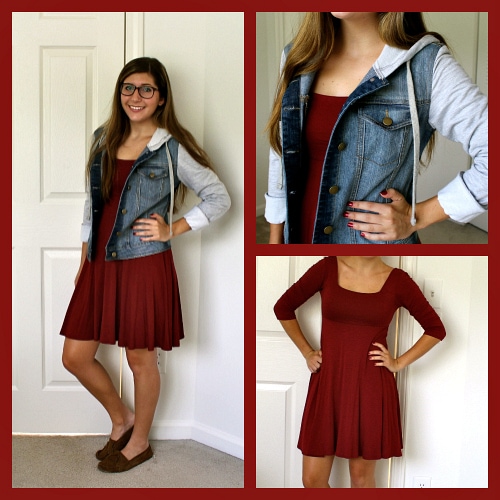 Some people can rock the color red. I can't. True red makes my pink cheeks verge on clown territory, and it's almost as freaky as I suspect the new season of American Horror Story will be. This simple, classic dress is more of a burnt umber color. (I googled that, in case you're wondering). It's extremely comfortable and versatile, perfect for dressing up with a blazer for business casual or down, as shown above, for class.
I've been searching for ages for a denim jacket with sweatshirt-style sleeves and a hood. Why? Denim jacket sleeves can be so stiff and inflexible that I feel like a robot. Robot no more! I also think the hoodie-style sleeves break up the denim element, so I can wear this with jeans and not look like Britney Spears… or should I say Katy Perry?
These Minnetonka moccasins may not be new, but I've loved them for years and we're still going strong.
Fall Wish List
Since this haul was on the short side, here are some of my favorite finds from around the web that are sure to get you in the fall spirit.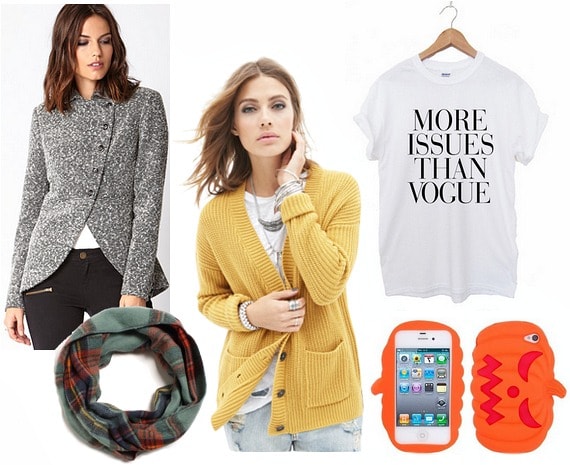 From Left to Right: Plaid Infinity Scarf, Tweed Jacket, Mustard Cardigan, More Issues Than Vogue T-Shirt,Jack-o-Lantern Phone Case
On a scale of not-cute to totes-adorbs, how awesome is that phone case? I've definitely been eyeing some mustard knits (although not eating mustard, because it's gross). You can never go wrong with plaid. It's a classic. I also just discovered how many adorable-yet-geeky shirts are on Etsy.
Happy fall shopping!
What's on your fall wish list? What do you think of my fall finds? Would you like to see more posts like this? Tell me what you think by leaving a comment!