You made your list and checked it twice, but there's still those folks who pop up last minute – looking at you, workplace secret Santa – and they are always, always, ALWAYS the most difficult to shop for.
Fear not! CF has your back this holiday with this cute and clever list of last minute gifts that won't break the bank – each gift is under $50!
The Unexpected Guest
This is the person you weren't counting on being at your family holiday gift swap – it may be your kid brother's new girlfriend, your out-of-state cousin, or your sister's roommate from abroad. These folks are family, or close to family, so they deserve a thoughtful gift but you don't know them well enough to pick the perfect gift out of the blue and on short notice.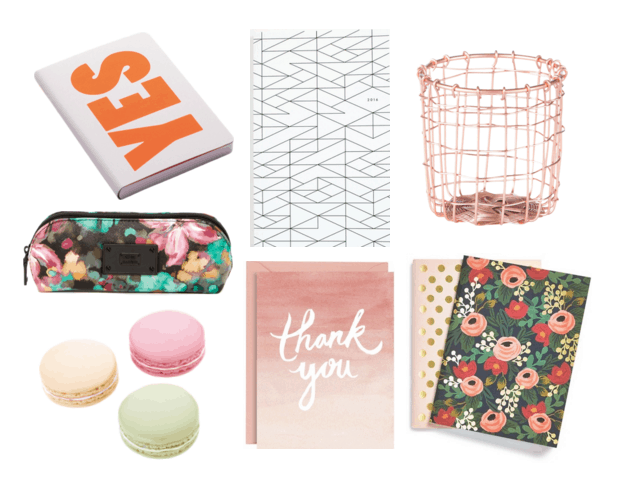 Products: YES notebook, geo planner, pen holder, pencil case, erasers, thank you notes, gold accented notebook
The good news: I've never met a girl who didn't love a bit of well-made stationary. Trendy and feminine accents, like dark florals, rose-gold metallics, or geometric prints, are neutral and stylish enough to go down well with nearly any lady, while fun pieces like cute macaron erasers or a fun, bold notebook are bound to get a smile out of anyone.
The Hipster Humbug
You drew their name for your squad's secret Santa and your heart sank. They're an awesome person and a great friend, but…they HATE the holidays. They rant about holiday music in department stores and the crowds in malls and the traffic on the highways. They don't like the cold and mumble about capitalism and marketing whenever you hang out during the holiday season. They're only participating in this secret Santa exchange ironically…probably.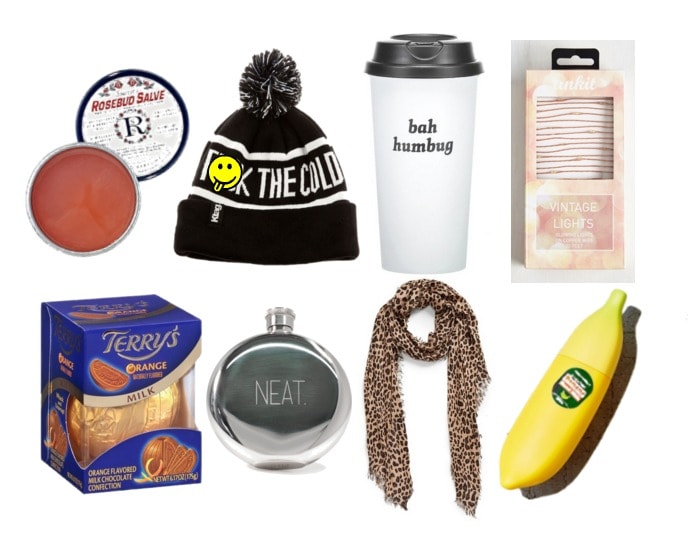 Products: Rosebud salve, beanie, travel mug, string lights, chocolate orange, flask, scarf, hand lotion
Humbugs are just looking to survive the holiday season, so help them out by gifting them a holiday survival package stuffed with any combo of the fun goodies above, like hand lotion, lip balm, witty statement mugs, and nommy edibles like chocolate oranges or their favorite booze if they're of age (paired with a stylish flask, natch).
A stylish scarf and thick beanie will help cold-haters stay warm this winter, while twinkly lights will warm even the grinchiest of humbug hearts.
Your Coolest Coworker
If you have a fairy godmother at work – your cubemate, your counterpart on another team, or even your boss – who regularly saves your butt, offers you advice, mentorship, and friendship, and even buys you lunch or coffee once in a while, you're going to want to get them a gift. But not just any gift – a gift that says, "You are awesome and I'm so grateful for you" but doesn't break the bank in the process, because they will probably feel super awkward if you get them something super expensive.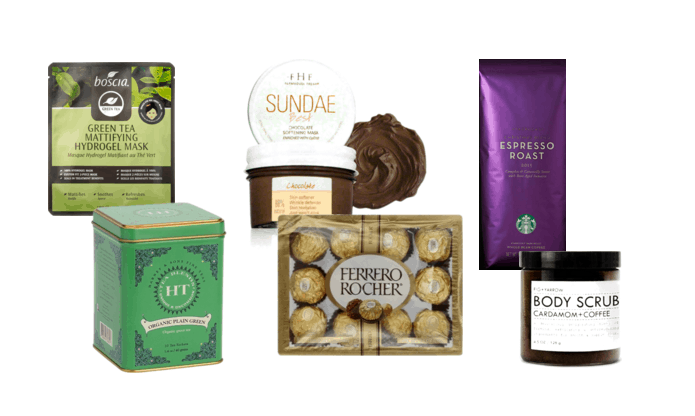 Tea: Tea mask, green tea | Chocolate: Chocolate mask, chocolate | Coffee: Coffee, coffee scrub
The best thing you can give a busy, career-oriented gal you respect is an excuse to relax. Whether your mentor has a major sweet tooth, a caffeine addiction, or just needs a little extra zen in her life, pair a relaxing and luxurious beauty product like a mask or a scrub with a relaxing or indulgent treat, like her fave sbux blend or a box of bonbons. Trust – she could definitely use the me time!
The Dude
Is it just me, or are dudes super hard to shop for – especially if you don't know them that well? If your unexpected guest, hipster humbug, or cool coworker is a dude, you're going to have to switch up your tactics a bit.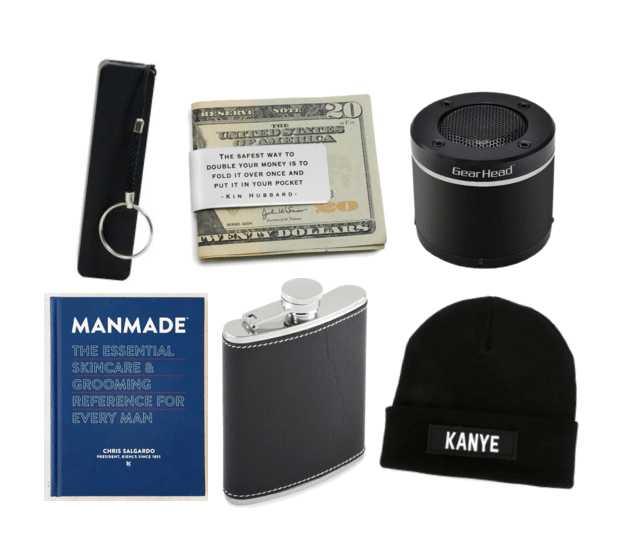 Products: Portable charger, money clip, portable speakers, book, flask, beanie
If you know the dude you're shopping for is into technology, a sleek portable charger or portable speakers are a safe bet that he will definitely get use out of. For the more stylish dude, a coffee table book or witty beanie will sure to be appreciated. For the guy who you just don't know that well, a flask or a money clip are practical items that aren't too personal.
What do you think?
Who are you shopping for last minute this year? What are your go-tos for those hard-to-shop folks? What's on your wishlist this year? Let me know in the comments below!