Although summer doesn't technically end for two more weeks, in my mind, September 1st is the first day of Autumn. Fall is my favorite fashion season and I can't ignore my cravings for boots, jackets, and sweaters for long.
In the spirit of fall fashion, this week's Fabulous Find is an autumn staple – a long, cozy knit cardigan in versatile gray. The best part? It's currently on sale for… wait for it… $5.99! That's essentially a visit to Starbucks.
Skip the Venti PSL just this once and pick up this cardigan instead – you'll be glad you did! Below, I'll show you three ways to style it.
The Cardigan
Knit Cardigan in Black Melange – $5.99 at H&M
Outfit Inspiration
Outfit 1: Easy Look for Class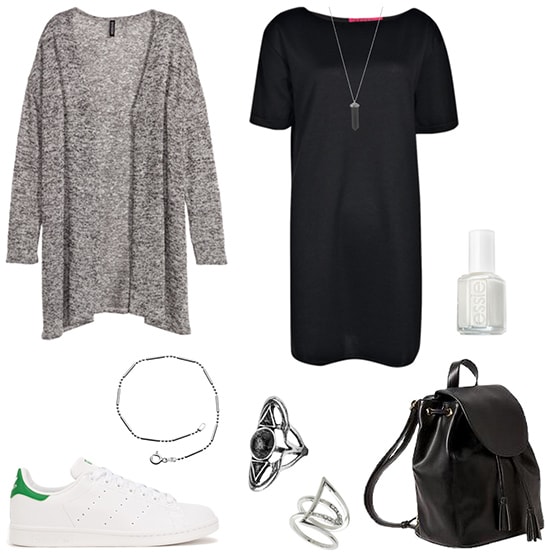 Products: Cardigan, T-Shirt Dress, Necklace, "Blanc" Polish, Sneakers, Anklet, Onyx Ring, Wrap Ring, Backpack
This is the perfect outfit for a long day of classes. A cozy tee shirt dress is easy to throw on and requires little styling. Just add the cardigan and a few pieces of jewelry (I adore this stone necklace) and you're set.
For footwear, opt for every fashion blogger's favorite sneakers, Stan Smith Adidas. They're crazy versatile and perfect for running between classes. Finish the relaxed look with a simple anklet and faux leather backpack.
Outfit 2: Summer-to-Fall Transition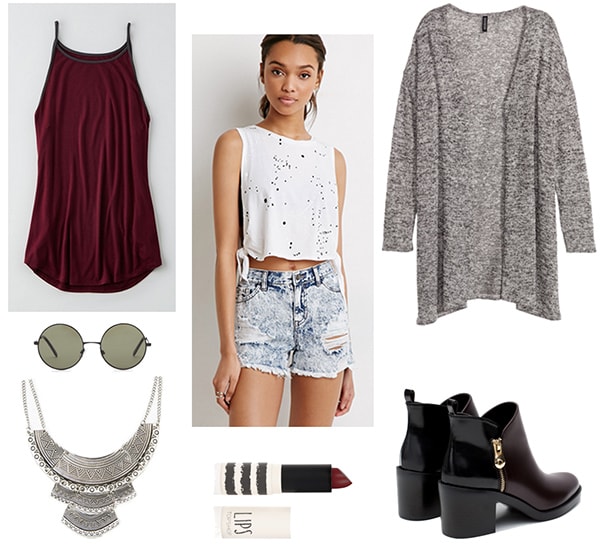 Products: Cardigan, Shorts, Tank, Sunglasses, Necklace, Booties, Lipstick
Just because fall is arriving, that doesn't mean you have to put away your favorite denim cutoffs! Wear them into the cooler months with a loose tank and our favorite cozy cardigan.
This look is basic on its own, so liven it up with accessories. This bib necklace makes a serious statement and is affordable as well. These ankle boots, from Zara, will be your new faves thanks to their zip detail and chunky heel. Round sunglasses and a swipe of dark lipstick provide the finishing touches.
Outfit 3: Dressy Casual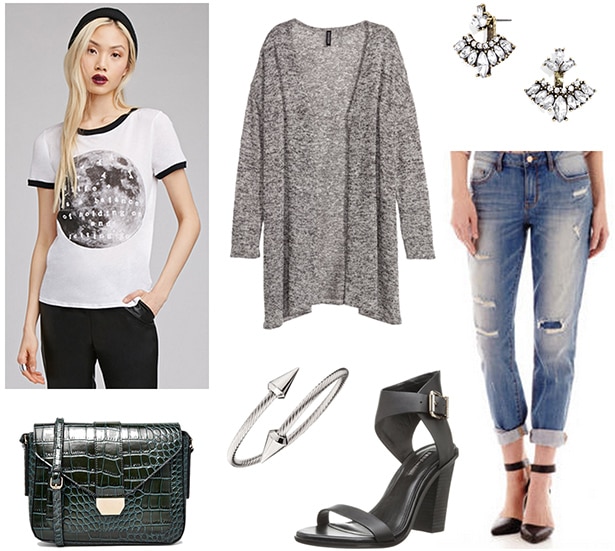 Products: Cardigan, Boyfriend Jeans, Tee, Sandals, Cross-Body, Ear Jackets, Bracelet
Want the perfect mix of comfort and glamour? Look no further than this look.
This time around, pair the cardigan with a cool graphic tee and some distressed boyfriend jeans. Add luxe vibes with a faux snakeskin cross-body (how Slytherin-chic is this bag?) and ankle strap heels. Finish with sparkly ear jackets and an on-trend bracelet.
Your Thoughts?
Just a tip: If you're shopping online, act fast! This fab find will go quickly. You've been warned.
What do you think of this week's Fabulous Find? Will you be buying this cardigan? How do you style cozy cardigans in fall? Which outfit is your fave? Tell me with a comment.