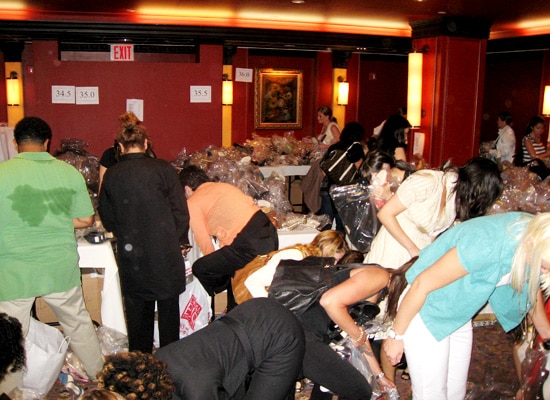 Photo Credit: 1
Ever since I spent my entire summer of 2008 in New York City, I cannot bear to buy designer pieces at full-price.
You see, New York City is abundant with sample sales, which used to be special events for designers and showrooms to discard their sample pieces from previous seasons. Nowadays, the term "sample sale" is used liberally to pertain to almost any sale in the city that is discarding last season's pieces, whether or not they are samples. Still, you can get some great deals at these events — if you know how to search and when to search.
Even though schoolwork has kept me on campus more often then I'd like, I still make time for the occasional sale. If you ever find yourself in New York City or at a sample sale elsewhere, here are some tips for scoring a good deal:
Dress comfortably and functionally. Wear comfortable shoes for walking and standing (and maybe running back and forth) and tight, formfitting clothes just in case there aren't any dressing rooms. Your shoes should also be easy to take off (no elaborate lace-up thigh-high boots!). This isn't a boutique that will turn its nose up at you for wearing bike shorts, so swallow your pride and dress shamefully. The important thing is that you're able to try on clothes with ease and swiftness. Just make sure to bring your credit card.
Bring a map (or directions) and a list of addresses, hours, and phone numbers. My father taught me to be over-prepared at all times, and it's come in handy in most situations. If you want to be efficient, make a plan. Find out the most efficient way to get to the sample sales and plot out a course to get from one place to the other. If you're lost, you can call the place or ask a passers-by for directions using the list of addresses.
Shop early. Sample sales don't open too early in the first place — usually about 10:00 a.m. or 11:00 a.m –, so you should be able to get out of bed on time. However, you'll probably find a line of eager shoppers waiting outside the building by 9:45 a.m. if the sale is at 10:00 a.m. Just get there early. You'll be wearing comfortable shoes anyway, so standing in line should not be a problem.
Check your items for quality because they are usually final sale. It is likely that some pieces made be damaged, so be sure to review your potential purchases before you hand over your credit card. True sample pieces may also be sized differently from retail pieces. In other words, make sure you know exactly what you're buying.
Do not exceed your budget. Okay, a $700 Derek Lam jacket that was originally $3,000 can seem like a great deal, but you might be eating cereal for breakfast, lunch, and dinner for the next two months. It's okay to splurge a little at a sample sale, but you still have to budget. Then again, you can be like me and prioritize fashion over food.
Do not buy something just because it is cheap. Look, you put in all of that effort to get to the sample sale — don't waste your hard-earned money on something that you'd never wear.
To find sample sales in New York City, visit Fashionista, Clothingline, and New York Magazine's Fashion Blog: The Cut. Even if you don't live in the city, you can still enjoy designer goods at discount prices through online "sample sale" shopping websites. For more information on online sample sales, plus a list of our favorites, see The Ultimate Guide to Online Sample Sales!
Spend wisely and you'll score some amazing pieces! Some of the things I've bought at sample sales include Sonia Rykiel sandals, a Marc by Marc Jacobs dress, a Hanii Y blazer, a Botkier bag, Hermès scarves, By Francine silk dresses, Bill Blass jackets, and Wolford stockings.
Have you ever shopped a sample sale?
If so, what did you score? Do you plan to visit any sample sales next time you're in NYC? What about online sample sales – what's your favorite online shopping destination? Leave us a comment!