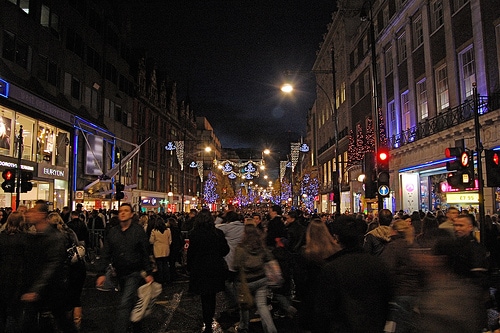 With Black Friday and Cyber Monday already behind us, it is hard to ignore the fact that the holiday shopping rush is in full swing. The season of giving will be over before we know it, so today I am going to give you an insiders guide to buying clothes for your boyfriend that both he, and you, will be able to enjoy.
Below, are my tips for significant others looking to steal their holiday presents back… So do yourself a favor this Holiday season and pick up something that both he and you will love to wear – it will be the best present you ever gave yourself.
Merry Gifting to All and to All a Good Buy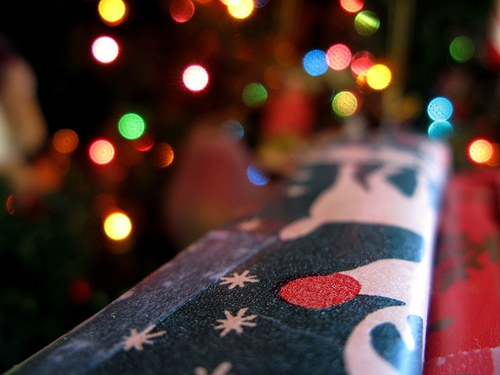 For the past four months, my girlfriend has been eying a certain flannel shirt of mine over Skype. When I return to America, I am almost positive that within two to three weeks it will end up in her laundry basket. But, I have come to grips with this fact. Though I love this shirt, I am willing to share, and am also hoping that her love of it will prompt her to buy me another…
This brings me to my first tip: When looking for a present you want to steal from your boyfriend, keep these three adjectives in mind: functional, soft, and replaceable. Why? Well, you want the clothing to be functional so that your boyfriend doesn't feel cheated out of a present, soft so that you can wear it, and replaceable in case you take it for good.
Furthermore, these adjectives put you in the right mindset when looking for clothes to buy. Think, "He will wear it on a Friday, but I can sleep in it on a Tuesday" or "I can wear it to class while he sleeps in." Your main objective is to put something in his hands that he will love to wear, you will love to see him in, and that after a couple of weeks, you can add to your wardrobe as well. Therefore, I recommend you stick with basics; think casual button-front shirts, sweatshirts, and underwear, and you can't go wrong.
Below, I've listed some options along these lines sure to please both you and the guy in your life.
Hook Him Up With Clothes a Plenty…Fa La La La La, La La La La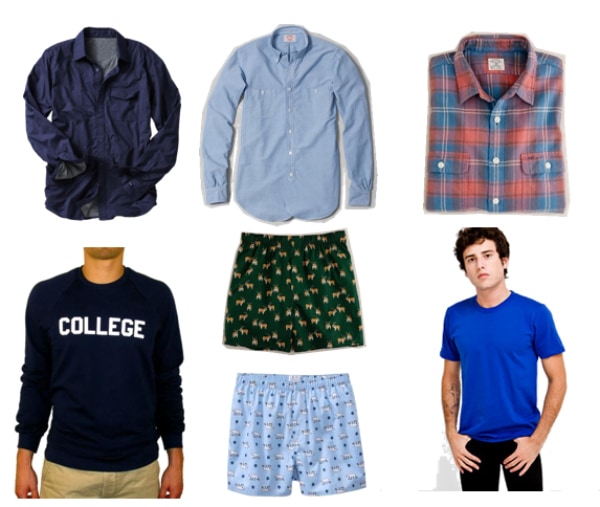 Products: Shirts(From Left to Right): Gap, Brooks Brothers, J.Crew, Boxers: J.Crew, Old Navy, Undershirt: American Apparel
Above are what I consider the perfect storm of "shareable" holiday presents for your boyfriend. From the male perspective, I love the feeling of a comfortable button-up shirt and have to have at least three good clean ones on hand at all times. For the holidays this year, invest in a shirt for your boyfriend that ignores the formal, but doesn't look sloppy. And if it's soft enough for you to sleep in, all the better. Chambray, Oxford, and Flannel are three distinct weaves of cotton that are sure to please the wearer, male or female.
Second, a college pullover sweatshirt is a must-have for a guy to wear around his dorm. The softer the inside, the better. For you, the significant other, his brand new sweatshirt can double as a top when you want to get comfortable in the library or are lounging in his room watching a movie.
Finally, woven boxers and fine undershirts are perfect sleepwear for a significant other. You should pick holiday themed boxers for your boyfriend, giving them a shelf life that, when expired, leaves them up for grabs. Make sure they are comfortable enough to wear all day, but loose enough to sleep in, and don't skimp on quality. The longer they last, the longer you get to share them.
What Do You Think?
What are you buying for your significant other this holiday season? What are you wishing for most? Any particular clothes you love to steal from your boyfriend or girlfriend? Let me know what you think, I write for you!