This post may contain affiliate links, which means we may receive a commission if you purchase through our links. Please
read our full disclosure here
.
Lauren Conrad, otherwise known as 'LC,' has come along way since her first appearance on MTV's "Laguna Beach" in 2004. The 25-year-old television personality, fashion designer and New York Times bestselling author has transformed before our eyes from a typical teenager to a sophisticated woman with serious style.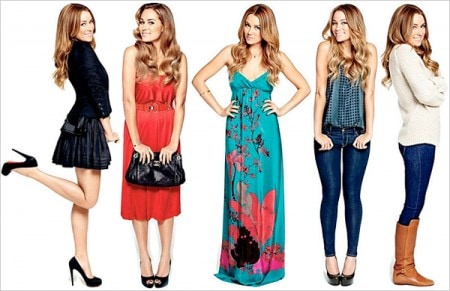 With her unique aesthetic – a mix of flirty, romantic, bohemian, and classically chic styles – its no surprise that Lauren has been featured on the covers of Cosmopolitan, Teen Vogue, Entertainment, Shape, Seventeen, Rolling Stone, and Glamour. Lauren is always turning heads in her vibrantly colored minidresses, perfectly put-together daytime outfits, and casual glam looks.
Not only is Lauren a fashion force to be reckoned with, she's very popular among CF readers – tons of you have emailed and commented requesting a post on her style. (For more, see our posts on how to do your hair like Lauren Conrad, and how to do your makeup like Lauren Conrad.) So for those of you who are dying to dress like her, below, I'll show how to get Lauren Conrad's style for less!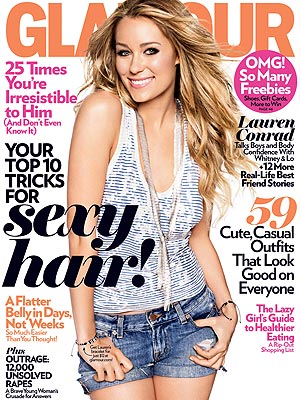 How to Get Lauren Conrad's Style for Less!
It should be no surprise that the wardrobe of socialite fashionista comes with quite the price tag. That said, it's easier than you think to emulate Lauren's look without emptying out your wallet. Want proof? The following outfits are completely comprised of items that cost $100 dollars or less!
Outfit 1: Little Blue Dress
Dress, Jacket, Studs, Bag, Pumps, Bracelet
This is personally one of my favorite looks from Lauren. I love the contrast between the girly printed sundress and the studded motorcycle leather jacket (both of which are from her Kohl's line, though sadly from last season's collection and no longer available). Since the jacket is cropped and has 3/4 sleeves, it works perfectly to put an edgy twist on a classic style, like this floral dress. Finish with simple accessories like black pumps and a chain strap bag.
Outfit 2: Sheer, Sleek and Sexy
Blouse, Bottoms, Clutch, Pumps, Ring, Polish
Leather pants are not always easy to pull off, but, to me, Lauren nailed it effortlessly. I love that she opted for a printed, semi-sheer, loose-fitting blouse to create balance against the sleek pants, as well as how she added a pop of color with her gorgeous turquoise bag. Again, she was able to soften a hard look with a few simple accessories.
Outfit 3: School Girl Chic
Blazer, Skirt, Blouse, Hat, Necklace, Heels
This look has Lauren at her girliest, and I think she looks super sleek and stylish. I love her play on school-girl here and how she opted for a lace-skirt with metallic accents to make it a stand-out ensemble. Lauren's look is always put-together and here her tailored boyfriend blazer ties the whole look together seamlessly. Get her look yourself with similar pieces, and finish with a funky fedora for a downtown chic vibe.
Outfit 4: Almost Famous
Top, Bag, Jeans, Glasses, Wedges, Necklace
Weather you're going to class, shopping, or grabbing lunch with friends, this outfit works perfectly for the upcoming spring. I love the subtle bohemian vibe here and how her stunning sandals elongate her legs to create height. This casual chic look works perfectly because of Lauren's tight on bottom, loose on top style. Channel it in your own wardrobe with skinny jeans, a striped top, and boho-chic sandals.
Outfit 5: Old Hollywood Glamour
Blouse, Pumps, Studs, Shorts, Clutch, Necklace
Here, Lauren channels old Hollywood glam with a pair of high-waisted shorts and a simple blouse that shows just enough skin to be sexy, but not over-the-top. Get her look with similar pieces like a printed blouse, simple black shorts, high-heeled mary janes, and understated jewelry. Finish with a standout clutch and you're ready for a glam night out!
Thoughts?
What do you think of Lauren Conrad's style? Which look is your favorite? Which are you most excited to try? Are you happy we finally did an entire article Lauren's style? Who else would you like to see featured here? Leave a comment and tell us what you think!