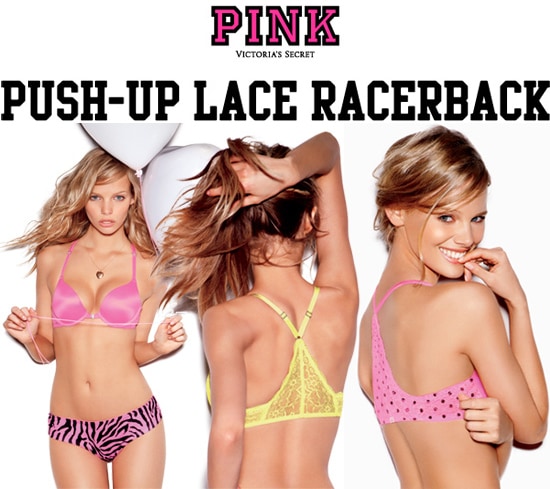 Here at CF, it's no secret that we're big fans of Victoria's Secret, especially VS PINK. And we're also big fans of owning plenty of adorable, functional bras – after all, your undergarments are the foundation of any look.
So that's why we're psyched to help VS PINK introduce what may become your new favorite bra of all time – Victoria's Secret PINK's new Push-Up Lace Racerback Bra!
About the PINK Push-Up Lace Racerback Bra
So why do we love this bra so much? Let us count the ways…
This hot new undergarment boasts a racerback style for extra lift, an adorable lace back, bright new prints and colors (we're particularly loving the neon yellow and hot pink versions, above), and an easy front closure, just to start.
But most of all, we love this bra because it's unlike most other styles out there right now – the adorable lace detail is so unique! Plus, as we all know, it's hard to find a bra that actually looks good under a racerback tank. Not so with this one – it's the perfect thing to pair with all your favorite tanks.
Layering Tip: Wear it Under a Tank
We've talked before about the peek-a-boo bra trend, and this adorable bra begs to be shown off, making it the perfect way to try the trend this season. Here's a photo that demonstrates how you can layer this bra under your favorite racerback tank for a cute, colorful look: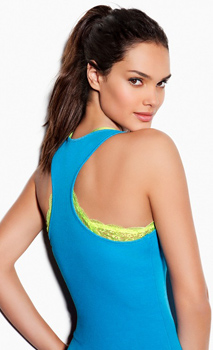 What do you think?
Overall, we're impressed with this new offering from VS PINK – not only is it functional, but more importantly, it's adorable, and totally perfect for the upcoming season. So what are you waiting for? Meet your new favorite bra at http://bit.ly/PINK_PULaceRacerback.
Now that you've seen the PINK Push-Up Lace Racerback bra, we want to know what you think! Do you love this bra as much as we do? Which color is your fave? How would you wear it? Leave a comment! Disclosure: This feature was sponsored by Victoria's Secret. The opinions, as always, are our own. For more info, please see our Disclosure page.