As the temperatures rise and summer comes to an end, the crop top is an essential item to keep stocked in your wardrobe. You'll miss wearing it when fall temperatures arrive!
This simple pink crop top is at H&M for only $5.99 — it's a total no-brainer.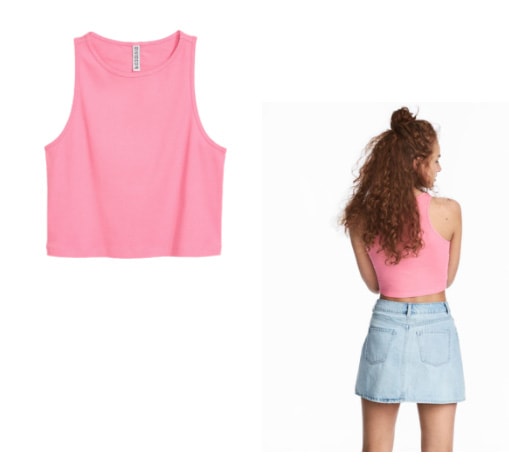 Here are a few ways to style this girly crop top. And as always, you can mix and match these looks with a crop you may already have, as well!
Pink Crop Top Outfit 1: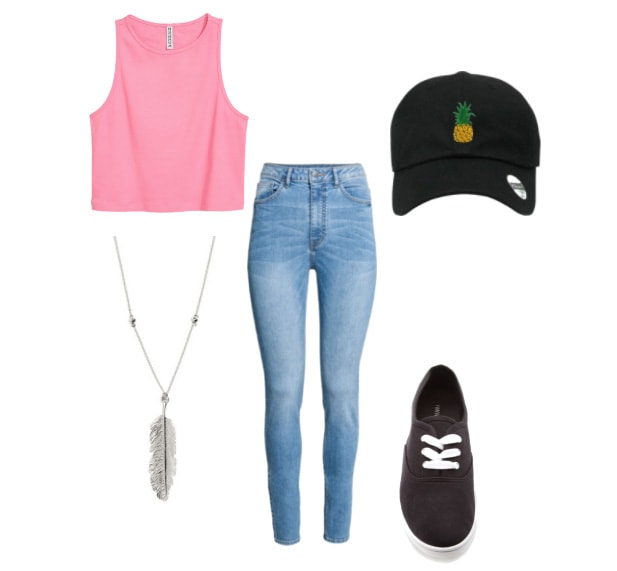 Top – H&M, Necklace – H&M, Jeans – H&M, Shoes – Forever 21, Hat – Walmart
Dad hats have been trending since the start of the summer, so I based this outfit around a cute pineapple graphic dad hat.
If you are going to a BBQ, amusement park, or a sports event, this is a chill outfit that's both cute and comfy. The dad hat keeps the sun from blinding you and the feather necklace adds a small hint of complexity to a simple style.
Pink Crop Top Outfit 2: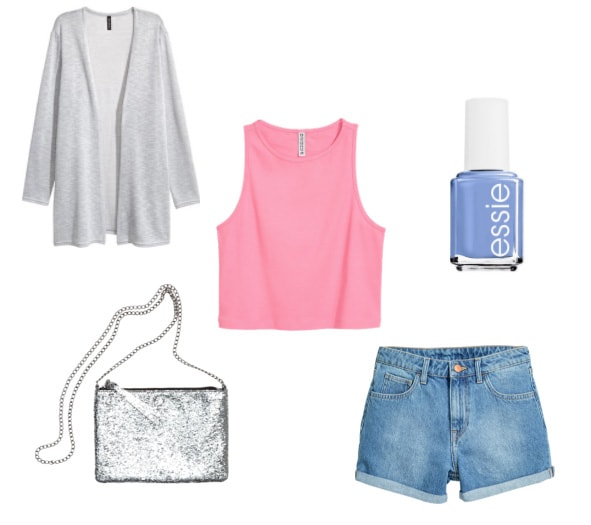 Top – H&M, Purse – H&M, Shorts – H&M, Nail Polish – Walgreens, Cardigan – H&M
Sometimes, it is just TOO hot for jeans! As summer progresses and the temperature rises well above ninety degrees, you need an outfit to combat the treacherous heat.
Here, I based an outfit around simple denim shorts and our crop top. The cardigan is very thin, allowing you to warm up if the mall or the restaurant you are dining in has the air on full force. The blue nail polish contributes to the pastel color selection. Finally, add a little sparkle with this glitter cross-body purse.
Pink Crop Top Outfit 3: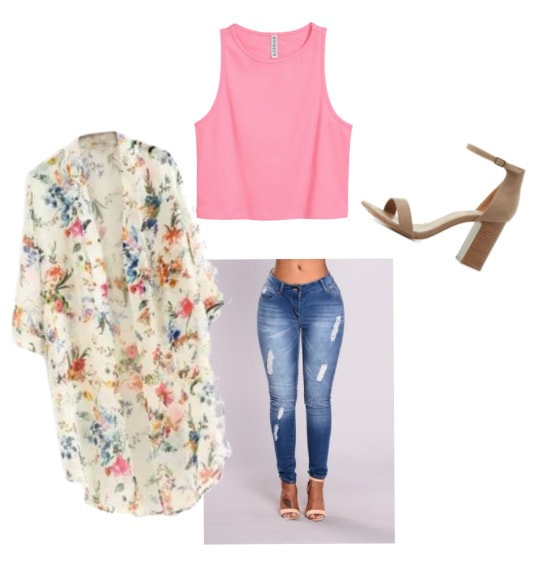 Top – H&M, Jeans – Fashionnova, Cardigan – Walmart, Heels –Charlotte Russe
This outfit is my personal favorite of the three, and a great idea for how to dress up a crop top. Summer is filled with exciting festivals, parties, and concerts. No matter which one you choose to strut to, this outfit will fit the occasion.
The pink crop brings out the flowers on this floral cardigan, while the classic jean-heel combination pulls it all together. This is a simple outfit that's sure to stop the show at any event.
Which outfit is your fave?
How do you wear your crop tops? Dress them up or dress them down? Feel free to share your crop-top adventures; we'd love to hear how you show-stopped in this crop top or one similar.