This post may contain affiliate links, which means we may receive a commission if you purchase through our links. Please
read our full disclosure here
.
It's springtime and graduation is in the air! As finals week wraps up, you may find yourself racking your brain to come up with the perfect graduation gifts for your friends. Shopping for grad gifts can be difficult– you want to get something sentimental but not too cheesy.
Above all, be the heroine of your life… Your education is a dress rehearsal for a life that is yours to lead. – Nora Ephron, Commencement Address to Wellesley Class of 1996
I like to consider myself a bit of a gift giving aficionado, so I've rounded up ten gifts that would be perfect for the grad in your life. Many of them are personalized and will be unique, one-of-a-kind presents that will make any college girl happy.
10 Graduation Gift Ideas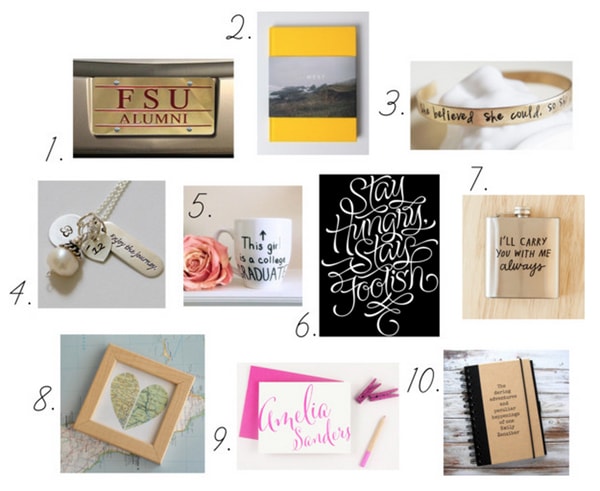 1 | 2 | 3 | 4 | 5 | 6 | 7 | 8 | 9 | 10
1. This is probably the most classic grad gift of all time, but it's still a great one. Give your fellow grad an alumni license plate, mug, or t-shirt with their college on it. You can never have too much college spirit!
2. This is one of my favorite gifts simply because it reminds me of my high school yearbooks. Gather up photos from all four years of college and assemble them into a photo book that your friend will be able to flip through and reminisce about for years to come.
3. This bracelet features the quote: "She believed she could, so she did." I love how empowering these words are, and seeing it on her wrist would give any young woman the confidence boost needed to take on the world.
4. You really can't go wrong giving jewelry to a girl… What's great about this necklace is that you can personalize it with an initial and the graduation year so it's completely unique.
5. This cheeky graduation mug would make any college grad smile. Graduation is no easy feat. There's nothing better than having a daily reminder that you've FINALLY graduated with your morning coffee.
6. Most college grads will be moving into a new place and will probably need to decorate. An inspirational quote (such as this one by Steve Jobs) on a print would make the perfect gift.
7. We all know how long graduation ceremonies are, so what better way to make it more interesting than with a flask to sip champagne from? Cheers to you, grad!
8. This personalized map print is perfect for the college grad who is leaving their beloved college town to move to a new city for her job (you can personalize the print with a map of each city on either side of the heart).
9. It's pretty likely that your grad friend will be writing quite a few thank you notes to her relatives after the ceremony. I bet she'd love to write them on her very own personalized stationary.
10. Last, but certainly not least, try giving a grad this wonderful personalized journal (with her very own name on it) to record the multitude of thoughts and feelings she'll have as she transitions into her new post grad life.
What do you think?
What do you think of these gift ideas? What will you be getting your graduating friends this spring? Let us know and sound off in the comments!