Over the past few weeks, I've showed you multiple ways to wear pieces you may already have in your closet. This week, I wanted to touch on a hot fashion trend for the fall: ladylike, '50s-inspired lines.
As was discussed in a previous article here on CF, there are tons of ways to add some '50s flavor to your outfits! In this case, I've pulled a cute knee-length full skirt. Below, I'll show you three different ways to wear this one amazing piece.
The Skirt: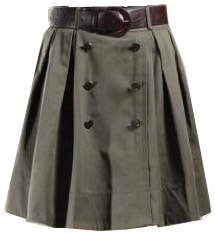 Product Info: Skirt
This skirt's color is what immediately drew me to it. Olive green is really flattering on most skin tones, as well as being a neutral (and a nod to the military trend). I also really liked the two rows of buttons down the front, because they add interest to an otherwise-basic piece.
Outfit 1: Girly Way to Wear a Full Skirt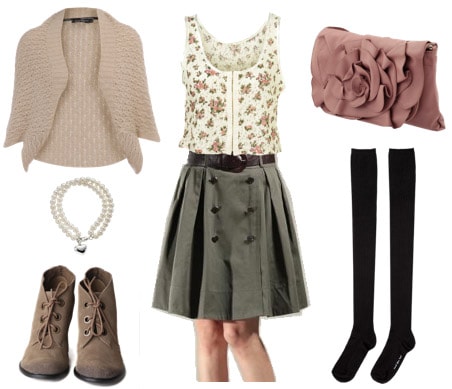 Product Info: Sweater, Top, Clutch, Bracelet, Lace-Up Booties, Thigh-Highs
I feel like this outfit is especially girly, thanks in part to the soft crochet sweater and floral top, as well as the dusty pink color palette. I added a pearl bracelet for an extra nod to all things feminine and sweet.
As you can see, I mixed multiple neutrals here, combining black tights, brown boots, and of course, the olive green skirt. I did this to show that it's completely okay to combine quite a few different tones in one outfit – you don't have to be matchy-matchy all the time.
Outfit 2: Vintage-Inspired Way to Wear a Full Skirt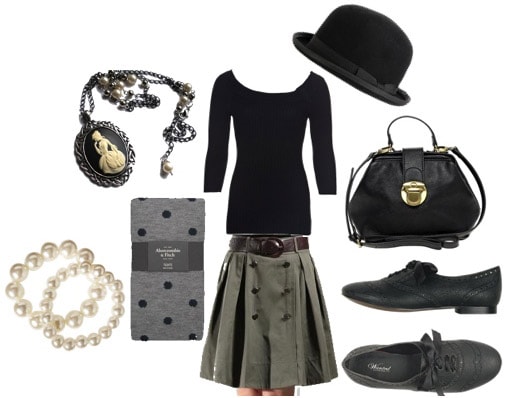 Product Info: Top, Hat, Necklace, Bag, Shoes, Tights, Bracelet Set
This outfit is my favorite of the three I put together. It embodies a fun mix of girly and vintage mix, a combination I absolutely love. I am also completely in love with these polka-dot tights, because they add a bit of whimsy to the outfit.
Overall, I played with the "borrowed from the boys" look here: I grabbed the hat and the shoes, which can both be quite masculine, and made them feminine with the tights and jewelry. I feel like this outfit would be more than appropriate at school, or if you were going out somewhere artsy, like an art gallery or museum.
Outfit 3: Casual Way to Wear a Full Skirt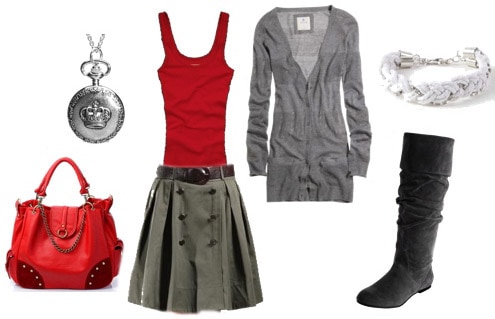 Product Info: Tank, Cardigan, White Bracelet, Bag, Necklace, Boot
Of the three outfits, this one is the most relaxed and comfortable-looking – perfect for a day of shopping or lounging on a weekend. It's simple and unfussy, without being drab.
In contrast to my first two looks, I used a pop of bright color here – the bright red bag and top stand out against the otherwise-neutral outfit. I went with a gray cardigan because gray is a perfect fall color, and, like olive green, it looks great on most skin tones. Because the boots I picked are quite tall, I don't think the outfit needs tights or socks, but if you are more conservative, you could definitely throw a black or gray pair underneath, without it being too much.
What do you think?
So, tell me what you think! Which outfit is your favorite and why? How would you wear this piece? Do you have any pieces you'd like to see worn in three ways? Let me know in the comments!