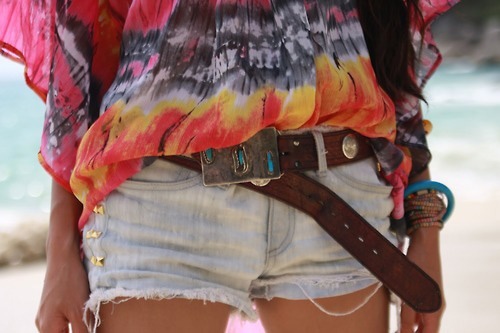 If you've read some of my previous posts, you probably already know about my not-so-secret denim addiction. I l o v e the fabric, and always wear it year-round!
Of course, come spring and summer, I tend to ditch my skinny jeans in favor of cooler, girlier styles like the ones featured below. The following four pieces are my spring and summer denim staples. An added bonus? Most of the pieces can be worn year-round with the right combination of layers, and they're perfect for the awkward pre-season transition phases. Fellow denim lovers, this is for you!
1. Boyfriend Jeans
Boyfriend jeans first became popular last spring, and the look is here to stay! Luxury denim brands, department stores, and retail chains alike continue to sell out of the popular, relaxed style.
Boyfriend jeans can be hard to pull off, as they can sometimes make you look sloppy or larger on the bottom, but if you pick the right pair they'll hang off your hips in that effortless California-chic way. As always, it's important watch your proportions when creating an outfit around a pair of these jeans: pair baggy bottoms with a more fitted top for the most flattering look. Want a more easy-going vibe? Try the jeans with an oversized v-neck.
Hot Picks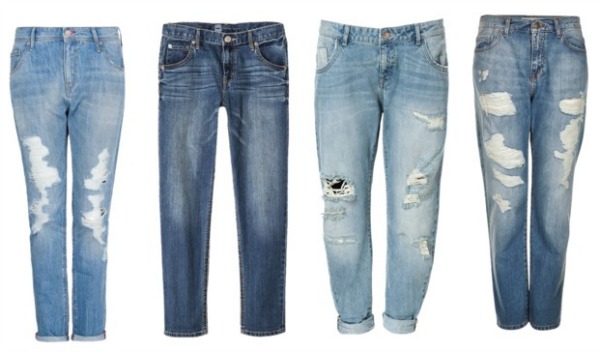 Product Information: Soul Cal Boyfriend Rip & Repair Jeans, Republic. Bluebird Beach Cropped Boyfriend Jeans, Hollister. AG Ex Boyfriend Crop Jeans, Calypso.
2. Cuffed Shorts
As far as I'm concerned, cuffed shorts are a MUST for summer. They're figure-flattering, and a bit more dressy than regular, or un-hemmed varieties. Cuffed shorts also tend to give a bit of extra room in the thighs, which is especially helpful if you have an athletic or fuller figure. High-waisted cuffed shorts are particularly fashion-forward, especially when accented by rows of buttons in a nod to the season's nautical trend. Cuffed denim shorts also look adorable when belted, making them a bit more formal and accenting your waist! Want to wear them when it's cold? Just add a pair of tights and boots and you're good to go!
Hot Picks

Product Information: Cuffed Chambray Shorts, Old Navy. Painted Denim Shorts, American Eagle. Boy by Band of Outsiders Denim Cuffed Shorts, La Garçonne.
3. Denim Jacket
A good denim jacket is a girl's best friend. It's a stylish way to top off a spring or summer outfit for added warmth and fashion points. I love the look of a light-wash jean jacket over a printed maxi dress at night for summer concerts!
Of course, this is another denim staple that can transition with you through the seasons. Just consider the weight of the denim (or lining, if the jacket you choose has it!) and plan accordingly for different seasons. Obviously, if you plan to wear the jacket mostly in the spring and summer, you're going to want a lighter-weight denim.
Hot Picks

Product Information: Studded Cropped Denim Jacket, American Eagle. 7 For All Mankind Tomboy Jacket, Net-a-Porter. Classic Denim Jacket, American Eagle.
4. Chambray Top
As we've reported, chambray is going to be HUGE for Spring/Summer 2010! So why buy a chambray shirt? Denim's soft, less-structured sister is totally classic, and can give your look a laid-back or preppy vibe. The loose-fitting chambray shirts featured here will look great with skinny jeans (dark or white!), capris, or shorts, and the fabric is so comfortable you'll feel like you're still wearing your PJs.
For more on how to wear chambray, check out Tiffany's post on the subject!
Hot Picks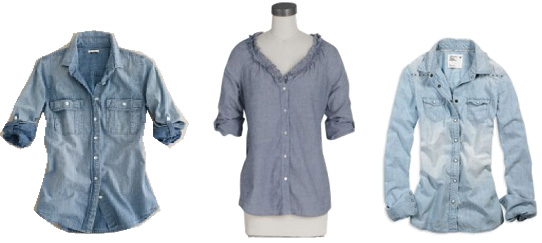 Product Information: Faded Chambray Shirt, J.Crew. Ella Moss Chambray Ruffle Neck Shirt, Piperlime. Chambray Western Shirt, American Eagle.
What do YOU think?!
Do you wear denim year-round like I do? Have you tried chambray? Are there any styles you love that I missed? Let us know with a comment!