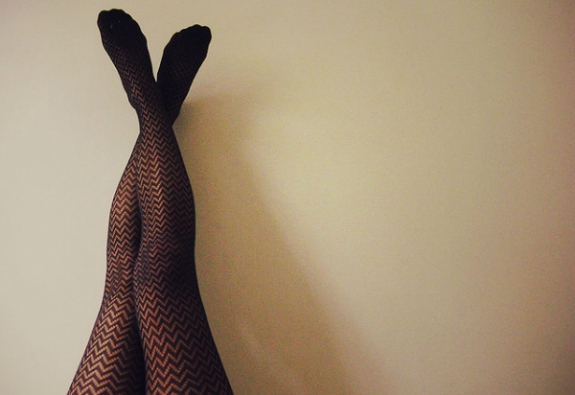 Here at CF, we know that tights are among the best — and easiest — ways to expand your winter wardrobe. Layering them under dresses, skirts and shorts is a fab option when you want to winterize your summer clothes — heck, you can even wear tights under jeans if you live someplace where the temperatures are absolutely frigid!
In recent years, tights have become so mainstream that there are thousands upon thousands of options to choose from. And whether you prefer classic, solid-colored hosiery or want to make a statement with a bold, printed pair, we've rounded up 25 of our fave pairs of tights below. Just scroll on down to check them out:
Opaque Black Tights
Just like an LBD or a pair of bootcut jeans, opaque black tights are a super-flattering and extremely versatile wardrobe staple that will never go out of style. Black tights from AE and Target's Merona Premium label are my personal budget-friendly faves, but if you have a little extra cash, Comando and Spanx also make excellent, long-lasting opaque tights that are well worth the investment.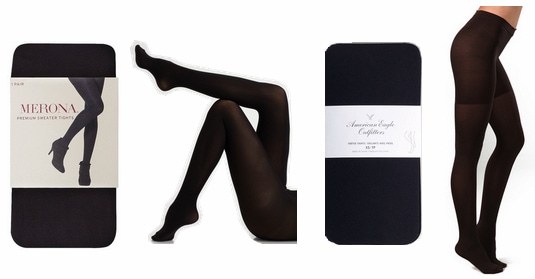 Product Info: Merona Premium Sweater Tights- Target, Ultimate Opaque Matte Tights- Commando, AEO Opaque Tight- American Eagle Outfitters, Tight End Tights- Spanx
Solid Colors
Ever since she donned a pair of bright red tights in season one of Gossip Girl, Blair Waldorf proved to us that rocking hosiery in every color under the rainbow is a definite fashion "do". Whether you opt to pair them with neutrals or create a multi-hued ensemble, these solid-colored tights have become a new classic. Nowadays, almost every fast-fashion retailer carries inexpensive, colorful tights, but we also love the quality of Hue brand tights as well as the huge variety of shades found at online retailer We Love Colors.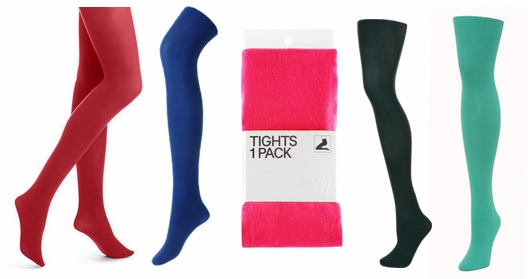 Product Info: Red- Hue, Royal Blue- Forever 21, Neon Pink- H&M, Hunter Green- Topshop, Aqua- We Love Colors
Textured
Incorporating several different textures into one outfit is a fantastic way to boost your style cred, which is why we love this next category of tights. Not only are textured tights a super-easy way to add interest to any look, but the cable-knit and wide-ribbed-sweater versions are extremely warm to boot. Live someplace where the winters are mild? Try lace, fishnet, or open-weave tights for a fashion-forward look.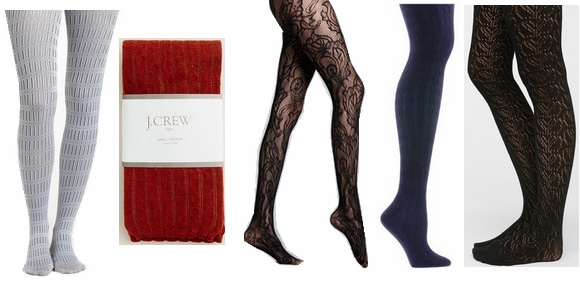 Product Info: Maruska Tights- Anthropologie, Wide Rib Wool Tights- J. Crew, Lace- Hue, Cable Knit- Hue, Open Knit Sweater Tights- Urban Outfitters
Prints & Patterns
Sort of a happy medium between colored tights and textured ones, hosiery adorned with patterns and prints will easily amp up any outfit. These tights will add pizzazz to an all-neutral outfit or can play well with another patterned piece. If you have a classic sense of style, try a simple polka-dotted or striped pair, but if you're looking for something bolder, screen print tights are the answer. We especially love the floral, leopard and super-trendy Fair Isle tights below.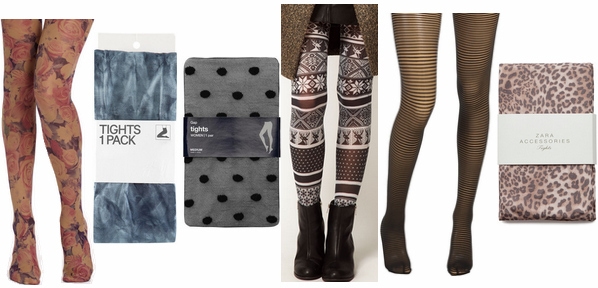 Product Info: Floral Print- Anthropologie, Tie Dye- H&M, Polka Dots- Gap, Fair Isle Print- ASOS, Stripes- Kate Spade, Leopard Print- Zara
Novelty Tights
Long gone are the days when neutral-colored nylons were the norm. In fact, over the last few years, designers have been creating unique and statement-making tights that are anything but ordinary. Whether they create the illusion of stockings, are adorned with rhinestones, or incorporate a graphic element, these pairs below prove that tights can be fun and functional.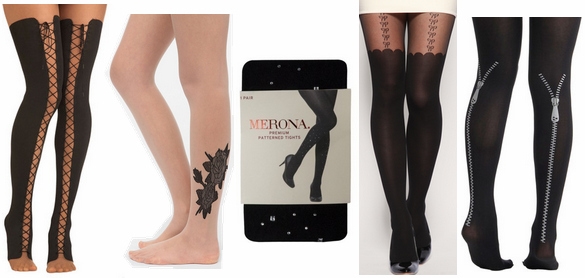 Product Info: Lace Up- ModCloth, "Tattoo" Tights- Urban Outfitters, Rhinestone Tights- Target, Bow Suspender Tights- ASOS, Faux Zipper- ModCloth
Your thoughts?
Do you like wearing tights? How many pairs do you own? Which type of tights are your fave? Let us know what you think by leaving a comment below!