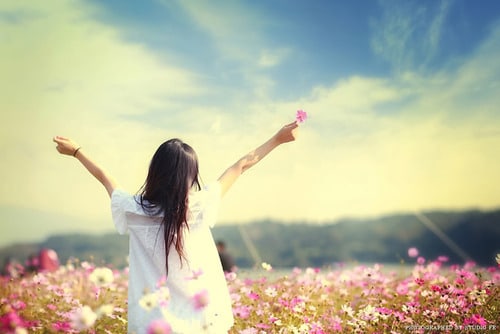 Usually I feature items that I consider timeless; things that you can wear again and again no matter the season. For the very last edition of the Fashion Essentials series, I've decided to highlight something that a lot of people either skip entirely or go overboard on: seasonal trends.
I consider trendy items essentials in a college girl's wardrobe. Adding a trendy item to an outfit full of classics is a fun way to experiment with fashion, and proves you know "what's in". However, having a closet full of last season's hottest trends isn't realistic or smart: trendy items should be simply for fun, and not investment pieces or long-lasting essentials. Because no one wants to spend big money on short-term items, I'm going to focus on spring trend essentials for under $50.
1. Clear Accessories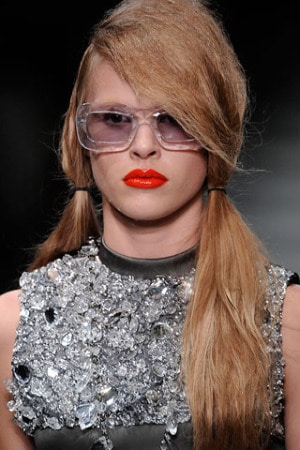 Photos via Style.com: Left – Prada, Right – Fendi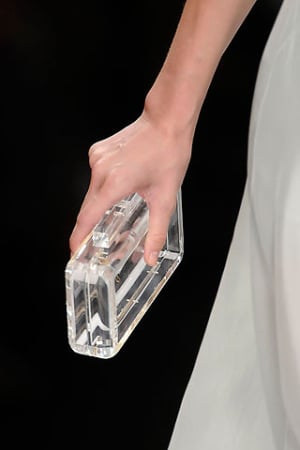 Transparent jewelry and accessories were hot trends on the runway this spring. Fendi's spring show featured clear lucite clutches (above right) and wedges, while Burberry Prorsum sent models down the runway with transparent amber bangles on their arms.
I think clear accessories can be integrated into many different styles: they can be super modern with a sleek, monochrome outfit, or fun and girly with spring florals. A thick, clear lucite bangle looks 60's mod, and clear rimmed sunglasses imitate the clear bags, heels, and shades Prada sent down the spring runway (above left). Here are some cheap items that will achieve the same look: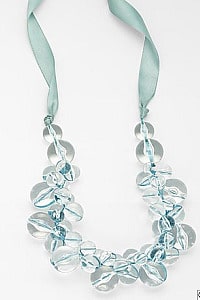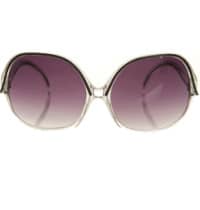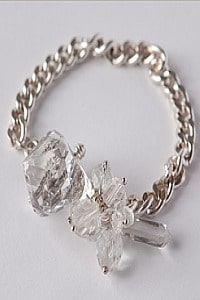 Product Information: Transparent blue necklace – Lord & Taylor, Clear rimmed sunglasses – Windsor, Clear stone bracelet – Lori's Shoes
2. Warm Weather Leather (and Faux Leather)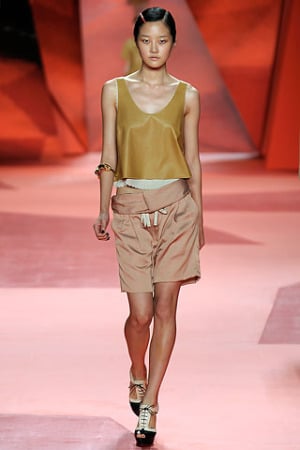 Photos via Style.com: Left – 3.1 Phillip Lim, Right – Loewe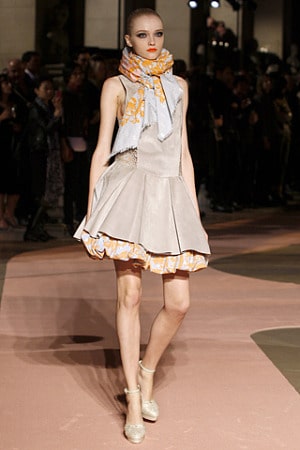 Leather (and faux leather) jackets were a must last fall, and they are still in for spring. Leather was used in unexpected places as well on the spring runways: items like dresses and tanks were sent down the runway in lightweight leather.
Most of this season's hottest leather shades are faded neutrals, which is a great way to lighten up the bulky fabric for spring. I like the look of light, creamy leather (faux in this case) against an otherwise-dark outfit. The contrast allows the focus (the leather!) to shine. Pale leather also looks great with peachy and pink colors, which are also perfect for spring.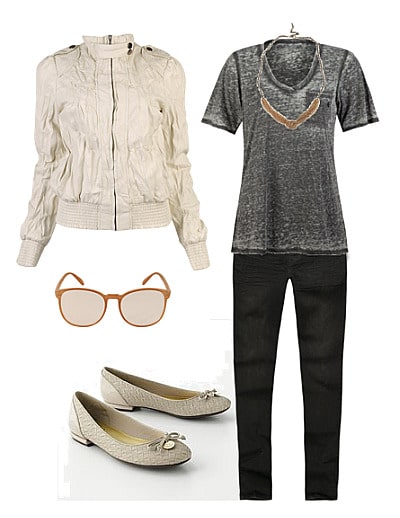 Product Information: Leather jacket – Forever 21, Denim leggings – Tilly's, Burnout tee – Tilly's, Flats – Kohls, Readers – Forever 21, Necklace – Urban Outfitters
3. Denim Details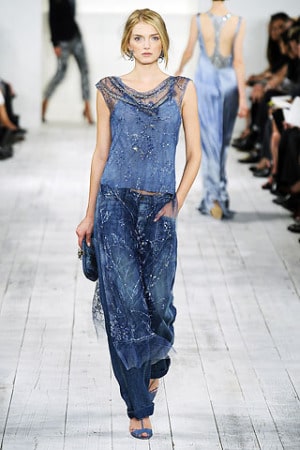 Photos via Style.com: Left- Ralph Lauren, Right – D&G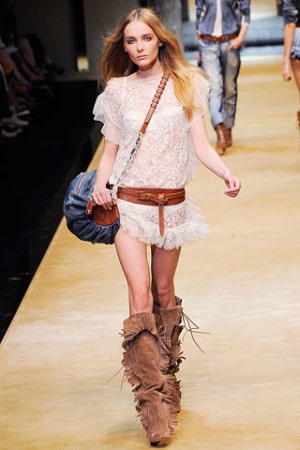 As I'm sure you've all been heard (and seen), denim is the "fabric of spring" this year. Although you could easily work the look with your favorite pair of jeans or a chambray shirt, I think denim worn in unexpected ways is much more exciting. Trying a denim bag, pair of shoes, or headband shows a bit more effort than a simple jean jacket (although jean jackets are still cute, and great for spring).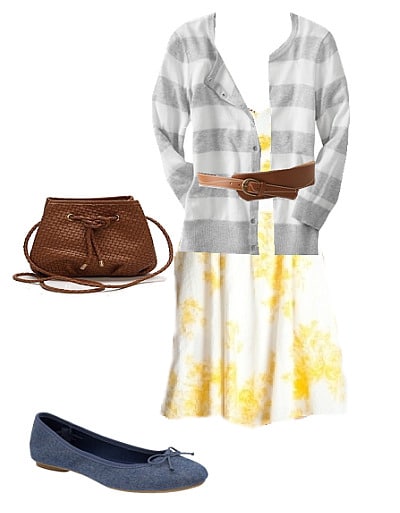 Product Information: Denim flats – Old Navy, Striped cardigan – Old Navy, Dress – Charlotte Russe, Belt – Anthropologie, Textured bag – Urban Outfitters
4. Nude Colored Pieces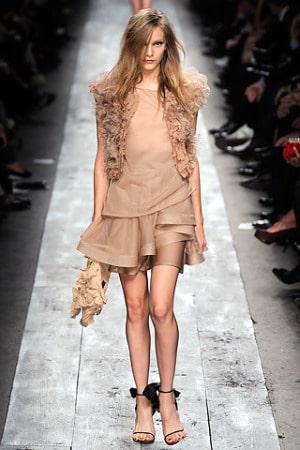 Photos via Style.com : Left – Tibi, Right – Valentino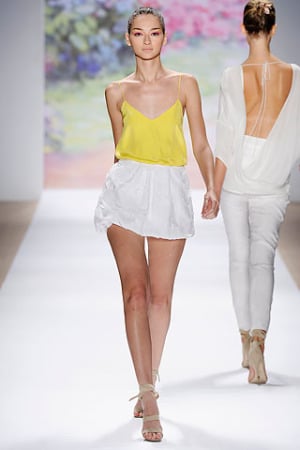 Whether they're accessories or clothing, nude-colored items are essentials for spring. Valentino's spring collection (above left) featured textured nudes, and Tibi accented brights with nude sandals (above right). Here are two nude accessories to help you get the look.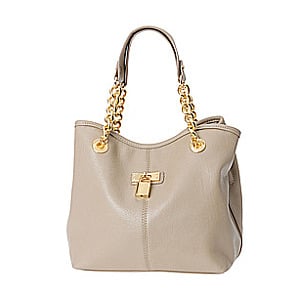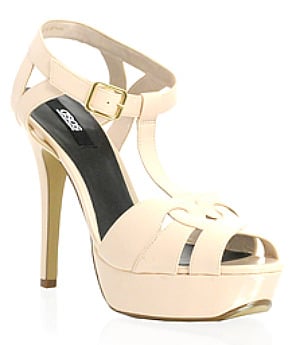 Product Information: Chain handle bag – Aldo, T-strap heels – ASOS
So… what do you think?
What spring trends are you looking forward to? Do you think you could pull off Ralph Lauren's evening denim? Would you wear the trends featured here? I'd love to hear from you!