For this week's Fabulous Find, we found a jacket has a distinctly sporty vibe, but can go with everything from jeans to your favorite dress. While varsity jackets have been around for a few seasons now, we were really drawn to this one from Windsor because it features edgy faux leather sleeves. The black hue means this jacket can work with a variety of different shades, and at under $27, it's quite the budget-friendly buy.
Just scroll down to check out this Fab Find, as well as three cute and casual ways to wear it:
The Jacket: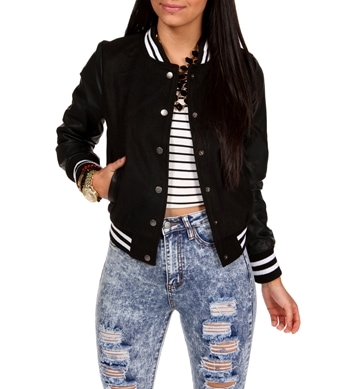 Black Varsity Jacket — $26.90 at Windsor
Outfit Inspiration
If you like this cheap and chic jacket, then you're going to love the outfits we put together for inspiration. Read on to find out three stylish ways to wear this week's Fabulous Find:
Outfit #1: Dressed-Down Edge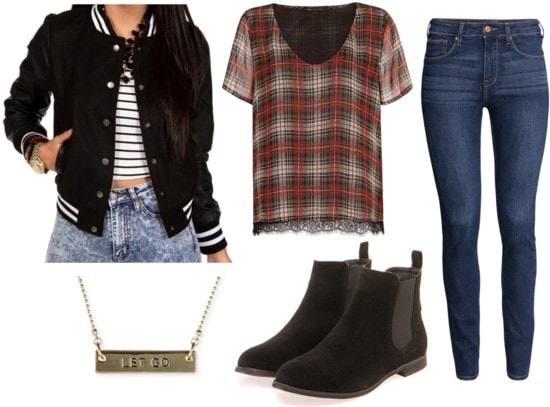 Fab Find: Windsor Varsity Jacket – Dressed-Down Edge by collegefashion featuring H&M
Product Info: Jacket- Windsor, Top- Mango, Jeans- H&M, Necklace- Macy's, Shoes- Boohoo
For a casual look with a bit of an edge, pair an on-trend plaid blouse with your favorite pair of skinny jeans. Layer on the varsity jacket, as well as a pair of Chelsea boots to continue the low-key vibe. Accessorize with a bar-shaped pendant necklace to complete the ensemble.
Outfit #2: Colorfully Chic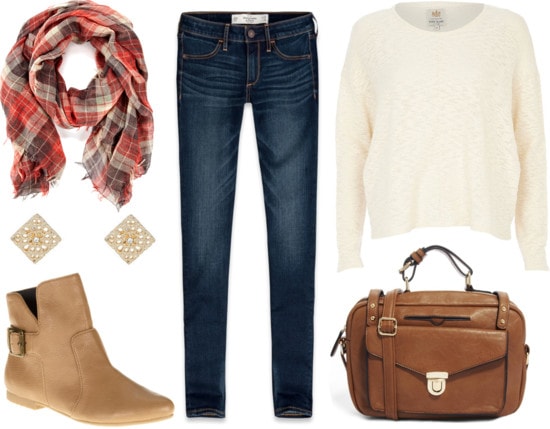 Fab Find: Windsor Varsity Jacket – Colofully Chic by collegefashion featuring black cowboy boots
Product Info: Jacket- Windsor, Sweater- H&M, Watch- Daily Look, Shoes- Old Navy, Skirt- Forever 21, Tights- Shopbop
Since varsity jackets are so sporty, create contrast by pairing this Fab Find with a girly skater skirt; this dark floral print one is perfect for winter. Pair it with a mustard yellow sweater and olive green tights for a fun combination of colors. Finish up this look with a pair of heeled ankle booties and a studded wraparound watch.
Outfit #3: Collegiate Cool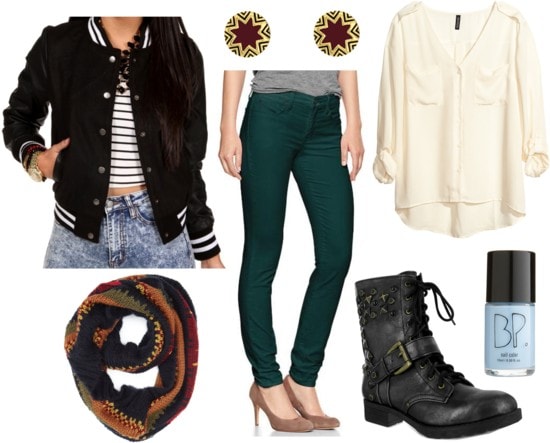 Fab Find: Windsor Varsity Jacket – Collegiate Cool by collegefashion featuring BP.
Product Info: Jacket- Windsor, Earrings- House of Harlow 1960, Pants- Gap, Top- H&M, Scarf- Accessorize, Shoes- Macy's, Nail Polish- Nordstrom
Head back to campus in style with this outfit. Wear a pair of emerald green cords with a button-down blouse, then add the varsity jacket for a casual-cool look. Combat boots are ideal for trekking across campus, while this snood adds a nice pop of print. Accessorize with some stud earrings, and for the finishing touch, paint your nails a pastel blue shade.
Your thoughts?
What do you think of this week's Fabulous Find? Would you buy this Windsor jacket? Which look is your favorite? How would you wear a varsity jacket? Remember to leave a comment below and tell us what you think!