This week's Fabulous Find is a wardrobe stable found in every college girl's closet: a comfy tee. However, this isn't your basic, run-of-the-mill t-shirt. Instead, we've found a gray-and-black striped top with pretty 3/4-length lace sleeves, from the ever-trendy Wet Seal. This top is the perfect mix of casual and dressy, meaning it can be worn with pretty much anything and everything.
And not only does this top go with everything from a frilly skirt to your fave worn-in jeans, but this fabulous piece will only set you back a mere $12.50, making it quite the budget-friendly find as well. Ready to see what the top looks like? Scroll on down to check it out, as well as some stylish ways to wear this tee for fall:
The Top:
Striped Lace Baseball Tee in Gunmetal — $12.50 at Wet Seal
Outfit Inspiration
If you like this cheap and chic tee then you're going to love the outfits we've put together for inspiration. Read on to find out three stylish ways to wear this week's Fabulous Find:
Outfit #1: Lace & Leather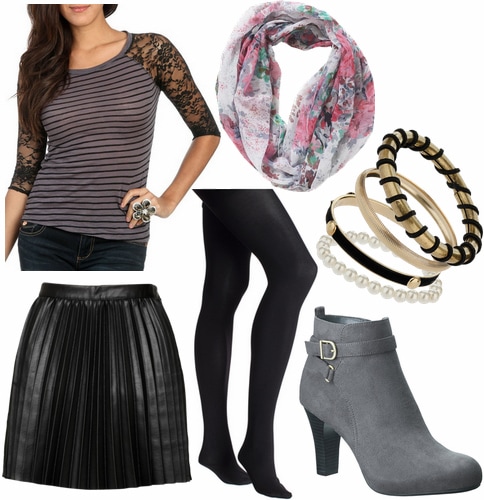 Product Info: Top- Wet Seal, Scarf- Debenhams, Skirt- Cotton On, Tights- DSW, Bracelets- Miss Selfridge, Boots- Target
For a cute and edgy look, pair our Fab Find with an on-trend pleated faux leather skirt and a pair of cozy opaque tights. Heeled ankle booties add a chic touch, while a patterned scarf lends a pretty top of color. For the finishing touch, accessorize with several unique stacked bangles.
Outfit #2: Trendy & Casual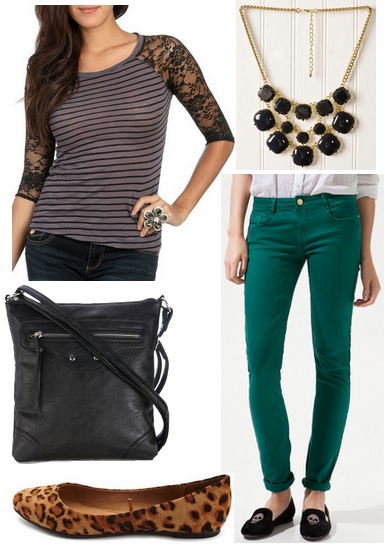 Product Info: Top- Wet Seal, Necklace- Francesca's Collection, Bag- Wallis, Jeans- Zara, Shoes- Charlotte Russe
For this outfit, start by pairing the top with some trendy colored jeans for a stylish, yet casual look. Leopard flats look fantastic when paired with the green color of the jeans, while a bold statement necklace adds a fashion-forward touch. Grab a practical black cross-body bag and you'll have a comfy outfit that works perfectly for daytime.
Outfit #3: Glamour Girl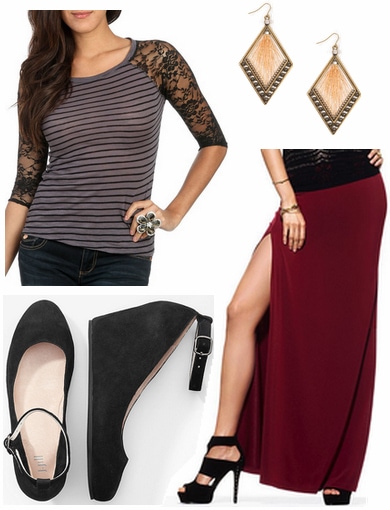 Product Info: Top- Wet Seal, Earrings- Forever 21, Shoes- J. Jill, Skirt- Victoria's Secret
Glam up this tee by pairing it with a trendy oxblood-hued maxi skirt that features a bold high slit. Next, show off your stems in a pair of suede ankle strap wedges that are both comfortable and stylish. Accessorize with pretty statement earrings for a fashionable look that works for day or night.
Your thoughts?
What do you think of this week's Fabulous Find? Would you buy this tee from Wet Seal? Which look is your favorite? How would you wear the top? Remember to leave a comment below and tell us what you think!