Have you bought a romper yet? If not, I highly recommend you give one a try. Rompers are super-comfy, super-stylish, and super-easy to wear.
For this week's Fabulous Find, we're featuring a printed romper from Wet Seal that won't break the bank. What I like about this particular romper is that it's black-and-white, which opens up a ton of styling possibilities.
Want to see what it looks like? Scroll down to check it out, as well as three ways to wear a romper this spring:
The Romper: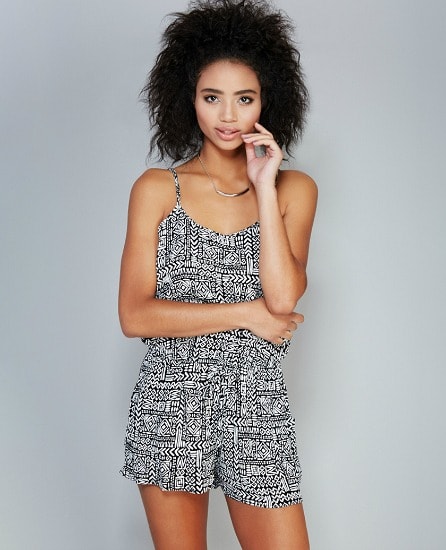 Tribal Print Gauze Romper in Black/White — $22.90 at Wet Seal
Outfit Inspiration
If you like this trendy and budget-friendly romper, then you're going to love the outfits we put together for inspiration. Read on to find out three stylish ways to wear this week's Fabulous Find:
Outfit #1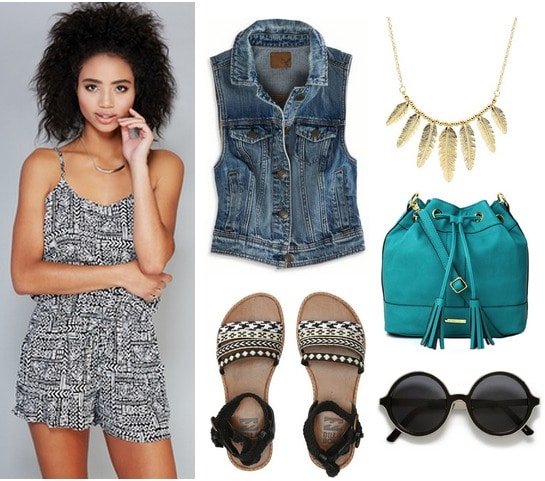 Product Info: Romper- Wet Seal, Vest- American Eagle Outfitters, Necklace- Charlotte Russe, Shoes- Billabong, Bag- JCPenney, Sunglasses- Amazon
For an effortlessly cool look, layer a denim vest over your romper. Play with mixed prints with these black-and-white sandals, then incorporate a bold pop of color with a teal bucket bag. Choose accessories with a boho vibe, like a gold feather necklace and circle sunnies.
Outfit #2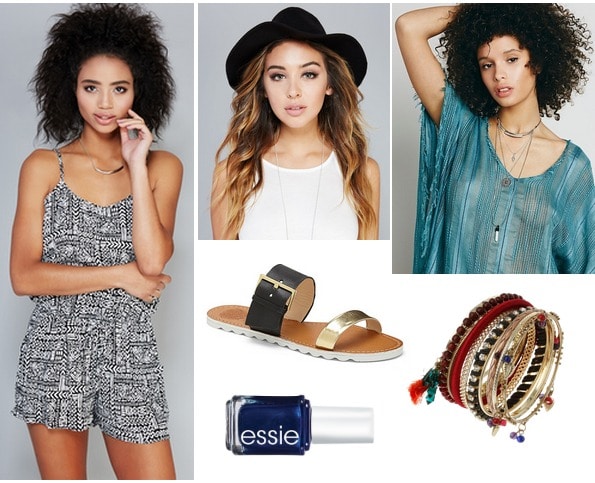 Product Info: Romper- Wet Seal, Hat- Wet Seal, Necklace- Free People, Shoes- Vince Camuto, Bracelets- Miss Selfridge, Nail Polish- Essie
Create a chic and trendy summer look by pairing the romper with a wide-brim hat and slide-on sandals. Pile on the jewelry with a set of eclectic bangles and a multi-strand layered necklace. For the finishing touch, paint your nails a deep shade of blue.
Outfit #3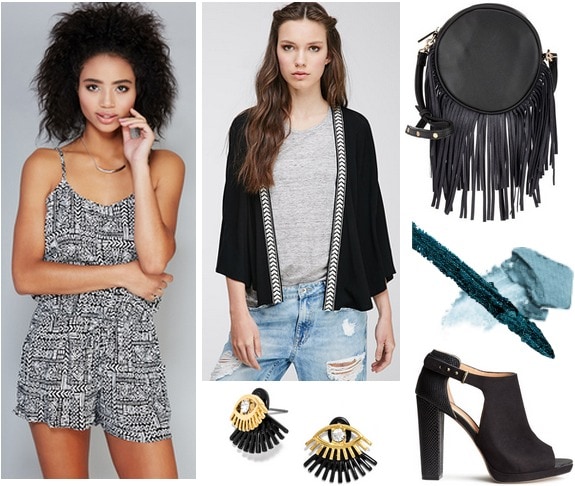 Product Info: Romper- Wet Seal, Kimono- Forever 21, Bag- Barneys Warehouse, Earrings- BaubleBar, Eyeliner- Gucci, Eyeshadow- Stila, Shoes- H&M
This final ensemble is the perfect way to rock a romper on a night out. Wear a sophisticated kimono jacket over the romper, then add a pair of cutout ankle boots. Store your night out essentials in a super-trendy fringed crossbody bag, and accessorize with these black-and-gold earrings. Opt for bold eye makeup, like colorful eyeliner and a matching smokey eye.
Your thoughts?
What do you think of this week's Fabulous Find? Would you buy this printed romper? Which look is your favorite? How would you wear a romper? Remember to leave a comment below and tell us what you think!