It finally happened: We just had our first real day of fall here in Florida! I walked outside in shorts and a sleeveless shirt and was shocked & amazed that I was – gasp – CHILLY! You have no idea how exciting this is for us Floridians: TIME FOR SWEATERS AND BOOTS AND SCARVES AND TIGHTS! Sorry I'm freaking out, I'm just SO happy, and my enthusiasm definitely made this week's post a lot of fun to put together.
Our Fabulous Find this week is something every girl needs in her fall wardrobe. Oxfords have been huge for a few seasons now, and they're still going strong into fall and winter, so it's the perfect time to try this trend. These ones are from Wet Seal, and they're only $22! (Other colors are just $15.99!) So check out some cute ways to style these amazingly versatile – and fashionable – shoes.
The Shoes: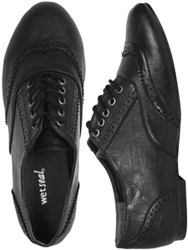 Wingtip Oxford – $22.50 at Wet Seal
Outfit Inspiration:
Here, I've created three looks using these simple black oxfords – one uber casual for class, one that's a little more polished, and one dressy look.
1.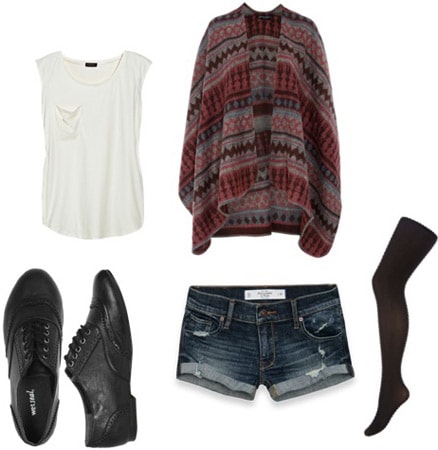 Oxfords, Shorts, Tee, Sweater, Tights
I had my apprehensions about the tights-and-shorts combo for a while, but I am now a big fan – it's such an easy way to transition into cooler months, without having to tuck away some of your favorite summer staples!
Here I took a pair of cute denim cutoffs and paired them with some black tights, a white tee, and this amazing oversized, patterned sweater. This laid-back, super cool outfit calls for an equally awesome pair of shoes, which is where your brand new black oxfords come in! This outfit says, "Oh, this? I just threw this on.. (but I look amazing.)"
2.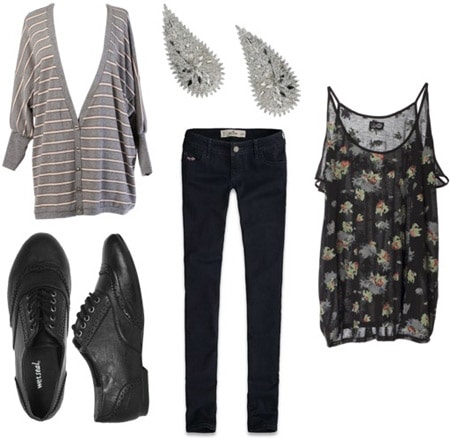 Oxfords, Jeggings, Top, Sweater, Earrings
This outfit is a little more traditional and polished, but still has a little twist thanks to some always-appreciated print mixing! Take a pair of dark wash jeggings (or your favorite jeans, whatever) add a cool floral top, your amazing new black oxfords, and a striped sweater with similar colors to tie in the floral pattern. Finish it off with a pair of pretty, simple earrings – you already look amazing enough, don't overdo it with tons of jewelry!
3.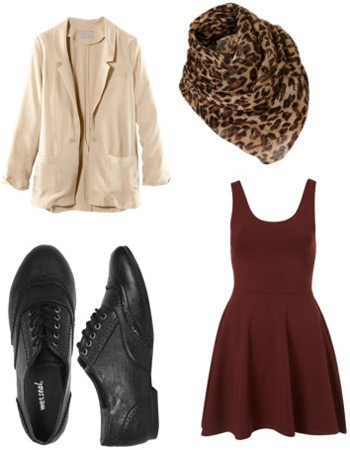 I love this look because it's definitely dressy, but you could still get away with wearing this to class for a cute, pulled-together look. This gorgeous reddish-brown dress looks awesome with a nude blazer and leopard scarf (you guys know how I feel about leopard..) and the black oxfords finish it off perfectly. Date night on a perfect fall evening, anyone?
Your thoughts?
So there you have it – my first TRUE fall post! There are plenty more to come. So let me know what you guys think! Favorite outfit? Like the shoes? Tell me with a comment.