Just because the temperatures are dropping, that doesn't mean we have to ditch our adorable little dresses that worked perfectly for summer – in fact, it's possible to re-work them completely and make them feel brand new! By adding layers, you can take any dress to a completely new level, almost beyond recognition. And another thing – BECAUSE it's winter, all of those summer/early fall clothes are on sale… for next to nothing.
So this week's Fabulous Find is just that – this adorable one-shoulder chiffon dress from Wet Seal was in the $25 range a few months ago, and now it's on sale for only $15! Check out these three looks to see how you can completely re-work a summer dress for the colder months.
The Dress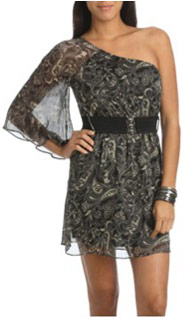 Belted One Shoulder Dress – $15 at Wet Seal
Outfit Inspiration
Below, I've created three fall and winter looks incorporating this dress and making it near unrecognizable. I hope they help get your inspiration going!
Outfit 1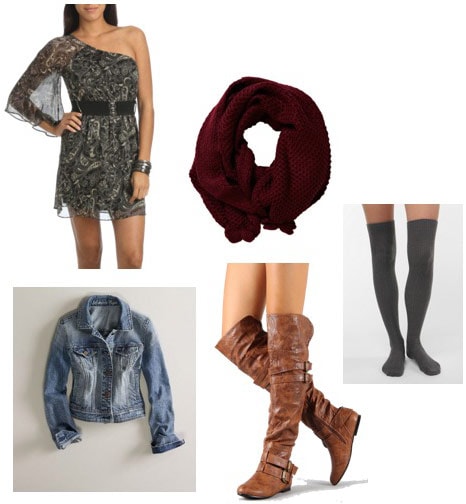 Dress, Jacket, Socks, Boots, Scarf
This first look incorporates rich, gorgeous fall colors and textures – deep burgundy, cognac, gray, soft leather, distressed denim… the works. By adding over-the-knee socks and boots, a denim jacket, and a nice chunky scarf, the dress is immediately made cold weather-ready. Rock this look at school or over break – it's especially perfect if you live in an area that's not icy cold yet.
Outfit 2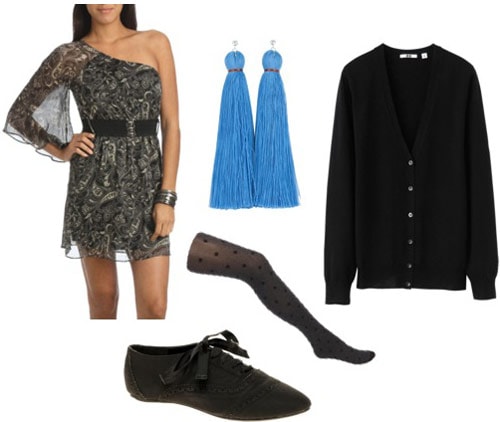 Dress, Sweater, tights, Oxfords, Earrings
Here's another casual look, only this one lends a little more warmth than the first, especially if you add a winter coat on top. This time, I chose to pair the dress with a long black cardigan and some cute polka dot tights. Add a pair of adorable, ribbon-tied black oxfords and this awesome pair of bright blue tassel earrings (they play off the subtle blue hues in the dress) and call it a day!
Outfit 3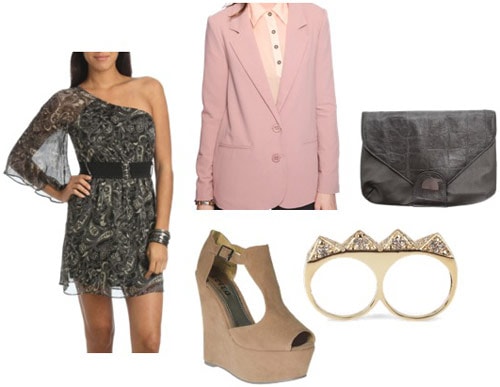 Dress, Blazer, Wedges, Clutch, Ring
For a fancy night out, this dress makes a perfect patterned base. I found these amazing neutral colored wedges to pair the dress with, as well as an interesting distressed clutch. This super cool two finger ring adds just enough shine, and this adorable light pink blazer helps finish off a sweet – and chic – going out look!
Your thoughts?
Now it's YOUR time to do the talking. Which look was your favorite? Would you wear this dress? How do you like to transition your summer and spring clothes into the colder months? Do you hit up the sales on summer/fall merchandise in winter? Let me know!